UNO and Community Partnership Spaces
The CEC houses four separate community/university partnership spaces totaling 10,500 square feet.
Two of these spaces are on the first floor, with two more on the second floor of the building. These suites are fully furnished, with flexible office spaces for UNO and community organizations, each selected through our space application process. Eligible organizations include:
Nonprofit
Government
Education (K-12 or higher education partners)
Private sector organizations
Collaboratives
Grant-funded initiatives
Learn more about our current building partner organizations
---
Community Engagement Meeting Spaces
There are 20 meeting and event spaces that are available at no charge to nonprofit organizations or not-for-profit initiatives, who use the space for the public good. The spaces are intended for community and UNO organizations for programming, service learning, volunteerism, or long-term collaboration. Some examples of previously confirmed activities include:
Nonprofit board meetings
Volunteer fairs
Volunteer trainings
Community dialogues
Nonprofit staff retreats
Student's service-learning projects
Service learning seminars
UNO students are welcome to request a small meeting or project room for a one-time collaborative class project or study group, under the following guidelines:
May book as early as one (1) week in advance or as late as the day of meeting
Limited to booking one (1) meeting/session
Minimum of three (3) students in the shared spaces
Minimum of one (1) student in small meeting and project rooms
Maximum use is two (2) hours (may be extended in 2 hours blocks if available)
Learn more about our meeting spaces.
Please note that the Shared Resource Centers have been converted into reservable meeting space during the pandemic, and do not serve as public spaces.
Public Spaces
Public areas for building partner organizations, students, faculty, and staff are available. The following spaces were designed with the idea that more than one group could be working in the same space at any given time.
Lower Commons Lounge
The Judy Monaghan First Floor Shared Resource Center (Room 116)
The Second Floor Shared Resource Center (Room 218)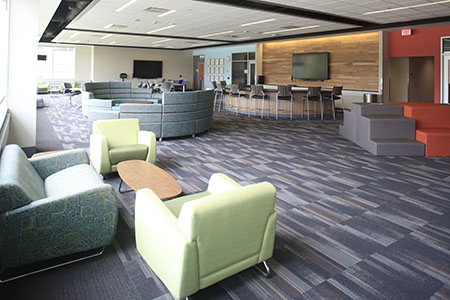 ---
UNO Signature Outreach Programs
The CEC is home to three of UNO's signature outreach programs including:
The CEC serves as the nexus for metropolitan outreach for the campus, connecting university resources and interests with community needs.