The University of Nebraska Omaha's (UNO) commitment to community engagement has a building fully dedicated to collaboration.
The Barbara Weitz Community Engagement Center (CEC) is a nationally unique space that serves to strengthen UNO's existing outreach efforts and foster future opportunities for partnerships among UNO students, faculty, staff and nonprofit or governmental organizations.
For 105 years, UNO has been dedicated to engagement and education within the Omaha metropolitan community. This special center adds a new venue from which this tradition can continue.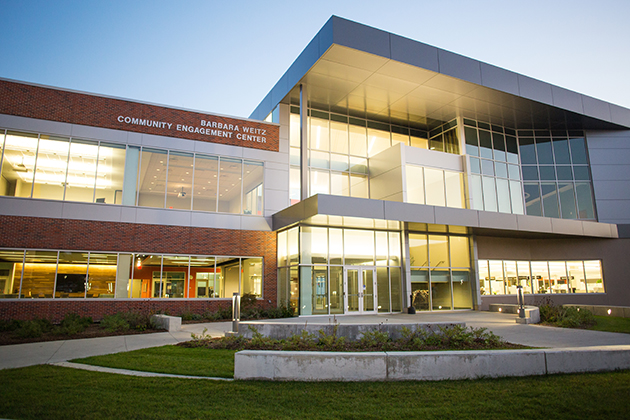 The CEC is a nationally unique space located in the heart of Omaha.
---
The CEC is a Place to Exchange Ideas
By providing a dedicated meeting space, the CEC can offer the Omaha and surrounding communities:
A centralized, two-way system of coordinating, linking, and communicating volunteer, community service, and service learning needs with UNO's abundant campus resources.
A unified student volunteer and leadership program focused on meeting today's and future community needs.
Over 12,000 square feet of community and UNO partnership space for UNO and local nonprofits, government initiatives, higher education, and other organizations in a flexible, collaborative, and productive work environment.
Multiple work and meeting spaces, designed to promote innovative and collaborative solutions to our community's most challenging issues.
Meeting space for groups up to 108, featuring built-in state-of-the-art technology. A variety of reservable and organic spaces in the heart of Dodge campus, including the Omaha Public Power District (OPPD) community dialogue rooms, and the Judy Monaghan Shared Resource Center.
Extensive visitor parking adjacent to the building and easily accessible from Dodge Street.
Opportunities for building partner organizations to gain access to organizational and capacity building, facilitated decision-making, and civic participation.
Improved access to the full range of UNO special events and programs, such as guest lectures, symposia, documentary screenings, and fine arts events.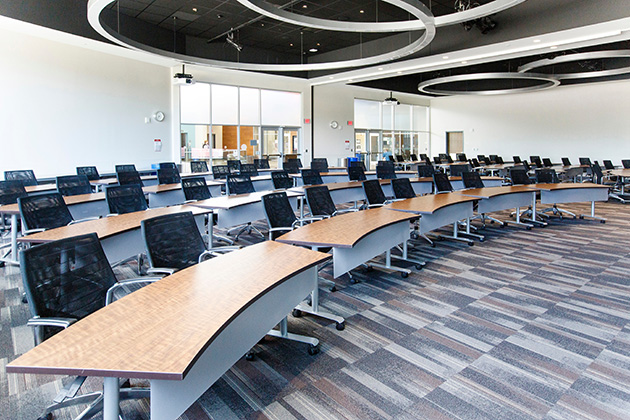 Meeting spaces can be requested for free by the public.