UNO Students Graduate as Community Engaged Scholars
Congratulations to those UNO students who will graduate this semester as engaged scholars. Students who earn and receive this designation connect their academic endeavors with our community.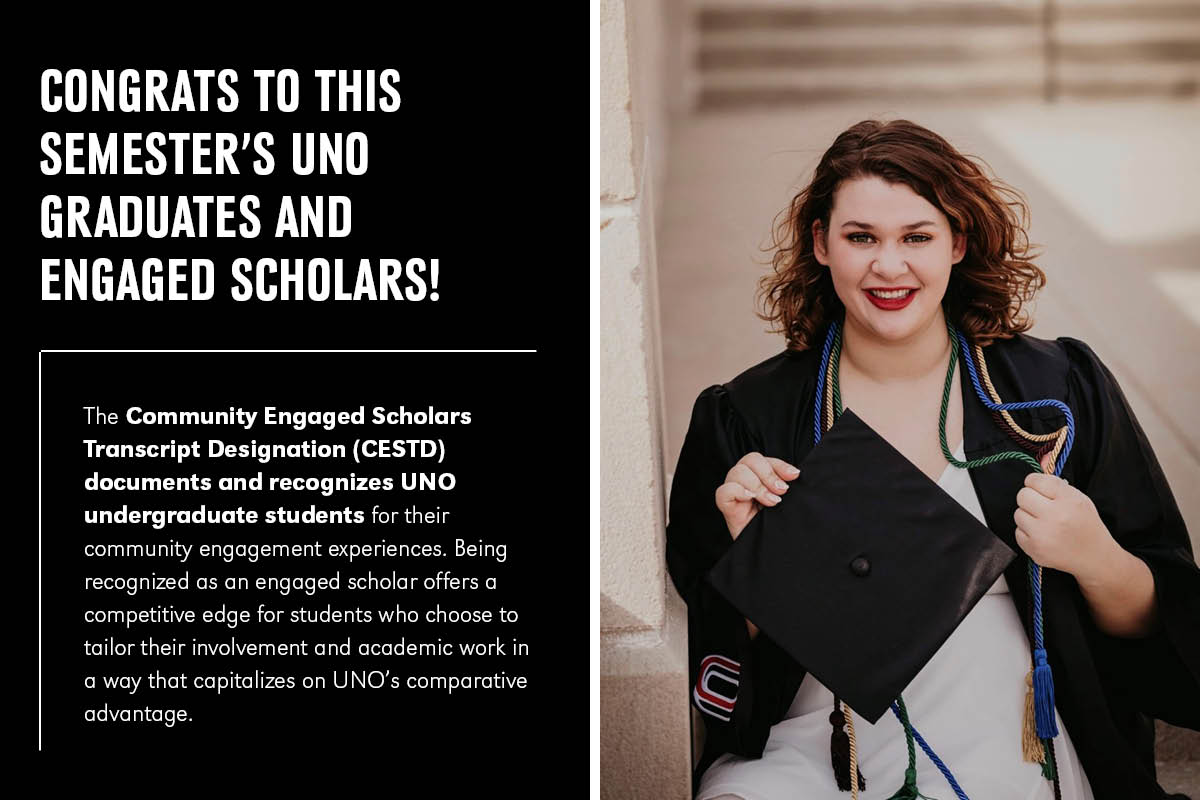 Omaha, NE – The Community Engaged Scholarship Transcript Designation (CESTD) documents and recognizes undergraduate students for their community engagement experiences.
---
Spring 2023 Engaged Scholars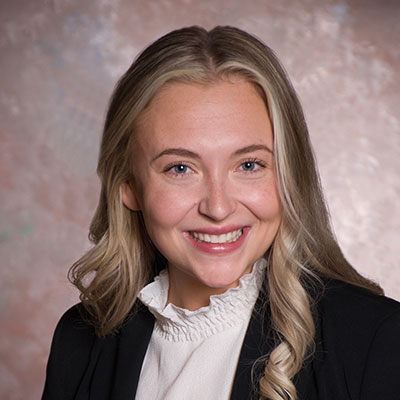 Emily Champion
"I am more than ready to serve humanity as a graduate and alumni of UNO and the Community Engaged Scholar Transcript Designation Program! Throughout these past four years, I learned crucial lessons that will aid my efforts to serve as an advocate for my community."
---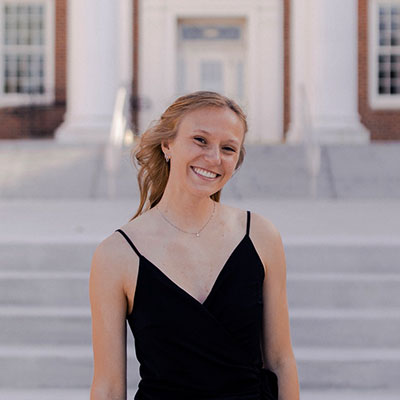 Makayla Eberly
"My experiences demonstrate the springboard that is the University of Nebraska at Omaha. I gained pertinent skills on campus to serve a wider community and practice my professional skills in the real world, and I am so grateful for the opportunities provided to me here."
---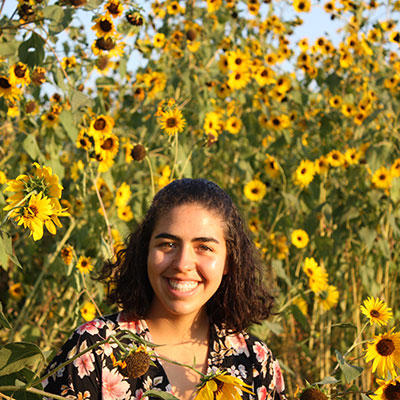 Alexandra Espinoza
"I am very happy and thankful that I was a part of the Community Engaged Transcript Scholar program because I can see that it had a myriad of positive impacts for my professional aspirations, my role as a citizen in a diverse and evolving society, and for my personal growth and development."
---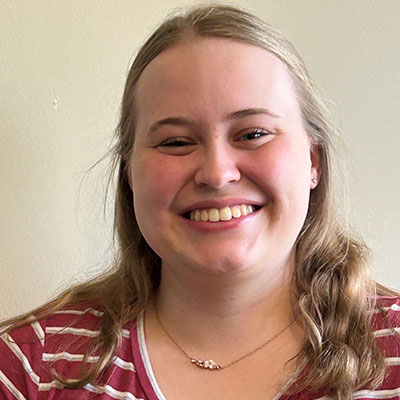 Abby Guinan
"Being an engaged student is an important part of education. Working in the community creates personal and professional growth by developing the community and creating a network for the student to rely on. Being a CESTD student has provided me with many opportunities and skills that will make me a successful professional."
---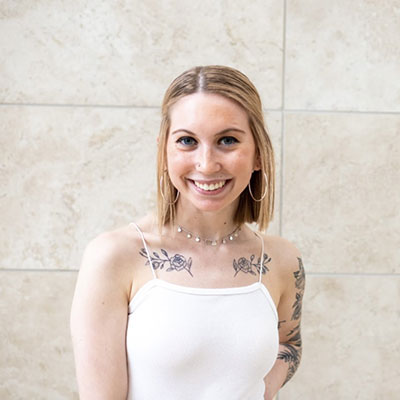 Victoria Higgins
"The CESTD Program has had a revolutionary impact in transforming me into the woman I want to be at UNO. I believe that this program has changed, molded, and sculpted me into the person I am at the end of my college career and I hope that this program will continue to do so for others."
---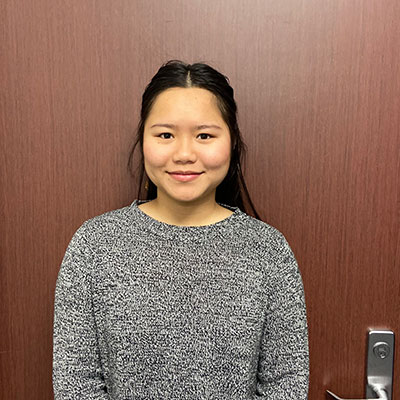 Rosalin Htoo
"Engagement enriches the academic experience because you get to build better relationships with other students, staff, professors, and faculty. It brings you one step closer to your dreams."
---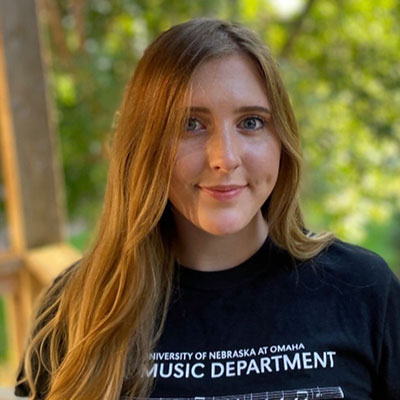 Lydia Kirkland
"These courses and experiences have allowed me to grow as an educator and have made me more prepared and confident for when I become a teacher. I will continue to go through these experiences and continue professional development to ensure I understand my community."
---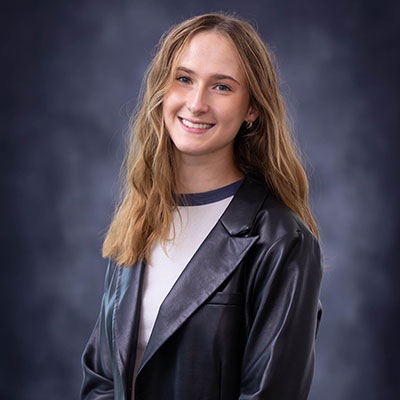 Emily Merksick
"To be an engaged student means being able to take away hands-on experience from your schooling. These experiences have made me a more prepared future social worker. I look forward to the ability to take these experiences to become a better leader and continue my education through my opportunity to serve."
---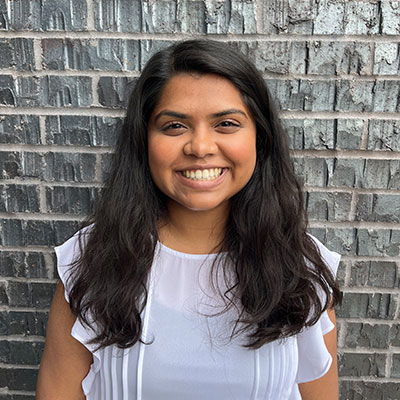 Hannah Rodricks
"Being an engaged scholar means going above and beyond the required courses or assigned homework. It means taking part in your learning experience and going the extra mile to get your hands dirty, to be in the community and put your knowledge to use."
---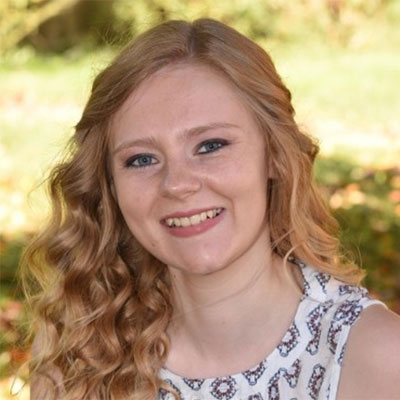 Paige Schlachter
"Students have the potential to learn so much by engaging with people and organizations. These experiences are invaluable. Being an engaged student teaches you cultural humility, it teaches you how to recognize your bias and how they influence your interactions with others around them."
Previously Recognized Students
Please note that this list does not include those from the pilot and second-year students who graduated with this designation.
---
About the Designation
Students who receive this designation connect their academic endeavors with our community through service learning, community-based learning, and volunteerism. To earn this designation, each student completes one community-based learning experience, 6 hours of service learning coursework, 135 service hours, and written reflections for each requirement. Written reflections speak to the knowledge, skills, and abilities they gained from engaged experiences.
The designation allows students to demonstrate to future employers how they participated in community engagement while at the University of Nebraska Omaha. The spring 2021 graduation recognized four students for earning this designation.
How to Enroll
UNO Students can self-enroll by scanning the QR code below or through the
CESTD Canvas page
. UNO faculty can also nominate a student.
Here are some of the benefits for UNO students who earn this designation:
Opportunities to network and develop references

Experiences that develop your resume

Connecting your career goals with your community

Strengthen your competitive advantage with employers

Strengthen communication, leadership, and teamwork skills

Find new strengths and interests

Learn about the importance of community issues
Questions
Contact Sara Woods at swoods@unomaha.edu.