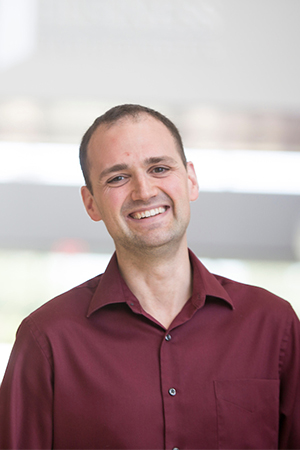 Dr. Ben O. Smith
Economics, Associate Professor
---
email:
office:
MH  332P
office phone:
fax:
402.554.2853
personal website:
note:
This profile is pulling in data from Digital Measures. Postings on personal websites or social media do not indicate that the individual is speaking on behalf of UNO.
General Information
Additional Contact Information
To make a one-on-one appointment with Dr. Smith, please use calendly: https://bensresearch.com/calendar
Teaching Interests
Dr. Smith's current teaching responsibilities include SQL, Databases, and Data Cleaning for Data Scientists, Data Analysis from Scratch, and Industrial Organization. Previously, he has taught Micro Principles, Intermediate Microeconomics, and Essential Concepts (MBA).Dr. Smith also serves on the Board of Directors of the Journal of Economics Teaching. As the journal's web developer, the post-acceptance production process is proudly housed in UNO's economics department.
Research Interests
Dr. Smith's research work is generally in the areas of economic education, industrial organization, urban economics or behavioral economics. Current work includes the voluntary release of patents, plant agglomeration and statistical properties of student guessing. Previous work has been published in the American Economic Association Papers and Proceedings, Applied Economics, Applied Psychological Measurement, Defence and Peace Economics, Journal of Urban Economics, International Journal of Hydrogen Energy, The Journal of Economic Education, Economics Bulletin, Education Economics, Journal of Economics Teaching, Scholarship of Teaching and Learning in Psychology, and Significance (amongst others).
Service Summary
Throughout his education, Dr. Smith ran a small software company. As a result, he is active in the open source community, particularly in areas of accounting, teaching tools and productivity software. His teaching software is used by thousands of instructors a week, impacting tens of thousands of students. Popular teaching software includes: 'Grade Nudge,' 'Create Random Assignments,' 'Create Group Projects,' and 'Assessment Disaggregation.'
Scholarship/Research/Creative Activity
Selected Publications
Smith, Ben, Wooten, Jadrian. 2023. Assessing Proxies of Knowledge and Difficulty with Rubric-Based Instruments, Southern Economic Journal, 90, 2, 510-534.
Smith, Ben, White, Dustin. 2021. On Guessing: An Alternative Adjusted Positive Learning Estimator and Comparing Probability Misspecification with Monte Carlo Simulations, Applied Psychological Measurement, 45, 6, 441-458.
Smith, Ben, Wagner, Jamie. 2018. Adjusting for Guessing and Applying a Statistical Test to the Disaggregation of Value-Added Learning Scores, The Journal of Economic Education, 49, 4, 307-323.
Smith, Ben, White, Dustin, Kuzyk, Pat , Tierney, James. 2018. Improved grade outcomes with an e-mailed 'grade nudge', The Journal of Economic Education, 49, 1, 1-7.
Cassey, Andrew , Smith, Ben. 2014. Simulating Confidence for the Ellison-Glaeser Index, Journal of Urban Economics, 81, May 2014, 85–103.