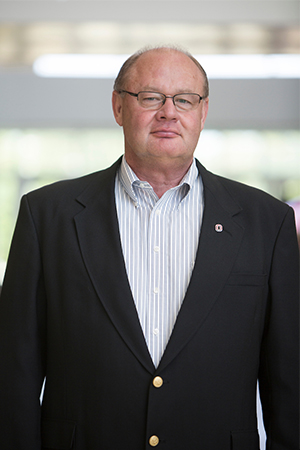 Steve Schulz
Lucas Diamond Professor
Management, Associate Professor
---
email:
office:
MH  228V
office phone:
fax:
402.554.2853
note:
This profile is pulling in data from Digital Measures. Postings on personal websites or social media do not indicate that the individual is speaking on behalf of UNO.
General Information
Biography
Steve A. Schulz is an Associate Professor of Supply Chain Management at the University of Nebraska at Omaha. He has an active interest in logistics, new product development, and high-performance organizations.
Teaching Interests
Supply Chain Management, Industrial Purchasing, Global Sourcing and Innovation
Research Interests
Workforce Leadership and Development, High-Performance Organizations, IT-Enabled businesses
Service Summary
Dr. Schulz is a member of the Midwest International Trade Association, APICS, Council of Supply Chain Management Professionals, Nebraska Trucking Association, Decision Science Institute, Academy of Management, and the Institute of Supply Management. He serves as a reviewer for several academic journals and conferences.
Awards and Honors
50 Over 50 Award, Service, Community - 2022
John Lucas Diamond Professorship, Service, Community - 2021
Universtity Departmental Teaching Award (UDTA), Teaching - 2021
Dean's Citation for Excellence in Service, Service, University - 2018
Outstanding Student Engagement Award, Teaching - 2018
Outstanding Student Engagement Award, Teaching - 2017
NBDC Faculty Member of the Year, Service, University - 2017
EMBA Distinguished Professor Award, Teaching - 2015
Education
Ph D, University of Nebraska - Lincoln, Lincoln, NE, Marketing, Channels of Distribution, 1992
Scholarship/Research/Creative Activity
Selected Publications
Ta, Anh, Schulz, Steve, Aldossari, Mobark, Nguyen, Quynh. 2022. System and Information Qualities in Mobile Fitness Apps and Their Effects on User Behavior and Performance, Information Systems Management.
Schulz, Steve, Martin, Thomas, Meyer, Heather. 2017. Factors Influencing Organization Commitment: Internal Marketing Orientation, External Marketing Orientation, and Subjective Well-Being, Journal of Management Development, 36, 10, 1294-1303.
Schulz, Steve, Flanigan, Rod. 2016. Developing Competitive Advantage Using the Triple Bottom Line: A Conceptual Framework, Journal of Business and Industrial Marketing, 31, 4, 449-458.
Schulz, Steve, Luthans, Kyle, Messersmith, Jake. 2014. Psychological Capital: A New Tool for Driver Retention, International Journal of Physical Distribution and Logistics Management, 44, 8/9, 621-634.
Chau, Ngan, Schulz, Steve. 2014. Selling Versus Leasing of Durable Goods: The Impact on Marketing Channels, Journal Of Marketing Channels, 21, 1, 4-17.
Externally Funded Research
2019 Portable Assistance, U.S. Small Business Administration, Federal, 12/01/2019 - 11/30/2020