College of Business Administration Directory
Dr. Wikil Kwak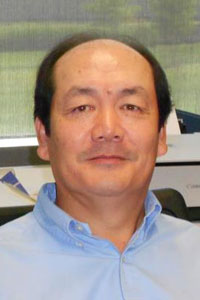 Biographical Information
Wikil Kwak is a Professor and received his Ph.D. in Accounting from the University of Nebraska in Lincoln. Dr. Kwak's research interests include the areas of Director compensation in the Oil and Gas industry, Bankruptcy studies, Japanese capital market studies and mathematical programming approaches in data mining, capital budgeting, transfer pricing, performance evaluation. He has been published in the Contemporary Accounting Research, Abacus, the Engineering Economist, Review of Quantitative Finance and Accounting, Management Accountant, Journal of Petroleum Accounting and Financial Management, Multinational Business Review, Business Intelligence and Data Mining.
Teaching Interests
Teaching in undergraduate or graduate (MBA) managerial accounting.
Research and Creative Interests
Research interests include the areas of Japanese capital market studies and mathematical programming approaches in data mining, capital budgeting, transfer pricing, performance evaluation, bankruptcy studies, and director compensation.
Service
DEPARTMENT SERVICE: I am a member of the Managerial Accounting Curriculum committee. I am coordinating and
designing a regression analysis case for a computer assignment for Principles of Accounting II.
This case will measure the new traits required by AACSB. I have participated in the revisions of
upper level Managerial Accounting Official syllabi.
COLLEGE SERVICE: I served on the Personnel Advisory Council for three terms, and several
terms of the Graduate Program Council. GPC had meetings almost every other week and revised
MBA and EMBA curricula. We now have 2 credit hour courses for our MBA program with 8 week
class schedule and this revised course contents serves better our students strategically.
I was reelected as the PAC member in 2014. I am glad to serve these two committees and I am
acting as Faculty Senate Liaison to represent CBA. Faculty Senate wants to improve communication
in both ways to share information.
UNIVERSITY SERVICE: I serve the FUSE review committee. I served as a member of the University Committee to Award Distinguished
Research or Creative Activity to represent the CBA for three years. I served my third
year on the Faculty Senate of the University. Currently, I served the Educational Resources and
Services Committee Chair of Faculty Senate and Executive Committee of Faculty Senate for
university. We had meeting three times a month and try to work for optimum use of IT and our
UNO library resources. I served the University Committee on Excellence in Teaching to represent
the CBA for three years. I am a member of the curriculum committee of International Business. I also
served the University-wide Graduate Program Council. The University-wide GPC met twice a month.
PROFESSIONAL SERVICE: Currently I am serving as the vice president of finance and treasurer of the International Academy of Information Technology and Quantitative Management and we held our inaugural Conference in Omaha, NE, USA, on June 3, 2012, and we successfully completed our academic conferences. The first conference of ITQM was in Suzhou, China, during May 16-18,
2013. Our second conference was in Moscow, Russia, from June 3-5, 2014. Our third conference was held in Rio De Janeiro, Brazil, July 22-26, 2015. Our forth conference was held in Seoul, Korea, August 12-16, 2016. Our previous conferences were quite successful. Currently, we are organizing our fifth conference in New Delhi, India, December 8-10, 2017. We are now publishing a new journal. I am a member of the Cornhusker Chapter of the
Institute of Management Accountants and an IMA Mentor for UNO. I have helped the organization's
recruiting of student members and arranged mentors for interested students. I am also a member of
the American Accounting Association (Management Accounting Section, International Accounting,
Auditing, and Information System Section) and a member of Decision Science. I reviewed some
papers for our professional journals and conferences. I reviewed papers for the previous American
Accounting Association National Meeting Conference and reviewed several papers for the Review of
Quantitative Finance and Accounting. I am an ad hoc reviewer for Engineering Economist,
International Journal of Business and Intelligence and Decision Making (Inderscience Journal),
Information Technology and Decision Making, and European Journal of Operation Research.
COMMUNITY/OTHER SERVICE: I have served as the member of the Board of
Trustees of the Korean Association of Nebraska (KAN). I was former president and served two terms.
The KAN raised funds to award scholarships for young people to go to college and invited folk
dancing and church chorus teams to expose Korean culture in the Omaha community. The
organization also holds an annual picnic to increase interactions between the Korean community
and families who adopted orphans from Korea.
PROFESSIONAL INTERACTION AND EXPERIENCE: I attended the Accounting Advisory and our Guest Speaker Series several times. I also met with Larry Larson a few times in the past five years. Larson is one of the most
successful UNO alumni and supporters of our department as a former partner of big CPA
firms to discuss issues for accounting education. I was in the Beta Alpha Psi banquet
several times to support our new members' initiation ceremonies.
I met several local CPAs at banquets and most of them happened to be my
former students. I was in the UP reception a few times and met a lot of my former
students who are now working there as managers. I met with Gallop University
members and their professionals several times to discuss possible research in
international transfer pricing issues. During 2010 and 2013, the UNO CBA had several
banquets to dedicate our new building and I met a lot of professionals there. Many of
them were my former students and we discussed the strengths and weaknesses of our
accounting program and I updated myself with current business trends.
Education
Ph D - Business/Accounting - Management Science
University of NE at Lincoln (Lincoln, NE) 1990
MS - Business Administration - Accounting
Iowa State Univeristy (Ames, Iowa) 1986
BA - English
Kyung-buk National University (Daegu, South Korea) 1980
Honors
Distinguished Alumni Professorship of Accounting (Scholarship/Research) 2008
Distinguished Alumni Professorship of Accounting (Scholarship/Research) 2005
Our Campus. Otherwise Known as Omaha.
The University of Nebraska does not discriminate based on race, color, ethnicity, national origin, sex, pregnancy, sexual orientation, gender identity, religion, disability, age, genetic information, veteran status, marital status, and/or political affiliation in its programs, activities, or employment. Learn more about Equity, Access and Diversity.
scroll to top of page