Congratulations on your achievements at the University of Nebraska Omaha (UNO)! As you prepare to graduate from UNO, there are several things you should know. Please check with your respective college for specific deadlines, and review the following information.
Apply for Your Degree
Application for degree deadlines are in the academic calendar.
You must complete an Application for Degree during the semester in which you plan to complete all degree requirements. Log into MavLINK and fill out the application on or before the deadline for that Commencement Ceremony. The Apply for Degree link is located on the left side of the page under the Academic side bar menu.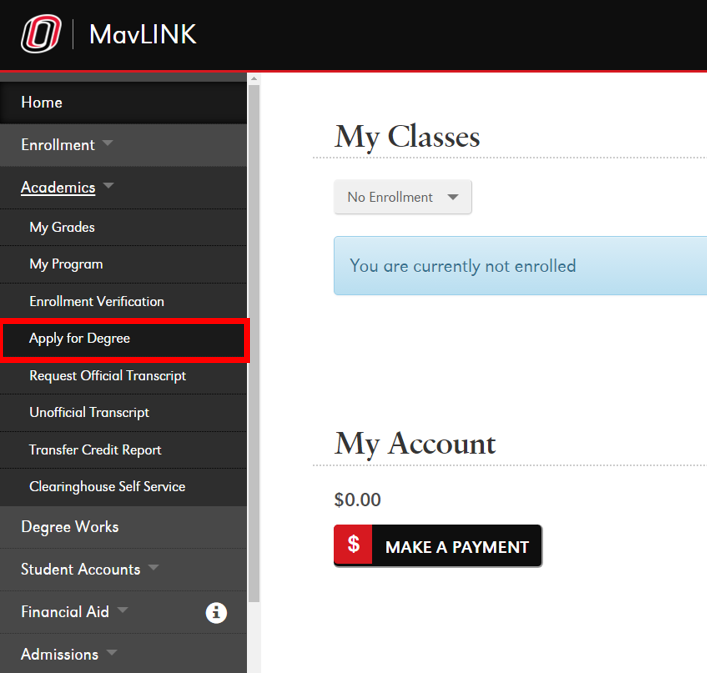 There is a non-refundable $35.00 Application for Degree fee payable at the time the application is submitted. Certificates also require a non-refundable $5 fee.
After applying for your degree, you should visit the UNO Bookstore as soon as possible to order your cap and gown and graduation announcements. Deadlines to order various items will differ depending on the ceremony in which you plan to participate. Please contact the UNO Bookstore at 402.554.2336 with any questions.
Students have 15 working days after the commencement ceremony to complete all degree requirements. Diplomas will be mailed out 15 - 20 business days after graduation.
Please be sure all financial holds are cleared and that the address listed on the degree application is correct, as this is where your diploma will be mailed. Diplomas will not be released for students who have outstanding debts or fees owed to the University of Nebraska System.
---
Commencement
Visit UNO's Commencement website for more information on the upcoming ceremony.
---
Continued Education
The faculty and staff at UNO would like to take this opportunity to invite you back to continue your education in the future.
If you intend to take classes at UNO in the future at the graduate level, you should contact the Office of Graduate Studies 402.554.2341.
Returning undergraduate students should contact the Admissions Office, EAB 103, 402.554.2393.