UNO Digital Diploma - Release
Starting with Fall 2016 graduates, the University of Nebraska at Omaha teamed up with our vendor Parchment to provide a digital version of your diploma which will make it easy to share your accomplishments with family, friends, and most importantly potential employers.
Upon completion of degree, Graduates will receive an email to electronically 'Claim' their Diploma.

Graduates can get their digital diploma by checking their email for a message from Parchment and University of Nebraska at Omaha in the next week, then follow these 3 simple steps:
1. Click on the link in their email
2. Create a password
3. Share their digital diploma on Facebook, LinkedIn, via a verified link, or download a secure PDF for later.

Graduates can login to their Parchment account at any time to share their diploma again and again.
Questions about the Digital Diploma, once you have received it? Email congratulations@parchment.com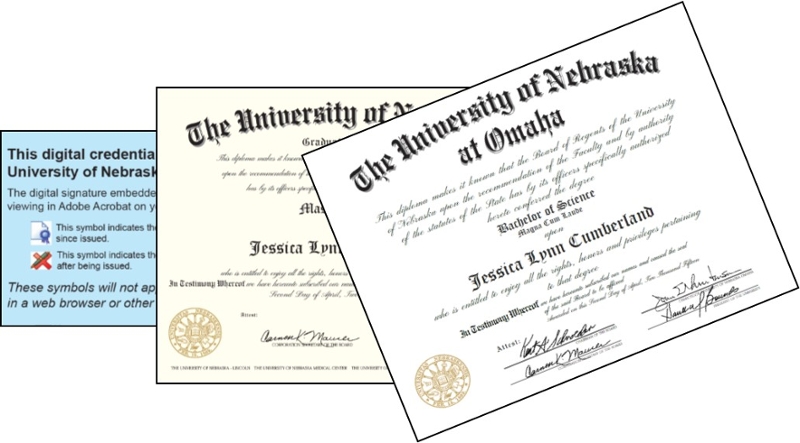 What You Can Do With Your Digital Diploma
Share your Achievements
Easily share your digital diploma with employers with a secure and verified link
Share on Facebook and LinkedIn
View or Download
Permanent access to view your digital diploma online at any time
Download your digital diploma and save as a PDF
Serve as an Alternative to the Apostille
Many countries recognize digital diplomas. As a signatory of the Groningen Declaration, Parchment Award diplomas are supporting the needs of international credentials.