Beginning to End: Students and the Public Join in Historic Event
Thousands lined up to take part in the historic event at Baxter Arena as President Obama came to UNO. Here are their stories.
contact: Jason Buzzell and Nolan Searl - University Communications
email: ucomm@unomaha.edu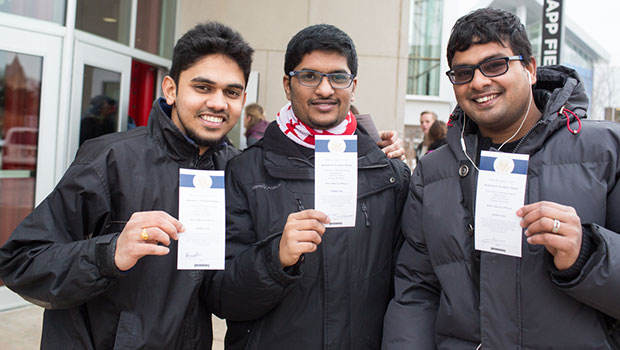 Thousands of UNO students were lucky enough to land a ticket on Monday, Jan. 11 at both Sapp Field House and Scott Dining Hall.
OMAHA – When the President of the United States calls, you listen. And for the University of Nebraska at Omaha (UNO) and the city of Omaha, you show up and enjoy the moment with thousands of others.
President Obama to Speak at UNO #POTUSatUNO https://t.co/35PvQrXbrf pic.twitter.com/ynIiCsXjoe

— UNO (@UNOmaha) January 9, 2016
The UNO and Omaha community quickly began talking when the announcement was made on Saturday, Jan. 9: President Barack Obama would be speaking at UNO's Baxter Arena.
It didn't take long to learn first-come first-served tickets would be available to the general public Sunday, and UNO-only tickets would be available on Monday.
The tickets went quickly as thousands from around the region descended upon Baxter Arena, Metropolitan Community College and the Salvation Army Kroc Center.
UNO then had tickets to give away on Monday, one ticket per person with a MavCard.
Brand new Mavericks heard the news over the weekend and did everything they could to get a ticket. That included first-year student Dan Schmidt, who had one small task all students remember doing during his first week of classes before he could go to Sapp Fieldhouse and stand in line.
"Today is my first day of classes," said Schmidt. "I just got my MavCard (and) I ran."
Thousands of students, faculty and staff braved freezing temperatures as they waited to receive their tickets to hear the President speak. The line meandered in and out of the Sapp Fieldhouse for hundreds of yards. Less than three hours later all the tickets were claimed, now in the hands of the UNO community.
Excitement for the event was palpable Wednesday morning as throngs of people began to line up - some of the first in place before 7:30 a.m. By noon the line wound through the parking lots of Baxter Arena. One of the attendees, 100-year-old Clifford Grant, smiled as she made her way into the arena.
"She's so excited," said Kiesha Lewis, who was accompanying Grant. "Her 101st birthday is (next month). She called me and said we have to find a way to get down here."
Thousands of UNO students were among the crowd, standing outside and waiting for what many were calling a "once-in-a-lifetime" chance.

"We got an email saying President Obama was going to be speaking on our campus," said freshman Brianna Zimmerman. "We thought (we should go) because we probably won't get to see a president speak ever again.
"This is the biggest event our campus has had. It's cool we can have a president come to our campus and speak," Zimmerman said.
Zimmerman wasn't the only one relishing a chance to take part in the big event at Baxter. Senior Joe Hagerty raced over to get his ticket as soon as he learned that all classes would be cancelled Wednesday.
"I wanted to go because of the history of a president being on campus. I'm not personally a supporter of him but I thought it'd be a great opportunity to see history in the making," Hagerty said.
Papillion school teacher Lisa Martin introduced the President after UNO's Jenna DeWilde and Lindsey Ussery said the Pledge of Allegience and sang the Star Spangled Banner. University of Nebraska President Hank Bounds made remarks highlighting UNO's recent achievements, which include Tuesday's announcement that UNO is home to one of the best online degree programs in the nation.
As soon as President Obama took the stage, the crowd exploded in cheers. The President touched on several topics, kicking it off by mentioning UNO's nationally ranked hockey team. View the full speech here.
After the speech ended, President Obama made his way to Chancellor John Christensen as well as University of Nebraska President Bounds. The Commander in Chief stuck around for 20 minutes after the speech, shaking hands with students and community members before leaving. The crowd soaked in the atmosphere as history was made at UNO.
Two of those students were UNO's Mitchell Laferla and Cody Solma, who said they were thrilled with the chance to see someone who has had a major impact on their formative years in high school and college.
"You're so used to watching him on TV for the past years, so the opportunity to see him in the flesh at UNO is something I couldn't pass up," said Laferla. "Especially being our age, we have only really seen two different active presidents," Solma added. "We grew up with him in the office."
Besides being a once-in-a-lifetime event, Hagerty says people will remember the energy in the building.
"It was wild," he said. "As soon as the announcer would say something - even if it wasn't the President - people would erupt."
Hagerty noted how the event shows UNO's leadership and willingness to collaborate with the community to solve problems and the university is attracting national attention.
"For the President to come anywhere, I know whether it's a state or campus, it's a big deal," Hagerty said. "I know he's spoken on Ivy League campuses, and now (he's at UNO). We've switched to [Division I] and he's acknowledging all the degree programs we have, the online, the military friendliness.
It's pretty awesome to have the President come on our campus and recognize all that work that we've done, including community engagement. These advancements we're making are important. It's worth it."
Students comment on the day, in their own words
"I had been waiting in line since 5:30 a.m. to get such a good seat. President Obama's continued passion for the American people and his tireless effort to cement his progressive legacy has inspired me to embrace public service as a future career."
- Grant Sorrell
"Hearing the President say, 'Go Mavericks!' was just so awesome. It was really neat hearing how easily and effortlessly he was able to talk with the crowd. He brought energy to the room but was also able to connect with you so it felt like he was talking just to you."
- Cole Evans
"I think what was most memorable (and many will probably agree with me here) was seeing him in person for the first time. We've seen him wave at many speeches to many different Americans from all walks of life, but when he turned around to face us and I was able to wave back it really put his status into perspective for me. Yes, he's our president, Commander-in-chief, head of state etc., but he's also just a man. Just a guy who, like everyone else, waves at people waiting to meet him."
- Delaney Jackson
"The arena was just about full and very loud, but there was still almost a silent anticipation building. No one really knew exactly when the president was coming out, just a rough timeline. It was neat being so close to him, it almost felt like you could reach out and touch him."
- Alexander Wasinger
"I saw so much joy in the people's faces. I distinctively remember an African American man lift his fist up with much pride, cheering on what President Obama had to say. It was a surreal moment during the time of seeing President Obama up closely. I've always wanted to have this opportunity."
- Ameres Groves