Revisiting 'I Am the ROI': Waverle Monroe
KETV NewsWatch 7's Waverle Monroe is a homegrown alumna whose experiences and education at UNO empowered her to grow in her career and share her community's stories.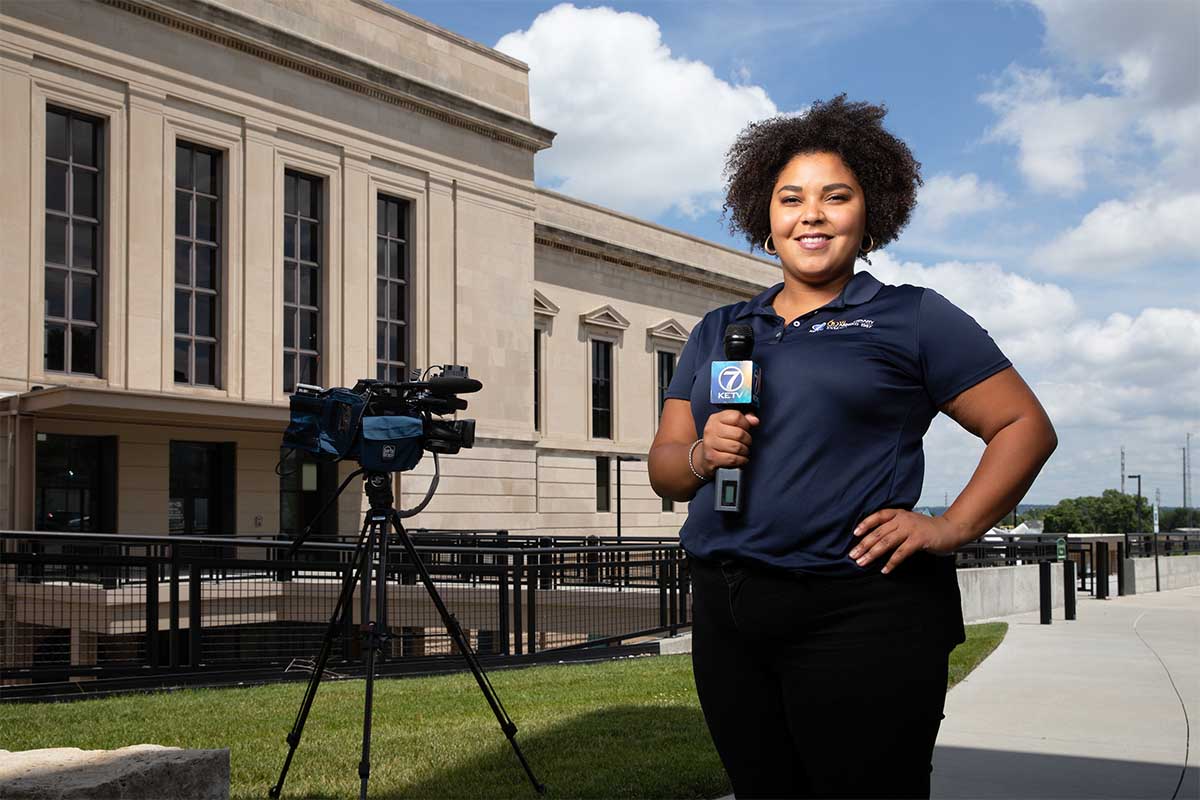 Waverle Monroe, KETV NewsWatch 7 anchor and reporter, bachelor's in Communication from UNO's College of Communication, Fine Arts and Media.
As a reporter and anchor for KETV NewsWatch 7, Waverle Monroe shares the stories of others in the Omaha community, but her own story also starts in Omaha – on the campus of the University of Nebraska at Omaha (UNO).
This Maverick holds a bachelor's in Communication from UNO's College of Communication, Fine Arts and Media. Born and raised in Omaha, she made the decision to attend UNO based on affordability, accessibility, proximity to family and friends, and potential job opportunities in her hometown after graduation. "I think UNO helped me in a number of ways," she said. "I was able to learn a lot quickly and more hands-on than other schools because the classes were smaller."
Her experiences at UNO confirmed for her that she made the right decision. Working in television requires knowing how to do a lot of different tasks that ultimately lead to the final production. "That helped me not necessarily go stand behind a camera at KETV, but I can relate to the production team because I have knowledge about what goes on. That helped me be a well-rounded reporter, employee, news person — however you want to call it, because I was able to direct, work audio, be a photographer, be a reporter, and go live."
"Those are things you don't necessarily get at other schools, depending on what classes you take, unless you seek out those classes."
Monroe had the opportunity to put all of these roles together and get her feet wet as a multimedia journalist, or MMJ, through the Omaha News – a weekly newscast that provides students with the opportunity to gain hands-on experience in various roles required to get a newscast on the air. "Being able to have the live experience that I did, the desk experience, and having professors who were passionate to see you succeed, graduate, and get a job in news helped me grow into the person I am today at KETV."
In her current role as a reporter and KETV NewsWatch 7 First News Weekend Anchor, she feels grateful to have the opportunity to connect with the community, including her alma mater, and share the stories impacting her hometown. "My favorite part is giving people an opportunity to share their stories that they wouldn't have the opportunity to do any other time, and giving people a platform to share their experiences, whether good or bad," Monroe said.
For anyone else considering following in her footsteps, Monroe offered words of encouragement. "'Media' has become almost a bad word. I would say to anyone who is nervous about that, or who is working to have a professional career in news — whether that be at a newspaper, as a journalist, an MMJ, a freelancer, whatever you want to be — you are there to tell the facts. If you're doing that, you can stand tall, hold your ground, and be confident in what you're doing."
About 'I Am the ROI'
'I Am the ROI' introduces you to alumni whose return on their investment in a UNO education goes far beyond career opportunities. UNO brought out the best in these leaders, change makers and innovators who are making a difference in our communities and enriching our quality of life.
This is a joint storytelling effort by UNO's Office of University Communications and the UNO Alumni Association.
About the University of Nebraska at Omaha
Located in one of America's best cities to live, work and learn, the University of Nebraska at Omaha (UNO) is Nebraska's premier metropolitan university. With more than 15,000 students enrolled in 200-plus programs of study, UNO is recognized nationally for its online education, graduate education, military friendliness and community engagement efforts. Founded in 1908, UNO has served learners of all backgrounds for more than 100 years and is dedicated to another century of excellence both in the classroom and in the community.
Follow UNO on Facebook, Twitter, Instagram, TikTok, LinkedIn, and YouTube.