I Am the ROI: Sally Elatta
Sally Elatta is a case study in productivity. Through her company AgilityHealth, this UNO alumna has helped some of the largest companies locally, nationally, and internationally align their employees and their efforts using the agile methodologies.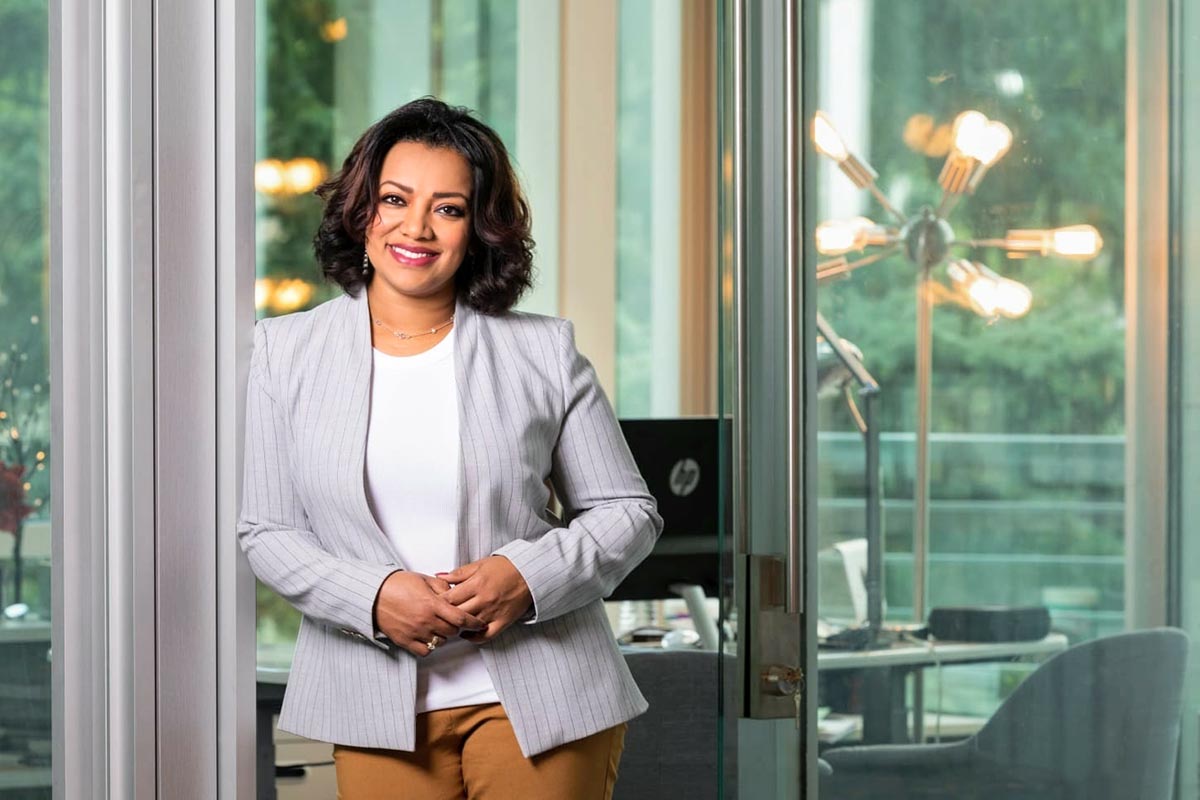 Sally Elatta is a case study in productivity. Through her company AgilityHealth, this University of Nebraska at Omaha (UNO) alumna has helped some of the largest companies locally, nationally, and internationally align their employees and their efforts using the agile methodologies.
While Elatta's childhood took her from Sudan to Scotland and Saudi Arabia, it was a desire to attend college in the US that brought her to UNO. At the time UNO's College of Information Science & Technology (IS&T) was preparing to open the doors of the newly built Peter Kiewit Institute.
"It was very exciting because they said it was going to be very focused on building real-world skills and really preparing you for the job," she says. "I felt like we got to connect with, 'What do businesses look for? What are they hiring for? What are the skills that are real-world?'"
Connecting concepts to real-world application was important to her, but even more important was the intersection of the tech and business worlds. IS&T's bachelor's degree in Management Information Systems provided her with the knowledge and skills she sought.
"That specific degree gave me a little bit of marketing, management, leadership, in addition to software engineering, development, all of that," Elatta says. "I highly recommend that people who are very intrigued by software but also have a business mindset and have an entrepreneurship spirit, consider that MIS degree. I really think it's pretty powerful."
As Elatta completed her degree, the Agile methodology in project management was starting to gain mainstream support. Agile provides a unique way to organize teams to facilitate rapid results through changing mindsets, behaviors, and practices. She says that companies often get stuck by being organized into departments and silos; reporting to managers; and shifting people around based on priorities.
"Think of it as a new way of working," she says. "Teams are highly collaborative, they are very engaged with their customer, they work as a cross-functional unit, they welcome feedback rapidly, and when they get feedback from their customers, they pivot, and they adjust quickly."
The technical background and business acumen she gained at UNO led her to introduce the Agile methodology to teams at some of the largest companies in the Omaha area and train them on how to best implement it within their organizations. She later took this training a step further by founding a new company called Agility Transformation, Inc., now known as AgilityHealth. Elatta is also featured in AgilityHealth's online library of video resources providing Agile training at agilevideos.com.
Now, 10 years later, AgilityHealth is scaling its programs to meet national and international demand through its innovative measurement and improvement AgilityHealth software platform for companies who plan to scale Agile and Digital Transformation. As one of the few minority women entrepreneurs leading a global "software as a service" (SaaS) company, she's proud to call Omaha home and UNO the college that set her up for success. Even with her company going global, she still finds time to come back to UNO's campus to speak, provide training, and help build Agile curricula.
Elatta is guided by her philosophy "Be Bold, Be Real, and Lead with Love." In addition to founding and leading an established SaaS software company, she has followed her philosophy by supporting her home country of Sudan, where young people protested for months on end to peacefully end the 30-year reign of a dictator. The passion and energy of Sudan's younger generation to spark change led to a desire to offer her support. "That got me very passionate to say, what can I do to help them? I started a nonprofit organization and launched a platform for them, Sudan Next Gen, and I'm very engaged right now in supporting that transition right now. This will hopefully include a visit to Sudan to deliver a workshop on Leadership Agility to the new prime minister and his cabinet.
"That spirit and that passion and that bold, very big bold dreaming, I think the foundation of it is set in how we grow up and how we are raised by our parents to give us confidence and then the education that we get supports the foundation for all of that."
About 'I Am the ROI'
'I Am the ROI' introduces you to alumni whose return on their investment in a UNO education goes far beyond career opportunities. UNO brought out the best in these leaders, change makers and innovators who are making a difference in our communities and enriching our quality of life.
This is a joint storytelling effort by UNO's Office of University Communications and the UNO Alumni Association.
About the University of Nebraska at Omaha
Located in one of America's best cities to live, work and learn, the University of Nebraska at Omaha (UNO) is Nebraska's premier metropolitan university. With more than 15,000 students enrolled in 200-plus programs of study, UNO is recognized nationally for its online education, graduate education, military friendliness and community engagement efforts. Founded in 1908, UNO has served learners of all backgrounds for more than 100 years and is dedicated to another century of excellence both in the classroom and in the community.
Follow UNO on Facebook, Twitter, Instagram, TikTok, LinkedIn, and YouTube. 
Contact Us
If you have a story idea, news tip, or other question, please email the UNO News team at unonews@unomaha.edu.