'I Am the ROI': Patrick Hodson
"UNO really transformed my mind and my life in a variety of different ways."
published: 2021/10/20
contact: Eva Burklund - University Communications
email: unonews@unomaha.edu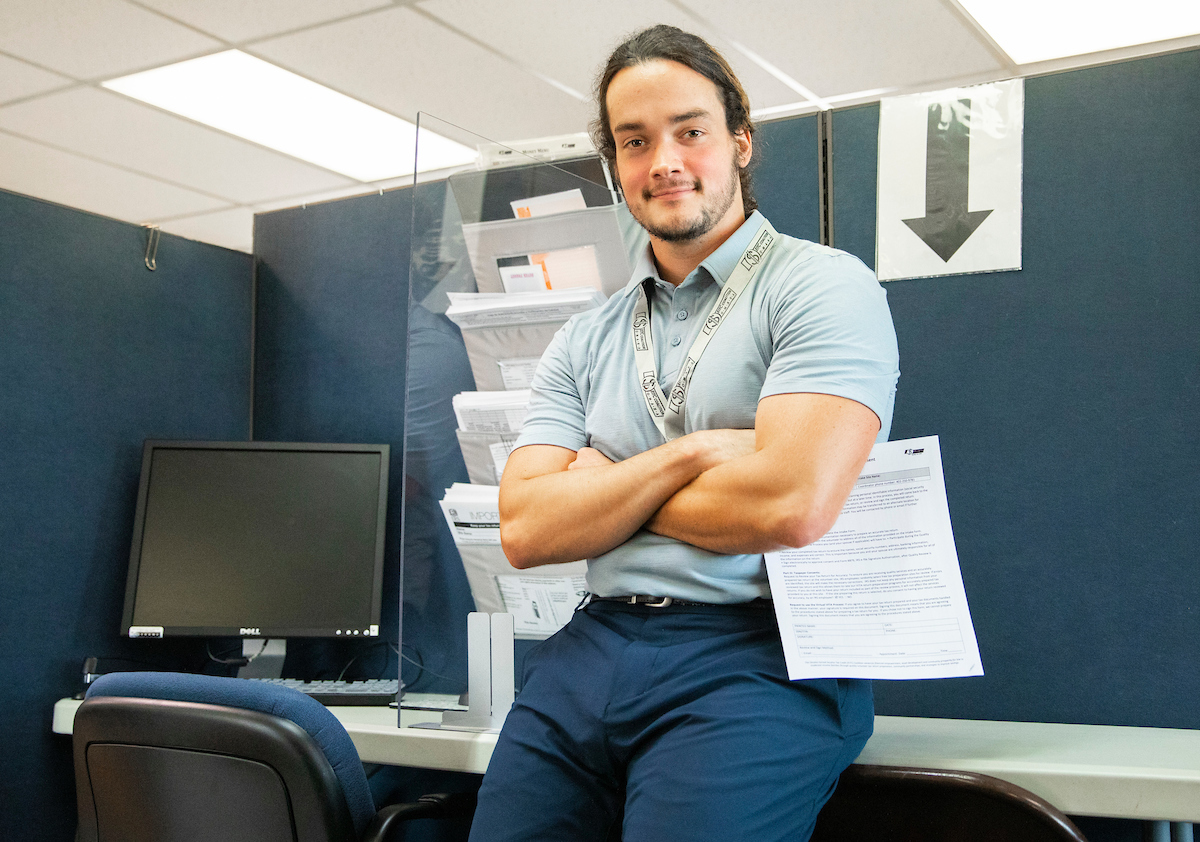 Patrick Hodson, Audit & Assurance Associate at Deloitte, U.S. Department of State Fellow, and volunteer for the Earned Income Tax Credit Coalition (EITC).
College is known to be a transformative time in students' lives. For Patrick Hodson, his time at the University of Nebraska at Omaha (UNO) was no exception.
Hodson graduated from UNO in December 2019 with a business administration degree. After graduating, he interned with Deloitte until March 2020 prior to being accepted into to the Congress-Bundestag Youth Exchange, a yearlong program where young professionals can work, study, and live in Germany. The plan was to start in the summer of 2020 and begin a full-time role at Deloitte upon his return, but his plans were changed due to COVID-19.
In the meantime, Hodson took professional exams and volunteered at the Earned Income Tax Credit Coalition (EITC) in Omaha, whose goal is to improve quality of life by helping others gain financial security.
"I've always wanted to figure out how I can combine the business knowledge and acumen that I've been developing from UNO; my internship and professional experiences; and service and helping my community, including people that don't traditionally have access to resources like those," Hodson said.
His path started through organizations like the Honor Student Association, Financial Management Association, and Beta Alpha Psi, which helped him better understand what he wanted to do.
"UNO really transformed my mind and my life in a variety of different ways because, growing up as a first-generation college student, I didn't really have any mentors in the business space. I didn't even know what professional or public accounting was when I went into school. I just knew that I was good at accounting in high school," he said.
"To be able to be part of an organization bigger than myself and gain the skills and perspective necessary to work with other people to collaborate to do something bigger than myself—that was pretty huge."
Through his time at UNO, particularly as a tutor, Hodson worked with many international students from a variety of countries around the world. Conversations with those students about what they thought about different aspects of America compared to that of their home countries, and what their hometown was like fascinated him. After being encouraged by others, he studied abroad.
"That experience really motivated me, when I returned home, to continue to seek out new experiences, learn from different perspectives and see how I can leverage my business skills and my curiosity on an international level." Hodson said. "Which was something that, had I not gone to UNO or been around international students from all over the world and studied abroad with the support of the Study Abroad Office; I would be a completely different person."
Lucy Morrison, Ph.D., Susan Eldridge Ph.D., and Xiaoyan Cheng Ph.D., all made a huge impact on Hodson's life. "These are people that were always there to be able to support me, encourage me, and provide me with opportunities to keep growing. Really, I think they are excellent demonstrations of the spirit and educational community of UNO, so I wouldn't be where I am without them."
Hodson plans to continue working at Deloitte while staying involved with the EITC. For now, he wants to build a service mindset along with a strong business foundation so that he can contribute to service organizations on a global scale.
His story goes to show that with interest and passion, anything from conversations with international students to involvement in the community can become an opportunity to expand your horizons and lead you down paths you might have never expected.
"Get involved, try things that you have any remote interest in at UNO, let your curiosity drive you and see how you can piece things together from those experiences."
About 'I Am the ROI'
'I Am the ROI' introduces you to alumni whose return on their investment in a UNO education goes far beyond career opportunities. UNO brought out the best in these leaders, change makers and innovators who are making a difference in our communities and enriching our quality of life.
This is a joint storytelling effort by UNO's Office of University Communications and the UNO Alumni Association.
About the University of Nebraska at Omaha
Located in one of America's best cities to live, work and learn, the University of Nebraska at Omaha (UNO) is Nebraska's premier metropolitan university. With more than 15,000 students enrolled in 200-plus programs of study, UNO is recognized nationally for its online education, graduate education, military friendliness and community engagement efforts. Founded in 1908, UNO has served learners of all backgrounds for more than 100 years and is dedicated to another century of excellence both in the classroom and in the community.
Follow UNO on Facebook, Twitter, Instagram, TikTok, LinkedIn, and YouTube.