'I Am the ROI': Leah Whitney Chavez
Little did Leah Whitney Chavez know, she would launch a nonprofit dedicated to removing language barriers in Omaha and promoting cultural awareness by the time she graduated from UNO.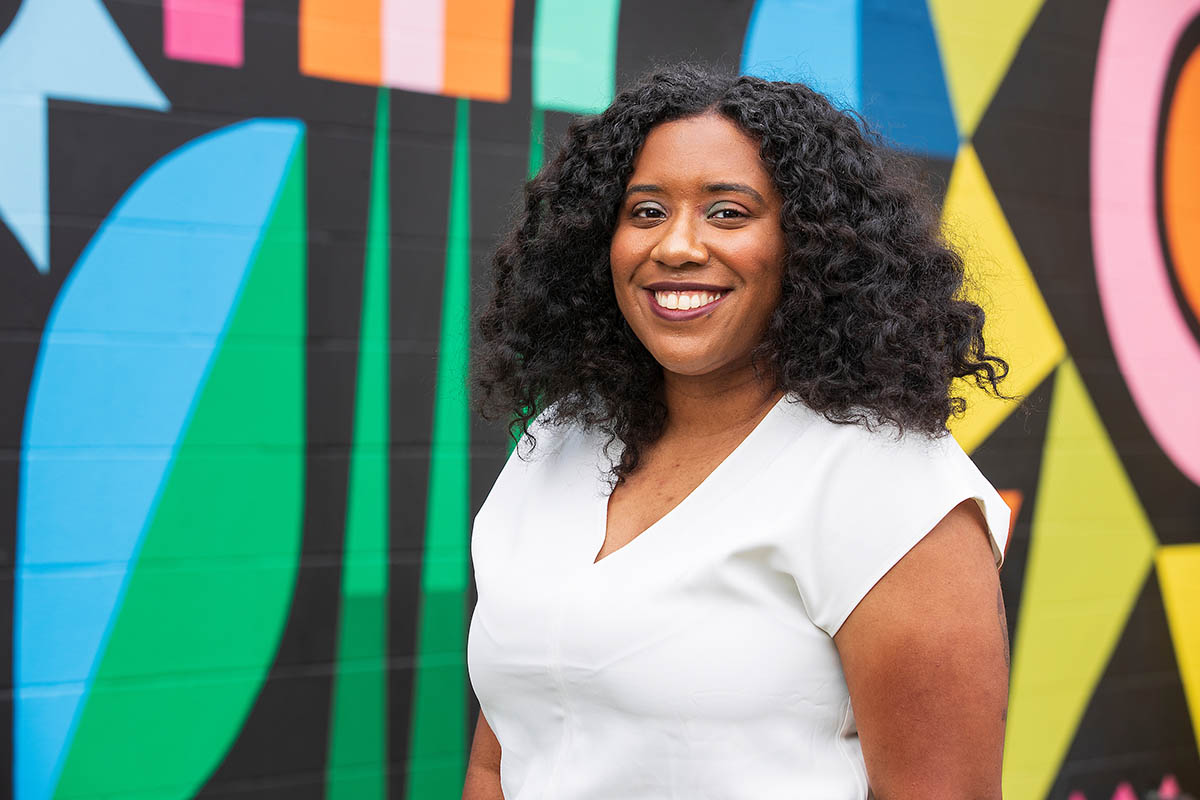 UNO alumna Leah Whitney Chavez, Founder and Executive Director of World Speaks Omaha
When alumna Leah Whitney Chavez first came to UNO, her future plans began in one direction but soon shifted. Little did she know that she would launch a nonprofit dedicated to removing language barriers in Omaha and promoting cultural awareness by the time she graduated.
In her second year as a student, Whitney Chavez had an idea to bring together her passion for expression of diversity and foreign language as well as providing opportunities to give a voice to underrepresented populations in the Omaha area.
Through encouragement from UNO faculty and partnerships with community organizations, the idea grew into what is today as World Speaks Omaha. This 501(c)(3) non-profit organization works to bridge social-economic gaps through cultural education, inclusion initiatives, and advocacy services. They also provide programming and translation or interpretation services for 12 different languages to the Omaha community.
In addition to courses, World Speaks Omaha hosts an online series called Justice Speaks, which is an ongoing dialogue where local people of color can come to talk about their culture and the different issues they face. These discussions are available for the community to watch through their YouTube channel.
Chavez serves as the organization's Founder and Executive Director. "Our mission is really to give a voice to the voiceless," she said. "Being able to give folks a platform where they can talk about their culture or about things that they're going through and being empathetic, I think that is my Maverick Spirit."
It started out small. A former high school teacher helped her host one of her first language classes in their classroom. As more volunteers, participants, and languages became involved, courses have been held in different locations such as Do Space or at the Abide Network campus. The COVID-19 pandemic led World Speaks Omaha to host courses and tutoring in a virtual format.
World Speaks Omaha is focused on community. Members of the community come to classes to learn additional languages. Organizations such as the American Civil Liberties Union (ACLU), Canopy South and other nonprofits look to World Speaks for assistance with bridging communication barriers.
Her desire to begin working with diverse communities was influenced by UNO's Global Diplomat program which allows students to help promote campus to incoming international students and help them settle in upon arrival in Omaha. She made connections with international students by picking them up from the airport, showing them to their dorm rooms, and being a friendly face as they arrived on campus.
"[The Global Diplomat Program] was an amazing opportunity to meet people from all over the world and engage with them," she said. "It was cool to be the first person they met when they came to town and just hang out with them."
Chavez also credits the Goodrich Program for shaping who she is today, "The program is very supportive. You have friends, mentors, peers that help you get through your college journey. Even when [my plans] shifted, they were still behind me 100%."
"It feels like a family and I'm so happy to be a Goodricher."
About 'I Am the ROI'
'I Am the ROI' introduces you to alumni whose return on their investment in a UNO education goes far beyond career opportunities. UNO brought out the best in these leaders, change makers and innovators who are making a difference in our communities and enriching our quality of life.
This is a joint storytelling effort by UNO's Office of University Communications and the UNO Alumni Association.
About the University of Nebraska at Omaha
Located in one of America's best cities to live, work and learn, the University of Nebraska at Omaha (UNO) is Nebraska's premier metropolitan university. With more than 15,000 students enrolled in 200-plus programs of study, UNO is recognized nationally for its online education, graduate education, military friendliness and community engagement efforts. Founded in 1908, UNO has served learners of all backgrounds for more than 100 years and is dedicated to another century of excellence both in the classroom and in the community.
Follow UNO on Facebook, Twitter, Instagram, TikTok, LinkedIn, and YouTube.