Revisiting 'I Am the ROI': Lasha Goodwin
Lasha Goodwin's career in real estate began at a young age with a dream of working in architectural engineering. She ultimately switched her major and became a student in the UNO College of Business Administration where she studied real estate and land use economics.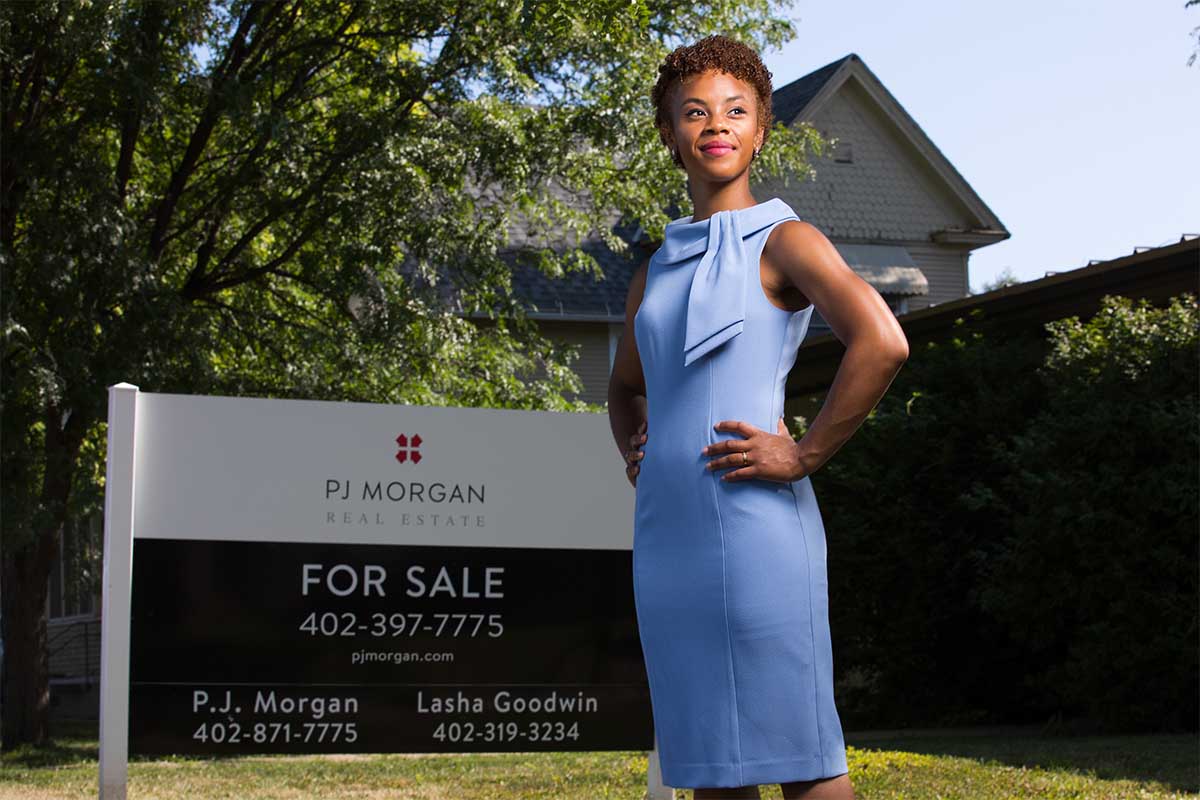 Lasha Goodwin earned her bachelor's degree in business administration from UNO's College of Business Administration
Lasha Goodwin's career in real estate began at a young age with a dream of working in architectural engineering.
"I've been saying I was going to be an architectural engineer since I was eight. All my toys were Legos and architecture stuff," she said.
She entered college studying architectural engineering at University of Nebraska at Omaha (UNO) and then architecture through the University of Nebraska-Lincoln's College of Engineering at the Scott Campus location, which is located at UNO's Peter Kiewit Institute. Through her coursework as well as an internship and part-time work at a local architecture firm, Goodwin realized that her current path might be lacking a human element that she also highly valued.
Goodwin ultimately switched her major and became a student in the College of Business Administration at the University of Nebraska at Omaha (UNO) where she studied real estate and land use economics.
Changing her major enabled her to find a new path that connected her desire to help others with her love for architecture.
"You learn in life that it's good to have a plan, but it's also good to be very flexible. That's the value of what I learned," Goodwin said. "Even the most well-set plans can change and that doesn't mean that all is lost. It just means that you have to make an informed pivot."
Throughout her time at UNO, Goodwin was involved in numerous student organizations such as the National Society of Black Engineers, Rho Epsilon, and the UNO Jazz Band, which provided her with a much-needed break from her coursework. She particularly enjoyed playing for summer jazz camps and era-specific jitterbug dances.
"That was a happy place for me where I didn't have to crunch any numbers except count to four, and remember to breathe," Goodwin said.
Her time at UNO culminated in her involvement in the College of Business Administration's Capstone Cup, a semester-long competition that brings students face-to-face with businesses and complex business situations. Each team analyzes the issue, develops recommendations, and presents their findings. Goodwin compared it to a college version of the television show "Shark Tank."
The scenario: To spur innovation and new business for the Yeti brand, her team encouraged Yeti to diversify its offerings and came up with the idea of a highly insulated freezer designed to keep frozen goods cold for up to 10 days. Fresh off an active severe weather season, the idea was to minimize food loss caused by power outages lasting more than a few hours.
"Working in an architecture firm for so long, I can do drafting or computer modeling, so I made a computer model of the freezer, so it looked realistic and like we had actually designed it," she said. "That was, I think, a competitive advantage where I had this skill that I was able to combine with what we had learned about these principles of marketing."
This advantage, coupled with teamwork, extra effort, and a few late nights at Mammel Hall, led her team to win the competition.
"You can't have the last name Goodwin and have a loser mentality!" she said.
The connections she made through her classes, student organizations, and the Capstone Cup have proven invaluable as an alumna. Following graduation, she spent time talking with faculty members and receiving help polishing her resume and job-hunting skills through UNO's Academic and Career Development Center.
"It's not like I just left UNO and the door shut and everyone that I built relationships with, whether it was professors or staff or classmates, just stopped. If anything, it's this hub where there's a free-flow of connections."
It was one of those past connections, and the establishment of a new one, that led to her current position at PJ Morgan Real Estate. David Beberwyk, director of outreach and education at UNO's Center for Real Estate and Asset Management, encouraged her to reach out to another UNO alumnus who had completed the same program.
Establishing this relationship helped her get a foot in the door and land a position at PJ Morgan as a Sales and Leasing Agent for residential and commercial properties. Her next chapter has built on the foundation she set before graduation.
"I always say that you collect your experiences," she said. "With PJ Morgan, some of the stuff I was working on as an intern in architecture are now listings that PJ Morgan has. It's been cool to say, 'I've been in this building before' in a floorplan or a piece of paper."
About 'I Am the ROI'
'I Am the ROI' introduces you to alumni whose return on their investment in a UNO education goes far beyond career opportunities. UNO brought out the best in these leaders, change makers and innovators who are making a difference in our communities and enriching our quality of life.
This is a joint storytelling effort by UNO's Office of University Communications and the UNO Alumni Association.
About the University of Nebraska at Omaha
Located in one of America's best cities to live, work and learn, the University of Nebraska at Omaha (UNO) is Nebraska's premier metropolitan university. With more than 15,000 students enrolled in 200-plus programs of study, UNO is recognized nationally for its online education, graduate education, military friendliness and community engagement efforts. Founded in 1908, UNO has served learners of all backgrounds for more than 100 years and is dedicated to another century of excellence both in the classroom and in the community.
Follow UNO on Facebook, Twitter, Instagram, TikTok, LinkedIn, and YouTube.