'I Am the ROI': Damon Strong
"Once you're a part of [the UNO] family, they always embrace you. They keep up with things that you do in the community, promotions, and so on. Once you're a Maverick, you're always a Maverick."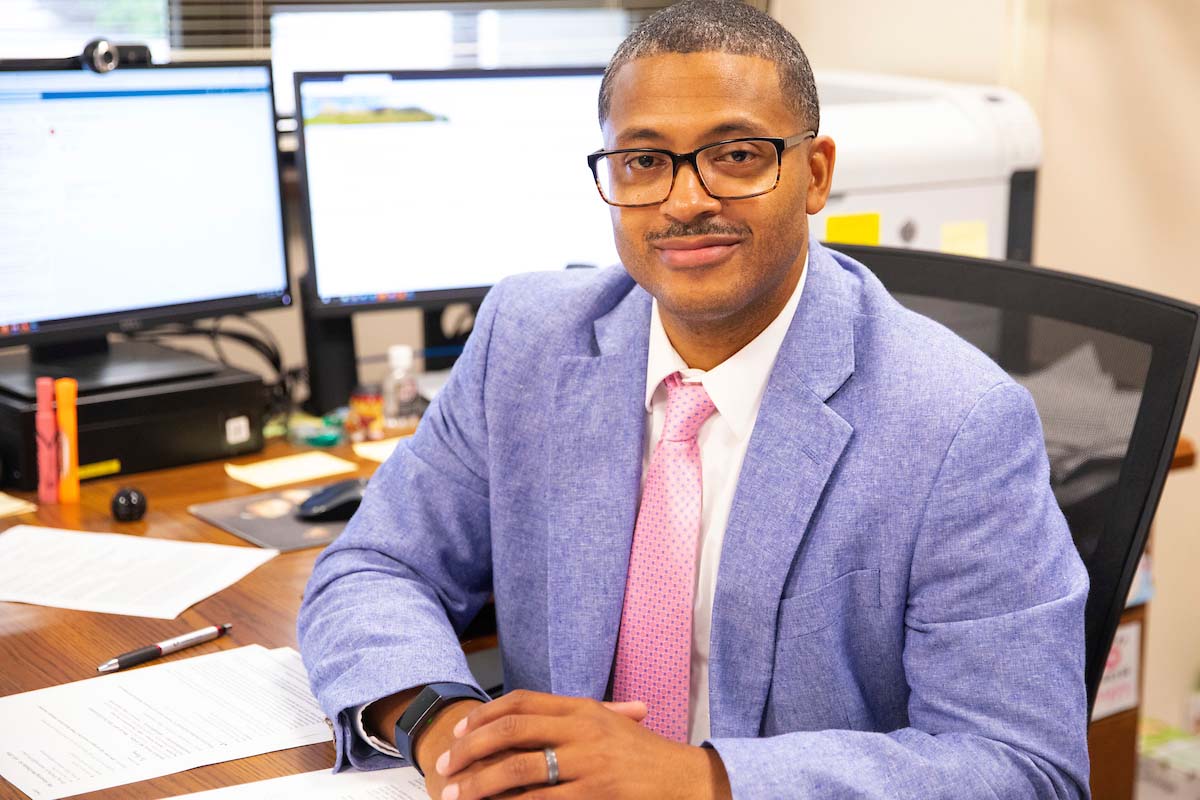 Damon Strong, Chief Probation Officer for Adult Probation, State of Nebraska Judicial Branch Fourth Judicial District
Damon Strong found a well-rounded experience to be key to his educational goals, which is why he decided to pursue a general studies degree with an emphasis in criminal justice from UNO.
Strong is the chief probation officer for adult probation in the Fourth Judicial District for the State of Nebraska Judicial Branch. He previously served as a specialized officer, navigation officer, and chief deputy probation officer. He was promoted to his current position.
His career in criminal justice started in Douglas County Corrections 10 years prior to him going into the field of probation. "I think that experience really instilled in me the ability to talk and communicate with folks, but I also knew that there was an opportunity elsewhere to better help and better serve those in the community," Strong said.
As a Maverick, Strong believes that his educational career at UNO gave him the knowledge and wherewithal to prepare him for the career he has today.
"UNO really helped me make connections, such as Dr. Mark Foxall, who was very instrumental in helping me start my career," Strong said. He mentioned that Foxall was the director at Douglas County Corrections when he worked there—a connection he has maintained as he's taken on new positions and as he came to UNO.
Strong says he came to UNO as a non-traditional student, but despite that, he still felt welcomed by the professors, students, and the overall campus environment.
"I had already started my career working at the jail, so I was in my early 30s when I started at UNO. Just being more focused at that age and having that welcoming environment at UNO really helped me," he said.
Strong earned a general studies degree with an emphasis in criminal justice, providing him with a well-rounded education with an additional focus on criminal justice. Therefore he has gotten to experience and be a part of the community in UNO's School of Criminology and Criminal Justice.
"First of all, my experience at UNO was wonderful. I think their criminology department is great," Strong said. "Once I graduated—one thing about UNO—once you're a part of that family they always embrace you. They keep up with things that you do in the community, promotions, and so on. Once you're a Maverick, you're always a Maverick."
Students like him have gotten to be a part of the Maverick culture and will be a part of the community now and forever. Each student, current and former, has their own idea of what being a Maverick is, and Strong is no exception.
"I'm very proud to be a Maverick, and I think what being a Maverick is, is being a part of the Omaha community," Strong said. "UNO is a big part of the diverse community that we have and really tries to grow that diversity and put an emphasis on those values when interacting with the community."
For those students currently attending UNO or considering starting their college journey, Strong encouraged students to keep moving forward.
"With the year that we've had 2020 was quite challenging with COVID, social justice other general issues. What I would say is keep striving, keep pushing - it's worth it, and your education can never be taken from you," Strong said. "My time at UNO was the best experience that I've ever had at any university or educational setting."
"Just keep striving, keep believing, and stay the course."
About 'I Am the ROI'
'I Am the ROI' introduces you to alumni whose return on their investment in a UNO education goes far beyond career opportunities. UNO brought out the best in these leaders, change makers and innovators who are making a difference in our communities and enriching our quality of life.
This is a joint storytelling effort by UNO's Office of University Communications and the UNO Alumni Association.
About the University of Nebraska at Omaha
Located in one of America's best cities to live, work and learn, the University of Nebraska at Omaha (UNO) is Nebraska's premier metropolitan university. With more than 15,000 students enrolled in 200-plus programs of study, UNO is recognized nationally for its online education, graduate education, military friendliness and community engagement efforts. Founded in 1908, UNO has served learners of all backgrounds for more than 100 years and is dedicated to another century of excellence both in the classroom and in the community.
Follow UNO on Facebook, Twitter, Instagram, TikTok, LinkedIn, and YouTube.