I Am the ROI: Craig Hughes
Two-time alumnus Craig Hughes believes that his life and career could be split into two sections: Before and after returning to campus to pursue his Master of Arts in Sociology and Anthropology from UNO.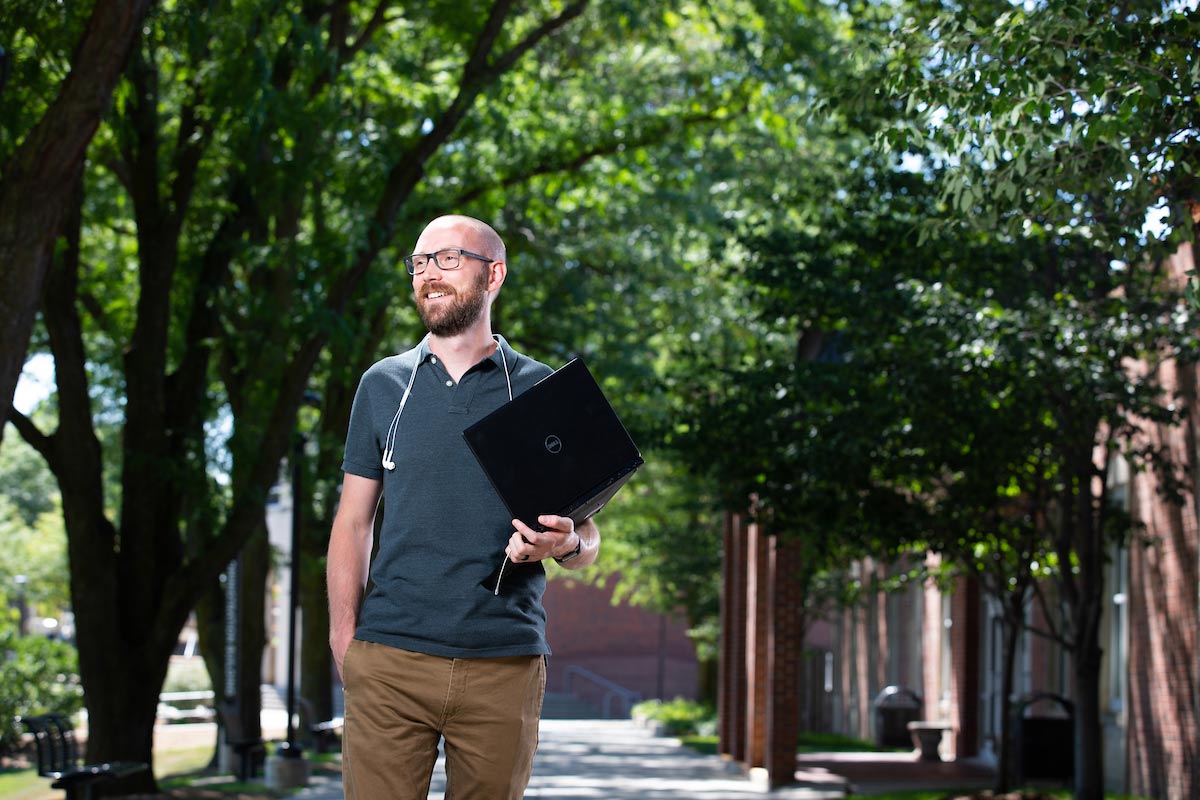 Craig Hughes uses his degrees from UNO in graphic design and anthropology and sociology to spur innovation in tech software, services, and products through the use of human-centered design.
Two-time alumnus Craig Hughes believes that his life and career could be split into two sections: Before and after returning to campus to pursue his Master of Arts in the department of Sociology and Anthropology at the University of Nebraska at Omaha (UNO).
His undergraduate degree in studio art and communications design helped him launch his career, bringing design and research expertise to the software and healthcare fields. He soon realized the importance of connecting user experience and human-centered design. "Someone could have a masterful engineering execution of a digital technology but still get it wrong because it doesn't meet a human need," Hughes said. "That's when I started to transition more toward service design."
This transition led to a search for a graduate program that explored the overlap between design and anthropology. While UNO did not have such a program at the time, Timi Barone, PhD, associate professor of Anthropology and Sociology within UNO's College of Arts and Sciences, met with Hughes to discuss his career goals and ultimately became his mentor and chair of his thesis committee.
Hughes said that Barone recognized this specific area of study was catching steam. "She listened to me," he said. "[Barone said] 'If you come to UNO, we're willing to work with you to develop a plan of study that's relevant. You can shape this experience for your needs and your passion areas.' With other faculty in the department supporting that, I thought: 'this sounds great.'"
That Maverick, trailblazing spirit is what ultimately led Hughes to come back to his alma mater to pursue his master's.
"This was a leading-edge conversation at the time—this combination of design and anthropology—and the idea that someone within the institution sees that this is valuable, that was a big reason why I came back to UNO."
Utilizing both his undergraduate degree in design and his master's in anthropology, Hughes provided ethnographic research and innovation consulting to clients before migrating his consulting practice to Dell Technologies where he leads an innovation program spanning 42 countries. This position puts his combination of skillsets to work as a hybrid designer and social scientist.
"I get tapped for high-impact projects and initiatives to bring that lens of behavioral science and human-centered design," he said. "We use a lot of tools from the social and behavioral sciences to build a better understanding of the people we serve, so that whatever we create is human-centered. It's not just about the technology; it's about advancing human progress." Hughes believes that this shared mindset is one reason why Dell Technologies earned a top spot on Fast Company's Best Workplaces for Innovators list in 2020.
A path that started with the realization that he needed a broader toolset in addition to the willingness of UNO's faculty to adapt and tailor classes and programs to fit the evolving needs of the industry. From his first course to his thesis, faculty within the sociology and anthropology department helped him realize his potential. Hughes joined them at the international meeting of the Society for Applied Anthropology in Vancouver. This commitment didn't end at graduation. Hughes said department supported him after he received his master's by inviting him to contribute to ongoing ethnographic research at the University of Nebraska Medical Center (UNMC).
On the other side of his master's program, Hughes considers himself a new person who is well underway on his next chapter. "I can say, unequivocally, that I emerged a very different type of person than when I went in. I was a better critical thinker, a better writer, and overall just a better person as a result of going through the graduate program in the Department of Sociology and Anthropology. It's a big passion point for me."
About 'I Am the ROI'
'I Am the ROI' introduces you to alumni whose return on their investment in a UNO education goes far beyond career opportunities. UNO brought out the best in these leaders, change makers and innovators who are making a difference in our communities and enriching our quality of life.
This is a joint storytelling effort by UNO's Office of University Communications and the UNO Alumni Association.
About the University of Nebraska at Omaha
Located in one of America's best cities to live, work and learn, the University of Nebraska at Omaha (UNO) is Nebraska's premier metropolitan university. With more than 15,000 students enrolled in 200-plus programs of study, UNO is recognized nationally for its online education, graduate education, military friendliness and community engagement efforts. Founded in 1908, UNO has served learners of all backgrounds for more than 100 years and is dedicated to another century of excellence both in the classroom and in the community.
Follow UNO on Facebook, Twitter, Instagram, TikTok, LinkedIn, and YouTube.