'I Am the ROI': César Magaña Linares
"These dreams I had were a lot more accessible to me than I thought, and even when I didn't feel that way, the community at UNO would do anything to make sure that it's within reach."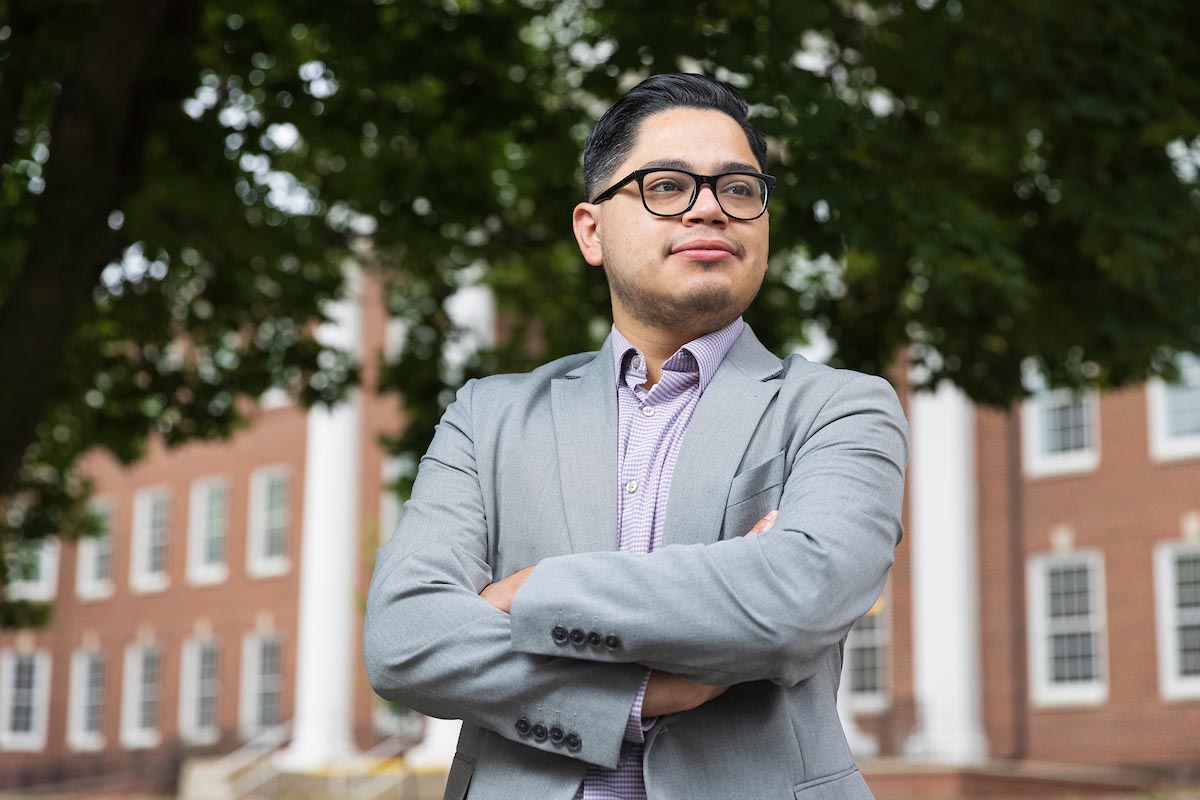 UNO alumnus César Magaña Linares is now pursuing his law degree as he works to become an immigration lawyer.
Competing in speech and debate and experiencing a diverse campus community at UNO has led a UNO alumnus to pursue a future as an immigration lawyer helping others who have immigrated from Latin America.
Originally from El Salvador, UNO alumnus César Magaña Linares grew up in Fremont, Nebraska. Setting foot on UNO's campus for a debate tournament held on-campus during his high school years led him to see UNO as a solid option for continuing his education.
"Ever since then, UNO really never left my mind," he said. "I knew that UNO had a very successful speech team which I later became a part of, so it was really a slow transition of speech and debate that brought me here."
Experiencing campus, becoming involved in MavFORENSICS, and getting connected with students and faculty from a wide array of backgrounds led him to feel at home in an otherwise unfamiliar place. A diverse campus community provided him with the opportunity to be around students, faculty, and staff from a similar background — an opportunity he said he didn't have growing up.
"A lot of professors could relate to my story, and coming here to UNO, not only did I have professors whom that encompassed who they were, but it also encompassed what they studied and what they taught," Magaña Linares said.
As he came to better know these faculty, it led him to want to pursue a major close to his heart. He switched majors to Latin American Studies which allowed him to combine the skills he had developed in speech and debate with serving the Latin American population.
"I was very interested in not only studying Latin America but also the immigration trends from Latin America to the United States," he said. "Over time, that developed into an interest in wanting to become an immigration lawyer."
He credited mentors such as Cameron Logsdon and Abbie Syrek, who both coached him as part of MavFORENSICS, and Jonathan Benjamin-Alvarado, Ph.D., for helping him realize the opportunities that were in front of him.
"These dreams I had were a lot more accessible to me than I thought, and even when I didn't feel that way, the community at UNO would do anything to make sure that it's within reach."
After graduating from UNO, Magaña Linares is doing just that as he pursues his law degree. As a law student who has worked at a couple law offices, he has had the opportunity to help immigrants by assisting them in immigration and civil rights cases.
And it all started with a high school debate competition, a visit to campus, a strong sense of identity, and a desire to help others from similar backgrounds.
"UNO has something for everyone, and I really mean that. Whether you're looking at it from a social perspective and you want to engage in different organizations, or you have professional interests and you want to make connections with professors or with the greater Omaha community, UNO has it."
About 'I Am the ROI'
'I Am the ROI' introduces you to alumni whose return on their investment in a UNO education goes far beyond career opportunities. UNO brought out the best in these leaders, change makers and innovators who are making a difference in our communities and enriching our quality of life.
This is a joint storytelling effort by UNO's Office of University Communications and the UNO Alumni Association.
About the University of Nebraska at Omaha
Located in one of America's best cities to live, work and learn, the University of Nebraska at Omaha (UNO) is Nebraska's premier metropolitan university. With more than 15,000 students enrolled in 200-plus programs of study, UNO is recognized nationally for its online education, graduate education, military friendliness and community engagement efforts. Founded in 1908, UNO has served learners of all backgrounds for more than 100 years and is dedicated to another century of excellence both in the classroom and in the community.
Follow UNO on Facebook, Twitter, Instagram, TikTok, LinkedIn, and YouTube.