UNO Magazine: Learn and Earn
With a changing world and workforce, the ability to offer practical learning environments and paid opportunities leads to better outcomes for students and their future employers.
First-year UNO College of IS&T students tour and learn about Interpublic Group.
In Nebraska, an impending tech worker labor shortage is compounded by the concept of "brain drain" where students, both from Nebraska and out of state, are leaving to pursue opportunities elsewhere. Despite Nebraska's contributions to technology infrastructure and national companies relying on Nebraska's IT labor, The Good Life in the Silicon Prairie must adopt a new approach to address this issue.
The Learn and Earn program at UNO's College of Information Services and Technology (IS&T) seeks to dispel notions that great tech jobs only exist on the coasts and recognizes experiential learning is the future of higher education. The initiative sets out a four-year course of job shadowing, small projects and paid internships.

Launched in the 2022-2023 academic year, the burgeoning program has multiple objectives, according to Martha Garcia- Murillo, Ph.D., the Lee D. and Willa Seemann Distinguished Dean of the College of IS&T.
"The first one is to make our students aware of the opportunities they have here in Omaha for jobs after graduation. The second is that they stay in the state and find a thriving career in the tech field. And finally, because many of our students work and study, the objective is that their work, through our partners, becomes their job," said Garcia-Murillo.
Garcia-Murillo describes the program as a "scaffolding-type of initiative," each year building on the previous, starting with job shadows.
In the first semester of the program, Learn and Earn students visit three job partners. Ash Abraham, IS&T student and peer ambassador, experienced both in-person and virtual job shadowing events at Fiserv, the Nebraska Library Commission and Aviture.
"Each and every professional actually comes and talks to the students about what the day-to-day life of an IT professional looks like, so it is really helpful." Especially, she adds, "the company tours."
When shadowing students become aware of the type of knowledge they'd need for potential IT positions, Garcia-Murillo says, they recognize the value of their courses. "Now they're beginning to see the relevance of what they're learning in the classroom to what they'll be doing in future projects."
"I personally got to know a lot about the IT field and about the different opportunities each student would be able to pursue," said Abraham.
To keep the first stages of the program focused on learning about a wide range of possibilities, job partners are asked to expose students to the company's entire IT team regardless of major, so students have a better understanding of the range of the tech sector.
Lynn Griffis of Aviture says her company hosted two job shadowing events in the fall of 2022, where "everyone from project managers, developers and the UX team, to the CEO and CTO" were invited to participate and interact with the students. Their full-day itineraries focused on introducing the company culture and demonstrating an actual workday for software development teams. Students also got a full office tour, a Q&A session and lunchtime one-on-ones with IT professionals.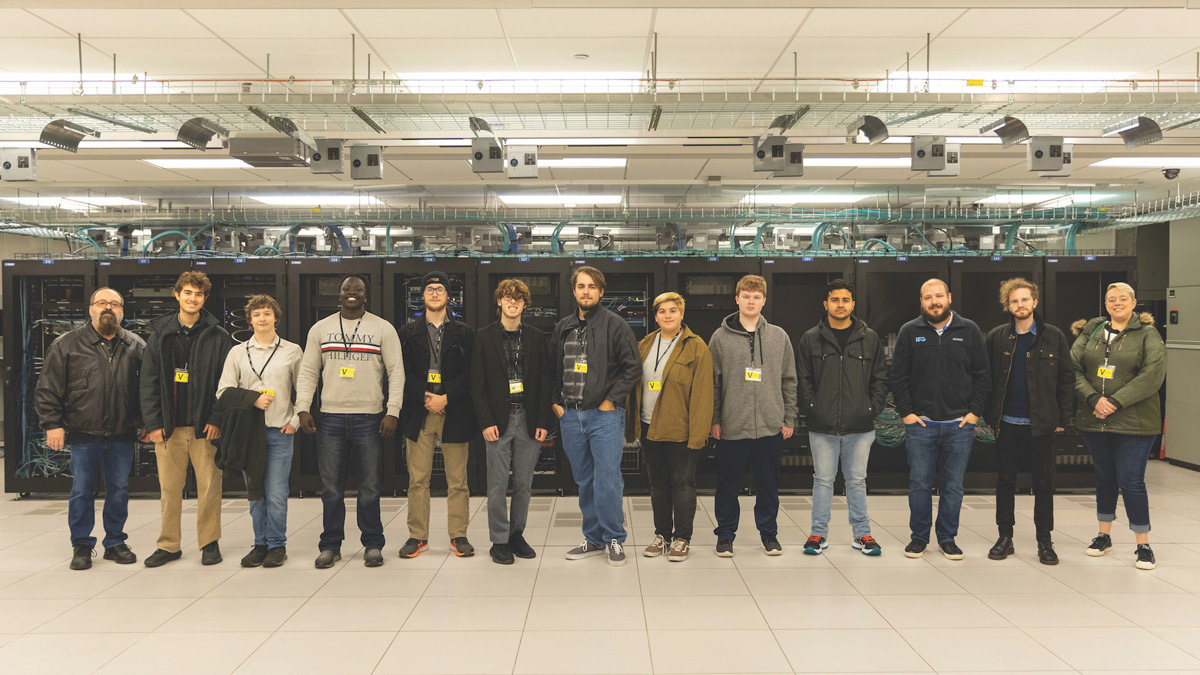 First-year UNO IS&T students tour and learn about Interpublic Group.
Jessica Ray, a Senior Manager of Human Resources for Interpublic Group (IPG), says they first partnered with IS&T over a decade ago.
"We've had real success with hiring interns from the university, and many have converted to full-time positions. The job shadowing aspect means IPG can get connected with freshmen before considering them for an internship, and we present our company so they can get a better idea of what we have to offer."
Year two of the program brings the opportunity for students to engage in small projects relevant to their academic unit. They'll spend between five and 35 hours a week addressing needs within their partnered company, like data cleaning, researching cyber security threats or small coding cleanups.
"One of the really cool things about that second year," says Alexis Sherman, Assistant Dean for Student Success, "is that we're not going to send in the students unprepared. While they're doing their project, we're going to bring them back to continue their learning in terms of skill development."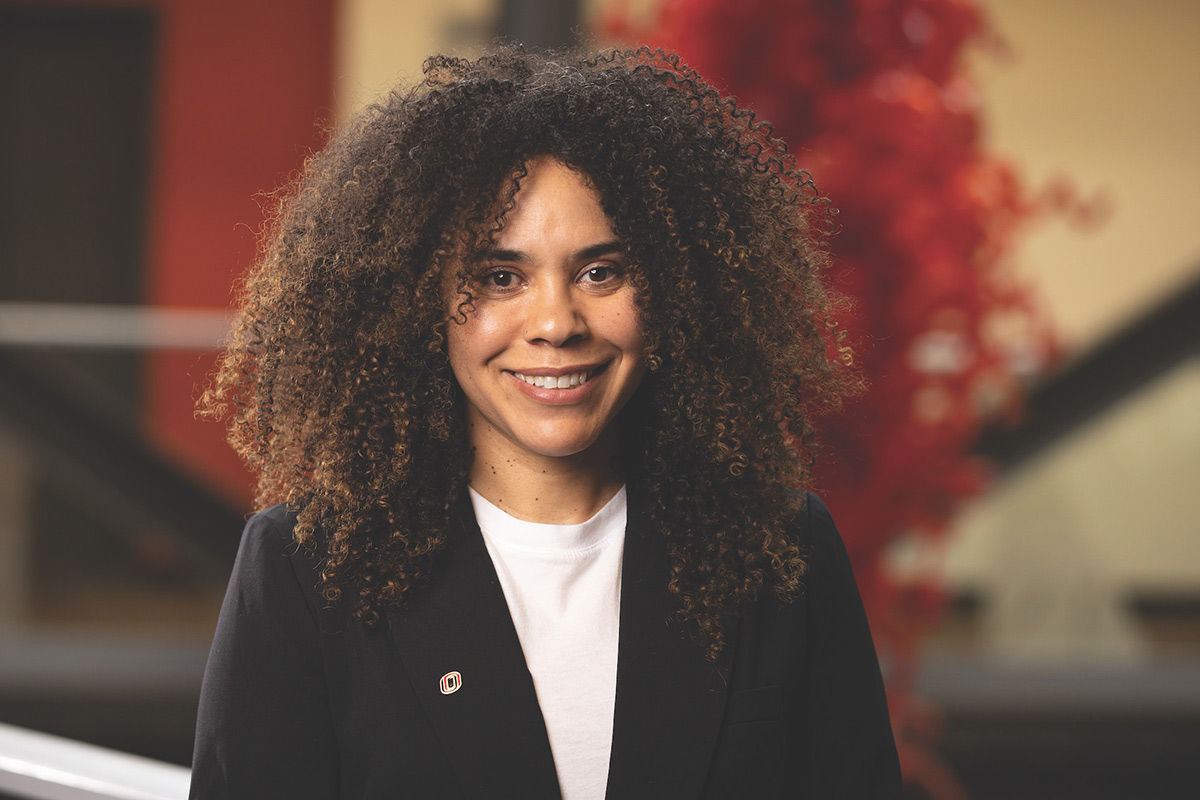 Alexis Sherman
These projects provide real-world work experience with actual impact. In addition, students are paid for their hours and efforts, strengthening the initiative's goals of addressing student needs. IS&T students don't need to seek employment irrelevant to their area of study. This immersion helps students envision a close future of careers in their chosen field while also earning income.
"By year three and four, ideally, we want them to be doing year-long internships with our job partners so they can replace whatever other unrelated job with whatever their job becomes in the IT field," says Garcia-Murillo.
Sherman recognizes the industry shift signified by the Learn and Earn initiative internship aspects.
"Many times, students who have access to internships have it through family friends or networks they're close to in their community, and so this really opens the door for a lot of our students who may not have those already established connections. Not every student on this campus is going to have the same opportunity to engage in a paid internship. Building it into the fabric of what we do is important in broadening the participation of computing in general and creating a more diverse workforce."
Garcia-Murillo envisions a program where all students are included, not just a lucky few.
"We want to create a college-wide learning community," she says. "One of the main objectives for us is to break those structural barriers."
Another exciting aspect on the horizon is the forthcoming FNBO CodeStudio. With support and input from FNBO, IS&T is refurbishing an old computer lab on Scott Campus to better provide students with resources reflecting the current state of the industry.
"We want to make sure our students have access to modern technology, modern facilities that really mirror our own workspaces here at the bank," says Sammy Sufian, the Vice President of Technology with FNBO.
Brian Dorn, Ph.D., Associate Dean for Academic and Faculty Affairs says computer science and engineering classes normally comprise students sitting at their own machines in front of a lecture. "But that's not what development looks like," he says. "It's collaborative, it's centered around teams of people solving problems together."
Building a computer lab of the future means centering one of IS&T's core values – creating community.
"We thought of it more like a studio environment that's talking around, about and with code that feels more like what's been happening in the industry development circle."
Dorn says this approach generates a higher quality of code with fewer bugs and more on-time delivery. When the students go out to their internships or join the workforce proper, they'll know what to expect and be practiced in project collaboration.
Sufian, who also sits on the IS&T board, said he jumped at the chance to get involved.
"When I was introduced to the dean last year and we had a one-on-one, and she shared with me her goals around the initiative, I was ready to dive in and make sure I did everything in my power to make it as successful as possible."
Sufian believes it's important for employers of the IT and tech sectors to connect with students early and often throughout their time in higher ed to prepare them for life post-graduation.
"We can't afford to view academia and corporate America as two sequential, mutually exclusive entities anymore."
The shifting landscape of higher education and the tech industry means it's no longer a straight line from getting a degree first and then entering the workforce. The FNBO CodeStudio will be a hub where students have regular access to IT professionals throughout their education. The CodeStudio as a blend of undergrad, post-grad and professional collaboration will be integral to IS&T students' career readiness.
"The pandemic has accelerated changes in higher ed in ways no one could have predicted three years ago," says Dorn. "Really what it comes down to is meeting the needs of a diverse group of students, and making sure our programs are designed to be relevant to the industry we serve. That's a key component."
Sherman says a big part of bringing new life to the building is helping students be more innovative, "to tap into their creative outlets, so that we can be a big player in the future of tech, so our students can get top-tier jobs."
Renovations are set to occur throughout the spring and summer, with the FNBO CodeStudio opening in the fall of 2023. FNBO's gift supported not only the naming opportunity for CodeStudio, but also a new scholarship endowment that will be awarded the same year.
"We're very pleased with their generosity and willingness to make this happen for our students," says Dorn.
Learn and Earn has received "awesome support" from the UNO community and alumni. The program is also associated with a scholarship program called OASIS—Opportunity and Access Scholarship for IT Students. This tuition support helps students graduate debt free with industry-vetted tech skills, so they might contribute back to the program, funding future students.
"We want to build a culture of a 'pay it forward' model," says Dorn.
"It is of great importance to us all here in the college that the students get out of here without debt," said Garcia-Murillo. "The future for us is affordable, experiential, it's zero or very little loans and a great job after [students] graduate."
With all the new approaches in IT higher education forged by IS&T's Learn and Earn initiative, many involved see UNO setting an example for other institutions.
"I think it's going to help us become a model for these kinds of programs around the country," says Dorn.
Sufian agrees. "I hope there's a push to make this an industry standard. If not an industry standard, a Nebraska standard."
"I wasn't into the IT field until I got admission into UNO, so I didn't have an idea of what the IT field looked like, and the Learn and Earn program gave me an idea of, 'oh, this is how the IT field looks! This is how innovative it is!'" says Abraham of her experience with the initiative thus far.
As to the question of whether Learn and Earn would affect her possible future plans of staying in Nebraska?
"This program definitely helps."
About the UNO Magazine
UNO Magazine is the flagship publication of the University of Nebraska at Omaha (UNO) and is published three times a year as a collaborative effort of UNO, the University of Nebraska Foundation, and the UNO Alumni Association.