Sara Woods to Retire; Julie Dierberger Named Chief Engagement Officer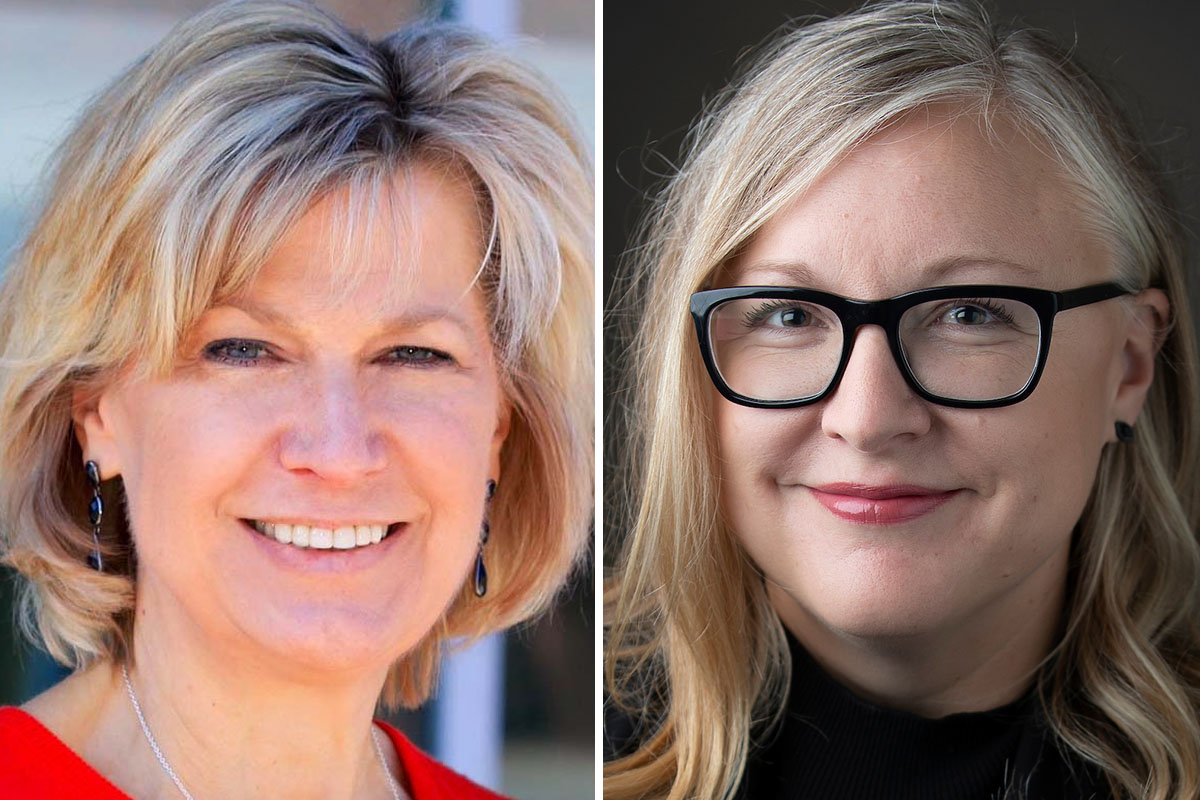 The inaugural chief engagement officer for the University of Nebraska at Omaha (UNO) will be stepping down as she enters retirement.
Sara Woods, the first leader of the new UNO Office of Engagement, has announced her intent to retire at the end of 2023. She's been a part of the Maverick community for four decades.
"As UNO's first chief engagement officer, Sara Woods is not only a champion for UNO, but also for the community," UNO Chancellor Joanne Li, Ph.D., CFA said. "UNO would not be the engaged, community-driven institution that it is today without her leadership, partnership, guidance, and enthusiasm. The UNO community wishes her well in her retirement, and once a Maverick, always a Maverick."
Julie Dierberger, Ph.D., Paul Sather Distinguished Director of UNO's Service Learning Academy (SLA), will be named the new chief engagement officer for UNO beginning in January 2024. Dierberger has led the SLA since 2017, and previously served as its P-16 Initiative Coordinator.
Woods began her employment at the university as a student worker prior to earning her degree at UNO. Upon graduation, she began her 40-year career at UNO in 1983 as a staff assistant in the audio-visual department before becoming a community service associate in the College of Public Affairs and Community Service (CPACS) in 1995.
She later held positions as assistant and then associate dean in CPACS before helping to develop the Barbara Weitz Community Engagement Center. Woods would become the CEC's first director in 2014. She also served as executive associate to the senior vice chancellor for engagement before being named chief engagement officer in 2022.
Woods significantly enhanced UNO's reputation as a community-engaged institution, leading to its recognition as a Carnegie Community Engaged institution in 2006 and its successful renewal in 2015. Even after retirement, Woods will continue to serve the university by leading its efforts for another successful Carnegie Community Engagement classification renewal.
Woods also served on numerous community boards for over 25 years, earning accolades such as the UNO Chancellor's Medal in 2005, the YWCA Woman of Distinction Award in 2009, recognition from the U.S. House of Representatives in 2017, and a Community Builders Award from Civic Nebraska in 2019. Woods has also authored four articles on community engagement efforts in higher education.
A reception to celebrate Sara Woods and her established career at UNO will be hosted in December. More details will be shared closer to the date of the event. Congratulations, Sara!