UNO's Graduate Programs, Overall Student Count Highlight Fall 2023 Enrollment Numbers
published: 2023/09/06
contact: Brandon Bartling - Office of Strategic Marketing and Communications
email: unonews@unomaha.edu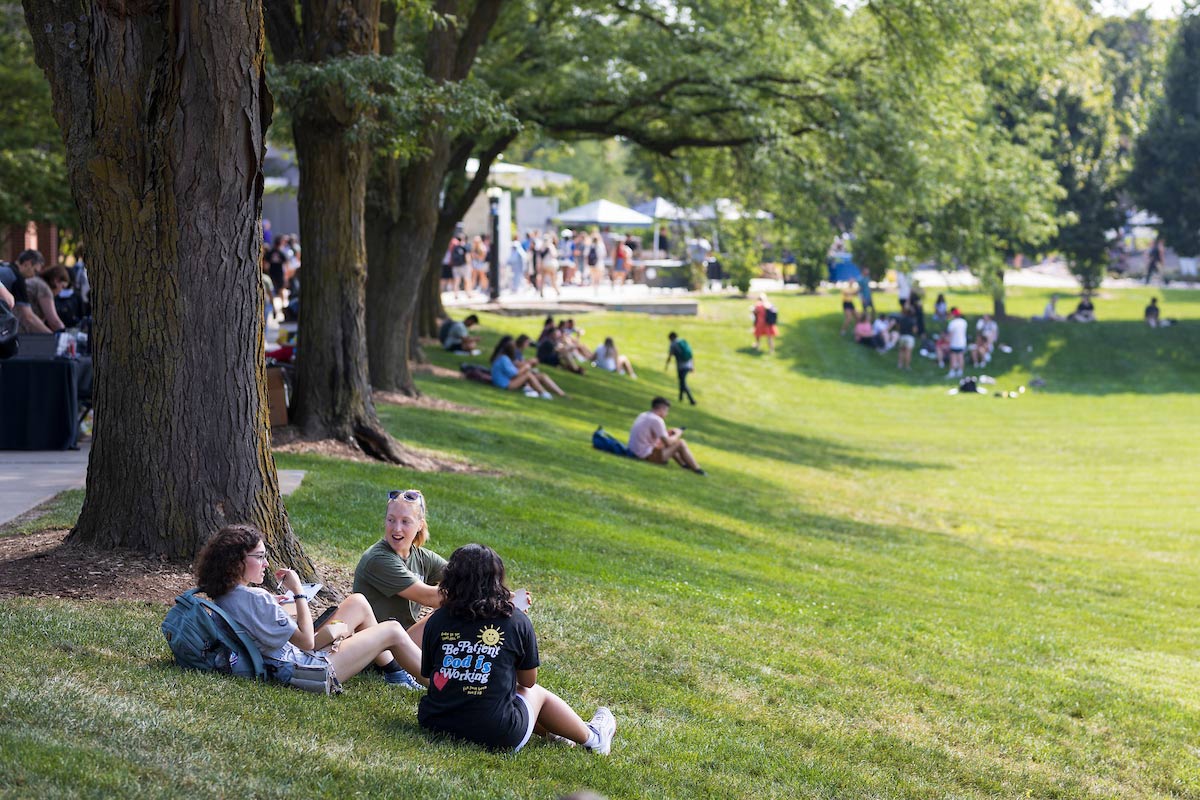 Students gather in the Pep Bowl to enjoy lunch and activities as part of Durango Days events held during the first week of classes at UNO..
For the 11th consecutive year, more than 15,000 students are enrolled for the Fall 2023 semester at the University of Nebraska at Omaha (UNO), which includes setting a new record for graduate enrollment for the third time in four years.
UNO's Fall 2023 semester enrollment numbers reflect the university's commitment to meeting the state's workforce needs through student recruitment in key areas seeing high demand by employers and through upskilling via graduate degree programs. Graduate enrollment at UNO grew 4.1% as more learners pursue further education, often remotely, to boost their skills and their careers. Undergraduate enrollment decreased slightly by 1.4%.
Enrollment has increased in key areas, including in UNO's College of Information Science & Technology (IS&T) and College of Business Administration (CBA). IS&T and CBA at UNO have seen total enrollment increases of 8.4% and 2.6%, respectively, compared to a year ago. The College of Education, Health and Human Sciences also saw an increase of 1.3% in total enrollment.
Chancellor Joanne Li, Ph.D., CFA credited these increases in key areas as a testament to the university's focus on workforce development in alignment with state workforce needs. Many of the top high wage, high skill, and high demand occupations identified by the state of Nebraska, otherwise known as H3 occupations, are heavily supported by fields within these three colleges.
"The state's H3 jobs serve as a roadmap for where we need to be to keep Nebraska moving forward. In response, UNO has charted a path to that destination through our innovative programs, our focus on affordability and accessibility, and our prioritization of student performance," Chancellor Li said. "The growth that UNO is experiencing in areas that directly lead to careers in high need fields serves to validate our efforts and motivate us to continue seeking ways to position our graduates for successful futures here in Nebraska."
The university enrolled more than 15,000 students for the 11th consecutive year despite nationwide trends toward more significant enrollment decline. UNO's total graduate enrollment increased 4.3% and undergraduate enrollment decreased 1.7%. While UNO's overall enrollment decreased slightly by 0.3% from Fall 2022, total enrollment at public 4-year universities nationally declined 1.2% in 2022 according to the National Student Clearinghouse Research Center. National numbers are not yet available for 2023.
A few other key notes on UNO's Fall 2023 enrollment:
Nearly one out of every three students at UNO is a student of color as the student body at UNO continues to embrace a diversified student body. Enrollment among racially diverse students increased about 2% at the undergraduate level and more than 8% at the graduate level.

The total number of credit hours taken by graduate students increased by 6% while the total number of credit hours taken by undergraduate students decreased by 1%.

No vacancy: UNO Housing and Residence Life saw more than 2,300 students move into campus housing on both Dodge and Scott Campuses ahead of the Fall 2023 semester. At one point, housing had a wait list of more than 100 students seeking on campus residency and has implemented innovative alternatives to find students a place to live close to campus.