Chancellor's Leadership Academy Launches at UNO
published: 2023/09/15
contact: Office of Strategic Marketing and Communications
email: unonews@unomaha.edu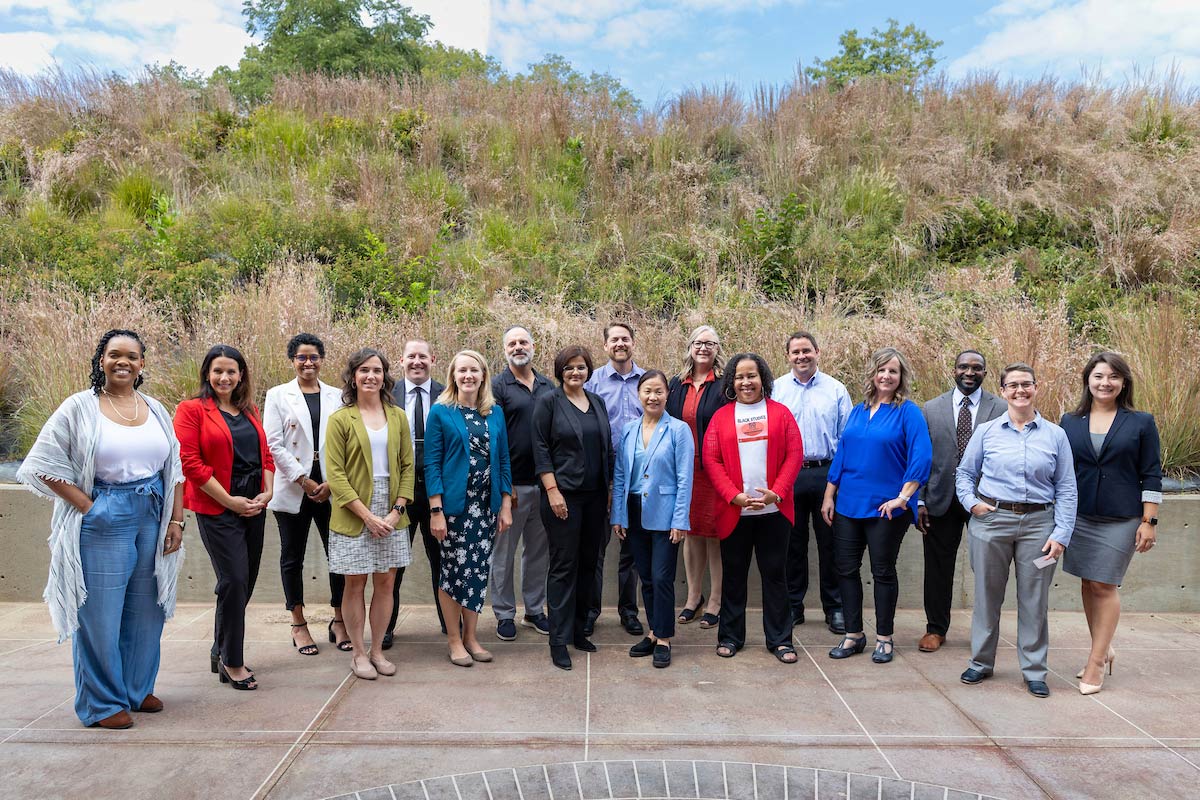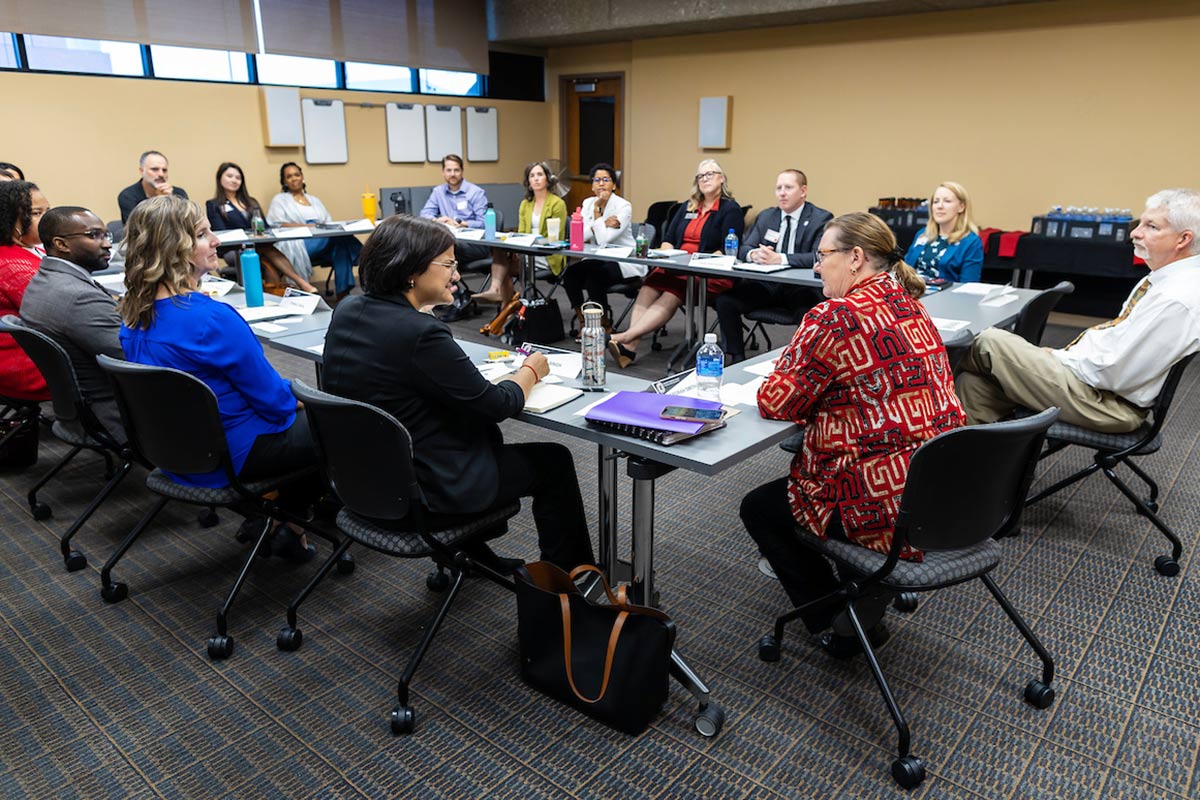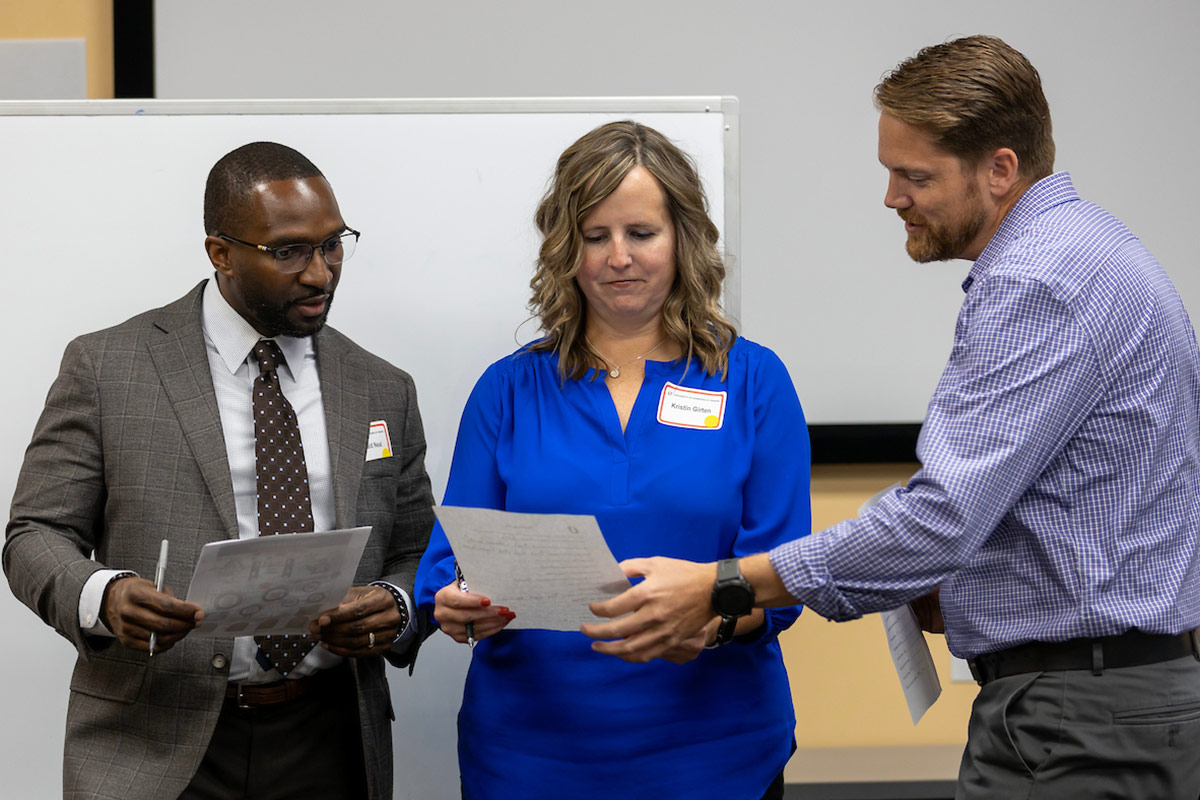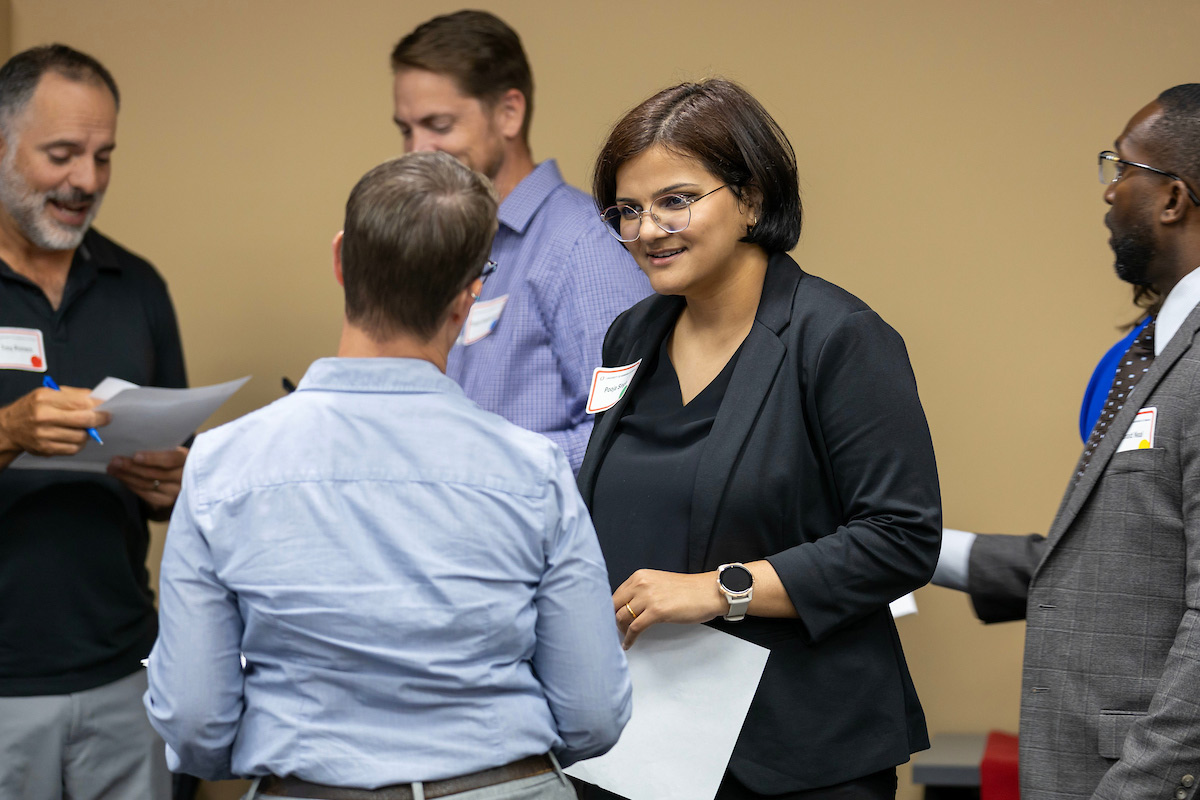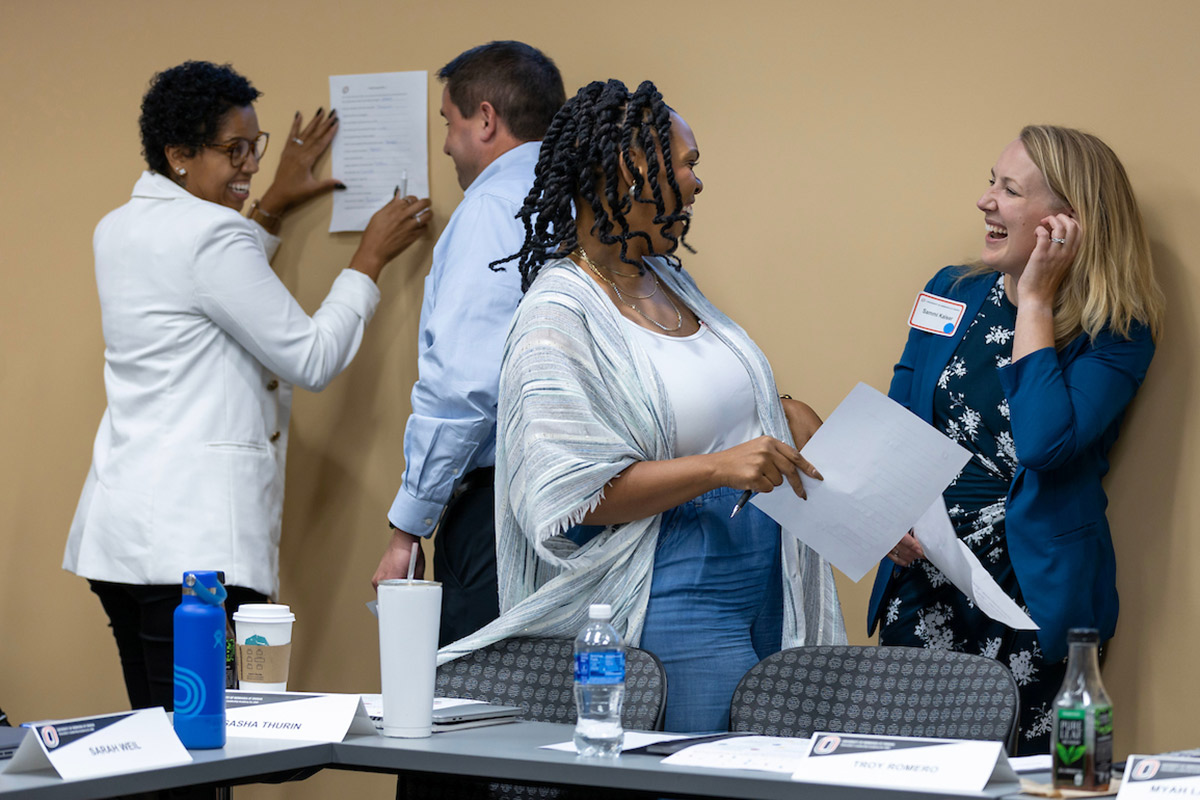 On Thursday, Sept. 14, the University of Nebraska at Omaha (UNO) launched the Chancellor's Leadership Academy. The academy will focus on preparing visionary, resilient, and flexible higher education leaders.
About the Academy
The 16-month program (Fall/Spring 2023–2024 and Fall 2024) will include leaders from all areas of the university in a relatively small cohort. The nine, 90-120 minutes monthly sessions (Sept. 2023 – May 2024) will consist of guest experts, discussion, and application/case studies on key topics and issues for higher education generally and UNO specifically. For Fall 2024, each participant will be matched with a mentor and with a concluding cohort event in Dec. 2024. In addition to the monthly sessions, additional resources will be provided or recommended and participants will be invited to select campus and community events.
The purposes of the academy are to:
Develop a system of leaders to work in a highly connected enterprise;

Foster a culture of empathy and care in the context of teamwork;

Equip participants a comprehensive understanding of modern university—particularly a public, urban, research, engaged university; and

Retain and attract top talent at UNO.
Tentative academy topics include:
Preparing Yourself for Future Roles/Leadership

Culture, Change, Creativity and innovation in higher education

Finance: University Budget 101 and Compliance

Create Strategies with Competitive Advantages and Innovations

Enrollment Management: Recruitment, Marketing, and Retention

Relationships: Media, Government, and Community

Media and Crisis Management

Equity, Diversity, Inclusion, and Belonging

How to Be a Leader
Fall 2023 Cohort Class Members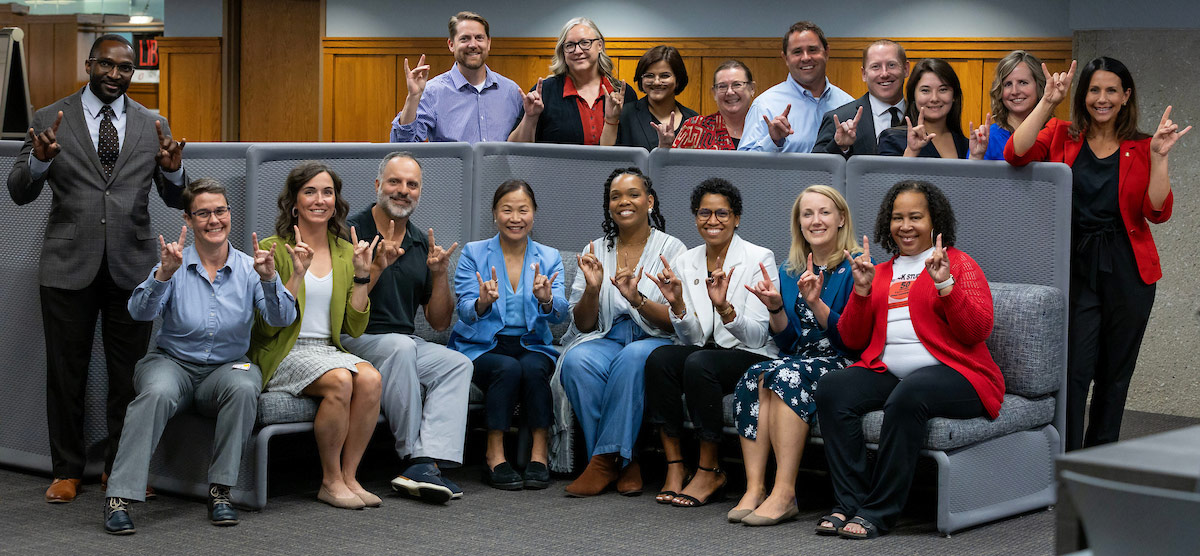 Front Row, From Left:
Donald Neal, Financial Strategy Officer for Auxiliary Services

Sarah Weil, Title IX Coordinator

Jessie Combs, Interim Assistant Vice Chancellor for Business and Finance

Troy Romero, Chair, Goodrich Scholarship Program

Chancellor Joanne Li, Ph.D., CFA

Taricka Burton, Executive Director, Student Leadership, Involvement, and Inclusion

Rashonda Austin, Director, Undergraduate Admissions

Sammi Kaiser, Assistant Vice Chancellor for Student Success

Cynthia Robinson, Chair, Black Studies
Back Row, From Left:
Trent Fredericksen, Associate Dean, Student Life and Well-Being

Julie Dierberger, Paul Sather Distinguished Director UNO Service Learning Academy

Pooja Singh, Systems and Project Management Analyst, University of Nebraska System

Deborah Smith-Howell, Senior Advisor to the Chancellor

David Belieu, Senior Director of Development for UNO

Chase Kratochvil, Director, Federal and Military Relations

Myah Lanoux-Nguyen, Director of Strategy and Operations, Innovative and Learning Centric Initiatives

Kristin Girten, Assistant Vice Chancellor, Research & Creative Activity

Sasha Thurin, Director of Marketing, Office of Strategic Marketing and Communications
Not Pictured:
Lindsey Ekwerekwu, Associate Athletic Director