Chancellor Li Among Six AAPI Leaders Recognized by Congressman Don Bacon
Nebraska Congressman Don Bacon honored the achievements and contributions of local Asian American and Pacific Islander (AAPI) leaders within the Omaha community at UNO's Thompson Alumni Center.
published: 2023/05/03
contact: Office of Strategic Marketing and Communications
email: unonews@unomaha.edu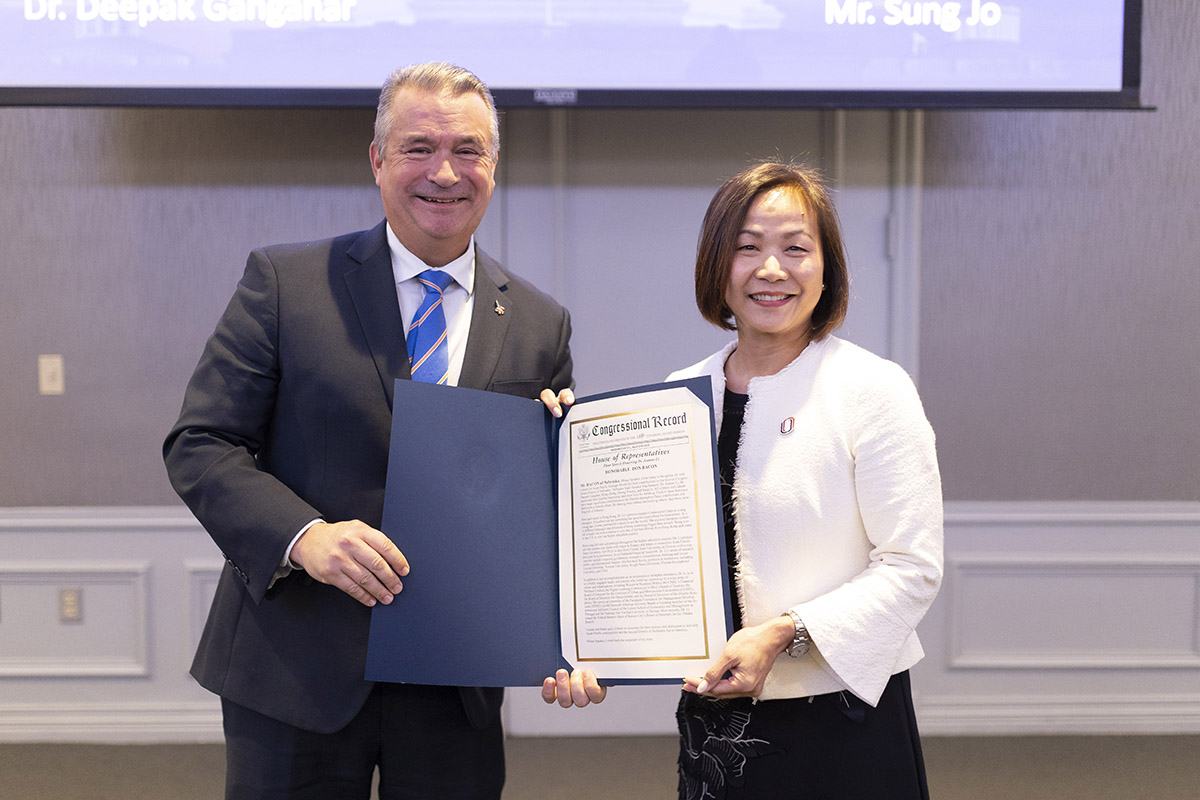 Congressman Don Bacon presents Chancellor Joanne Li, Ph.D., CFA. with a copy of the speech that was entered into the Congressional Record.
The University of Nebraska at Omaha (UNO) hosted a special event on Monday with Congressman Don Bacon that celebrated and honored the accomplishments and contributions of several Asian American and Pacific Islander (AAPI) leaders within the Omaha and Nebraska communities.
The event, held in UNO's Thompson Alumni Center, honored six community leaders for their contributions to Nebraska:
UNO Chancellor Joanne Li, Ph.D., CFA
Senator Rita Sanders, Nebraska State Legislature
Deepak Gangahar, MD, President of Nebraska Heart Institute & Heart Hospital
Hong Zheng, Owner, Asian Market; member of Bellevue University's Board of Directors
Huong Truong, Owner of King Kong Restaurants; Philanthropist
Sung Jo, engaged leader within Omaha's Korean community
The event opened with a welcome address from Congressman Bacon, who spoke to the importance of each of the honorees' impacts within their community, as well as the central, core principles that bring all of us together as Americans.
"We're not defined as Americans by our DNA. In fact, we consist of 200 nationalities across our country. It makes us special," Congressman Bacon said. "We're defined by an idea: that we hold these truths to be self-evident, that all men and women are created equal and endowed by our Creator with certain unalienable rights: among these are the right to Life, Liberty, and the pursuit of Happiness. That makes us American."
Congressman Bacon then celebrated the impact that these six AAPI leaders have had on the economic, social, and cultural fabric of our city, our state, and our country in a video comprised of speeches that were entered into the Congressional Record. He concluded with the sentiment that "you see the American Spirit in these individuals, alive and well." Afterward, he presented each honoree with a framed congressional record of his speech.
He began with the story of Senator Rita Sanders, who has served the Nebraska Legislature from the 45th District and served on the Education Committee as well as the Government, Military, and Affairs Committee. She was celebrated for her service as Mayor of Bellevue from 2010 to 2018, and for serving the Nebraska State Legislature, representing the 45th District. In addition to these roles, she has served as a member of the USSTRATCOM consultation committee, the Offutt Advisory Council, and the UNMC Board of Counselors.
Chancellor Joanne Li was commended for her leadership at UNO and her efforts to build relationships between the university and business community that strengthen the social mobility of UNO's students. In addition, she was celebrated for her active role not only at the university but a wide array of causes, including Women in Business (WiBe), the Higher Learning Commission (HLC), the Coalition of Urban and Metropolitan Universities (CUMU), and most recently the Federal Reserve Bank of Kansas City, Omaha branch.
Dr. Deepak Gangahar was celebrated for his work alongside his colleagues to co-found the Nebraska Heart Institute & Nebraska Heart Hospital, which became the premium group in the Midwest in the field of adult thoracic and cardiovascular diseases. In addition, he was celebrated for his dedication and devotion to mentoring youth as part of the TeamMates school-based mentoring program established by Tom and Nancy Osborne, and for his work with new startups, particularly those in the medical field.
Hong Zheng came to the United States in 1992 at the age of 19. He opened his first Chinese restaurant in Missouri in 1998 and subsequently moved to Omaha in 2000 to start new restaurants and a grocery business. He currently owns seven Asian restaurants in five Asian chain supermarkets across the Midwest region. Zheng has been an active member of the Nebraska Chinese Association (NCA) since 2008 and was elected as a chairman of the board of the for NCA for four years. He has been an honorable Chairman since then, and currently serves on the board of directors for Bellevue University. He said he appreciates the opportunities to live the American Dream, and often gives back to assist other immigrants and help them to succeed.
Huong Truong was recognized for her beliefs in the importance of responsibility to family and community. An avid reader and sports enthusiast, she was impressed by the intelligence and emotional depth of Americans which led her to pursue her American Dream, coming to the United States in 2001. Within a year, she had earned enough to buy a house and car for her family, owned a nail salon, and met her husband, Nick. Together, they operate King Kong restaurants, a landmark chain within the Omaha culinary landscape. She earned this recognition because of her passion to help others and dedication to volunteering.
And finally, Sung Jo was acknowledged for his life of service beginning with his work in South Korea with an adoption program in Seoul, which enabled him to later move to the United States in 1967. Jo has been responsible for bringing many orphaned Korean children to adoptive parents. His belief in community was reinforced by his choice to serve as a chair and member of the board of directors for the Korean Association of Nebraska, as well as the chair of the Omaha Korean American senior group. He has continued to serve as a liaison between the Korean War Veterans Association and the Korean American community, and donated facemasks and PPE for the Korean War veterans who could not leave their homes during the COVID pandemic.
Congressman Bacon then invited Chancellor Li to present closing remarks, in which she thanked each of the honorees for their tremendous impact on their communities, and in Nebraska at large. "I am extremely humbled to be recognized with such outstanding leaders. You have laid the foundations of this community, and I am lucky to be counted among you."
"Representation regardless of your race ensures that every voice gets to be part of the conversation. That's the motto we live by everyday here at this urban university," Li said. "No matter where we have come from, though, we share one common path forward: we are here to build a brighter future for Nebraska. And a brighter future for all."
The event concluded with an informal reception where Congressman Bacon and event attendees had the opportunity to mingle and speak with each of these remarkable leaders.
About the University of Nebraska at Omaha
Located in one of America's best cities to live, work and learn, the University of Nebraska at Omaha (UNO) is Nebraska's premier metropolitan university. With more than 15,000 students enrolled in 200-plus programs of study, UNO is recognized nationally for its online education, graduate education, military friendliness and community engagement efforts. Founded in 1908, UNO has served learners of all backgrounds for more than 100 years and is dedicated to another century of excellence both in the classroom and in the community.
Follow UNO on Facebook, Twitter, Instagram, TikTok, LinkedIn, and YouTube.