Hakim Lotoro Sworn in as New Student Body President/Regent
President Hakim Lotoro, Vice President Nate Ostdiek, and Chief of Staff Alessandra Garofalo were sworn into office Thursday, May 4.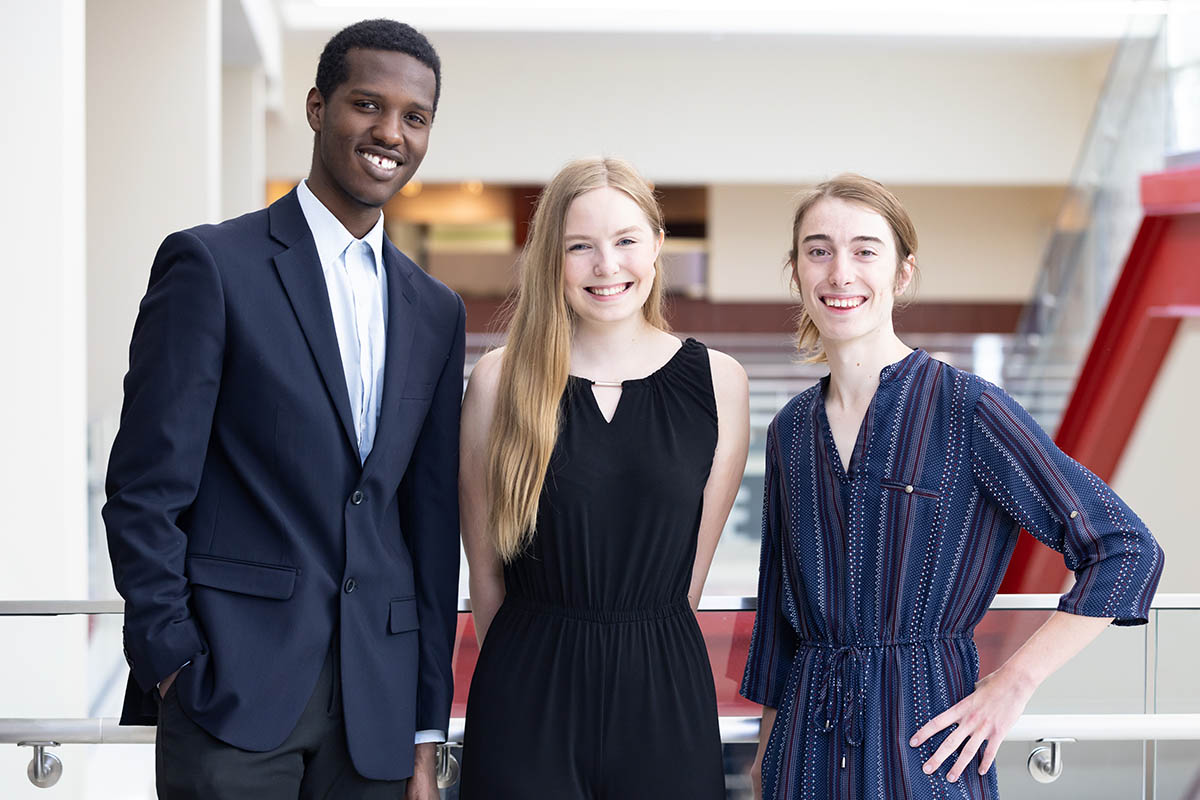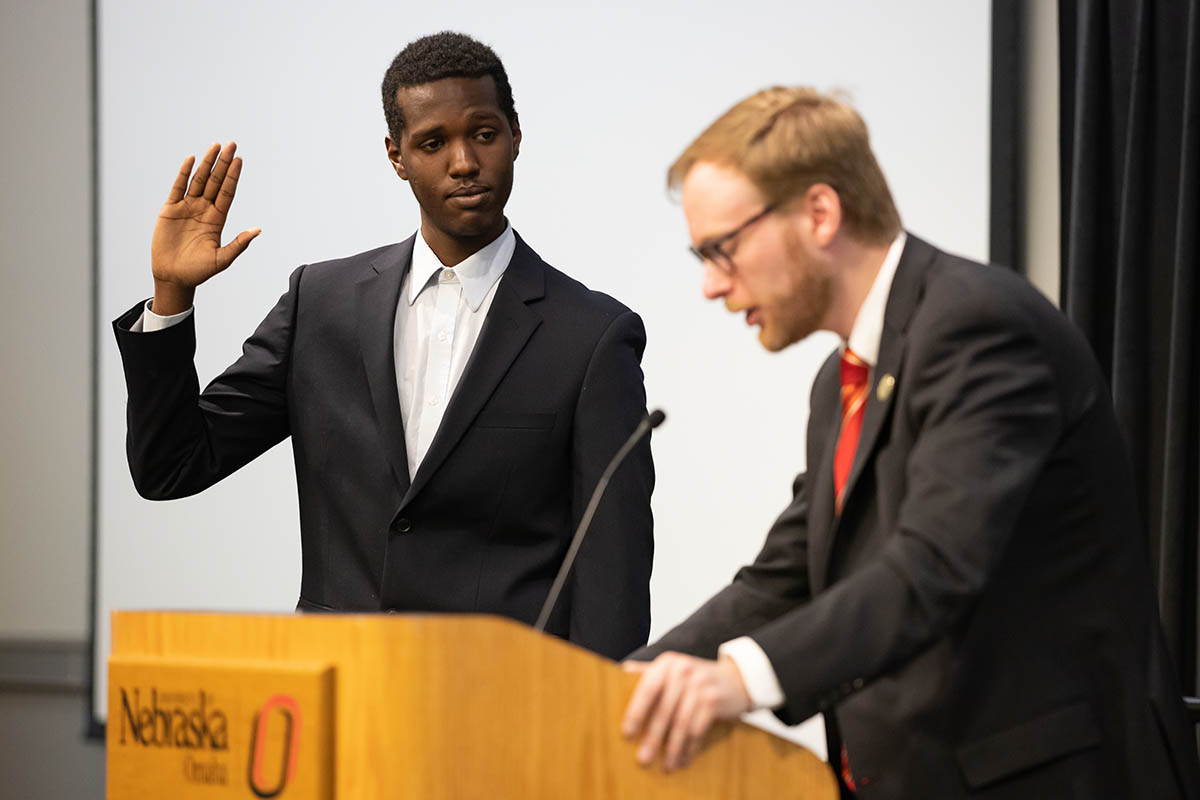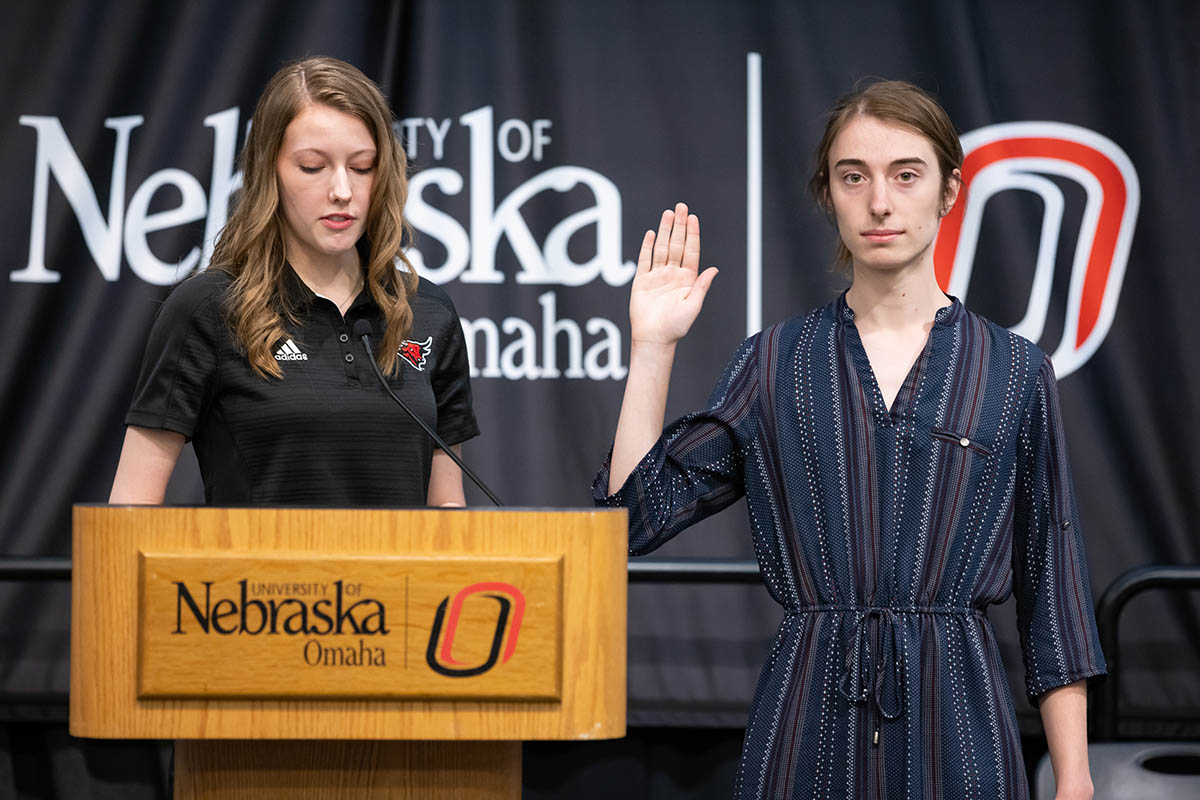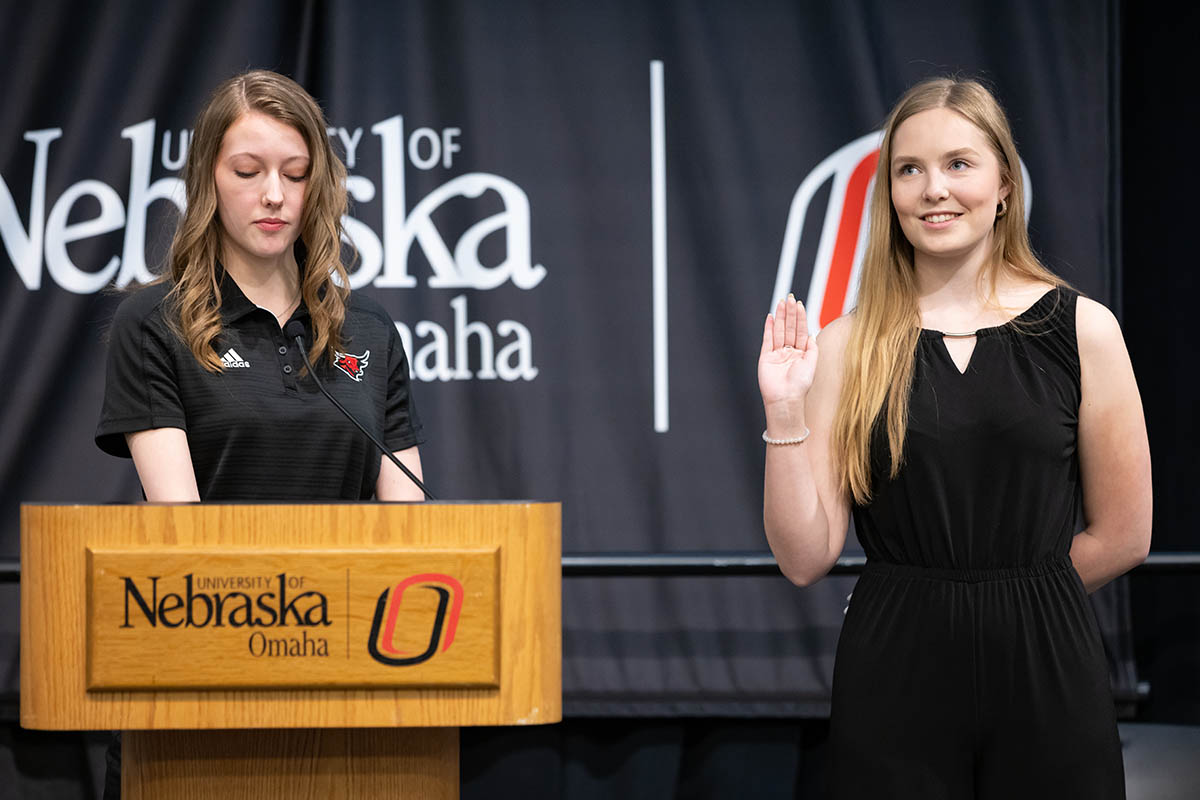 Hakim Lotoro, a sophomore molecular biology and biomedical sciences major, was officially sworn into office as the University of Nebraska at Omaha's newest Student Body President/Regent during a morning ceremony at the Milo Bail Student Center on Thursday, May 4. Student Body Vice President Nate Ostdiek and Chief of Staff Alessandra Garofalo join Lotoro as the executive team for UNO's 2023-2024 Student Government.
In his role, Lotoro will represent all UNO students on the University of Nebraska Board of Regents. On campus, the President/Regent meets with administrators, staff, and faculty in effort to improve the student experience on campus. He will also serve as the official representative of the student body at various university functions.
Ostdiek and Garofalo were sworn in by Emma Ehmke, the Chief Student Court Justice. University of Nebraska (NU) System Chief of Staff Phil Bakken swore in Lotoro and welcomed him as the new Student Regent.
UNO Chancellor Joanne Li, Ph.D., CFA, celebrated the role student government plays in the overall university experience in her remarks to the new group of student leaders.
"What makes our great university so special is that we truly honor the shared governance structure," Li said. "We talk with each other; we grow together as a team on behalf of the University of Nebraska at Omaha. It is exceptionally important that we have student government officers who truly care about student issues."
In his first address as Student Body President/Student Regent, Lotoro focused on the wealth of experience and opportunity that exists at UNO and his commitment to ensure those opportunities visible and accessible to all students.
"This is an office that you have to keep working toward. My team plans to accomplish a lot this year," Lotoro said. "As your student body president, I am committed to being the support system for each and every one of you: not just members in this building, but all members of the entire student body."
In their final address, outgoing Student Body President/Student Regent Tori Sims thanked their peers for the support that has been shown throughout this past year and offered encouragement for incoming leaders.
"The best thing that you can do is be close to those around you, keep it all the way real, and fill your cup if you feel you are being depleted," Sims said. "This is a marathon and not a sprint. Above all, this year is about learning how to best advocate for a diverse constituency with everything you do. Your work will likely touch the lives of students who you have never met before. You are here because the student body has put their faith in you to represent their needs, and that you will do the best you can in this position."
The ceremony concluded with a presentation of scholarships from UNO's Alumni Association. Nathan Hankensen, the Assistant Director of Alumni Engagement, presented the scholarships and congratulated our incoming student leadership team on behalf of the Alumni Association.
About the University of Nebraska at Omaha
Located in one of America's best cities to live, work and learn, the University of Nebraska at Omaha (UNO) is Nebraska's premier metropolitan university. With more than 15,000 students enrolled in 200-plus programs of study, UNO is recognized nationally for its online education, graduate education, military friendliness and community engagement efforts. Founded in 1908, UNO has served learners of all backgrounds for more than 100 years and is dedicated to another century of excellence both in the classroom and in the community.
Follow UNO on Facebook, Twitter (X), Instagram, TikTok, LinkedIn, and YouTube.