Social Mobility, Experiential Learning Focus of Interview with UNO Chancellor Li
published: 2023/01/26
contact: Brandon Bartling - Office of Strategic Marketing and Communications
email: unonews@unomaha.edu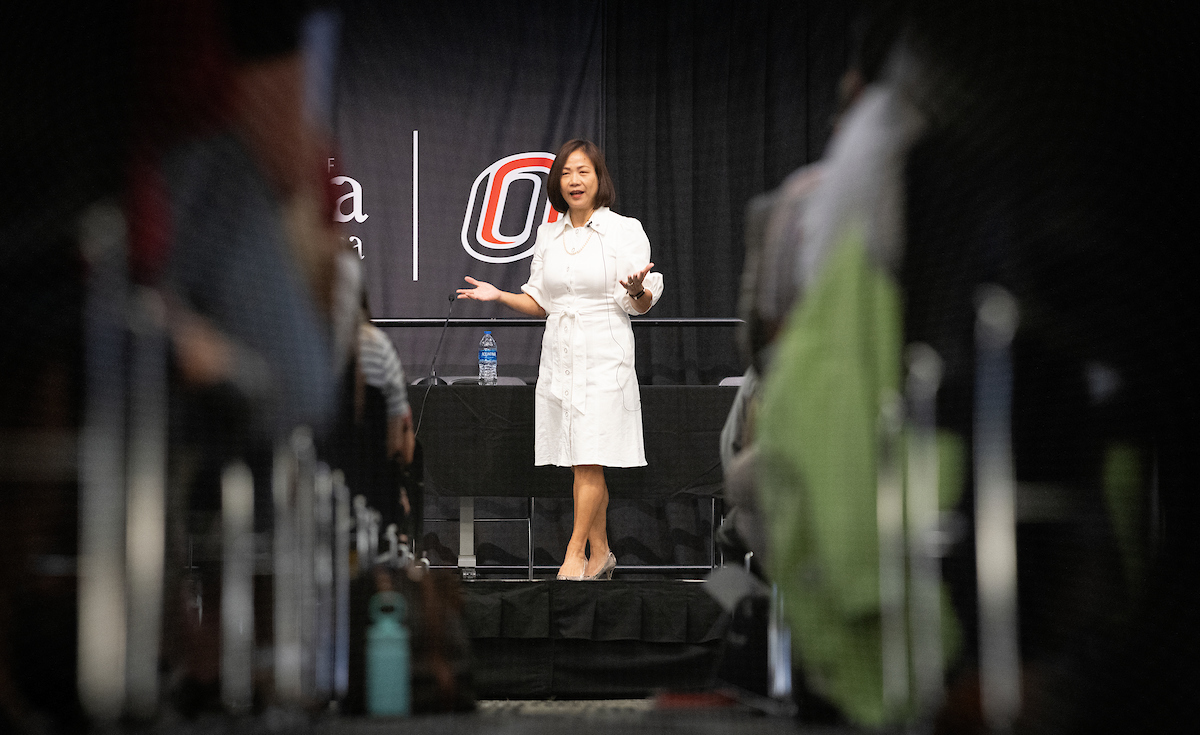 UNO Chancellor Joanne Li, Ph.D., CFA speaks with students, faculty, and staff at a campus forum held in October 2021.
Increasing social mobility and providing inclusive access to higher education and experiential learning opportunities were the highlights of a recent interview with UNO Chancellor Joanne Li, Ph.D., CFA.
Li spoke with 6 News to discuss her time as chancellor so far, the university's strategic priorities of student performance and workforce development, the importance of experiential learning opportunities, and her own personal background.
Experiential learning, such as paid internships and other hands-on experience with community partners, can help students envision their own careers and personal lives taking off here in the state of Nebraska after graduating from UNO. "We want to develop a professional so that this candidate feels like, 'I can see that I can start my career here. I can actually start my family here. I have this sense of affinity," Li said.
The chancellor also spoke to how UNO's position as the state's only four-year public metropolitan university drives the institution's mission to open doors for more students, enabling any learner to increase their social and economic mobility through enhanced opportunities after graduation.
"Education should be by inclusion, not exclusion. We believe that to be able to serve an urban city—and many beyond in rural Nebraska—to provide that quality but affordable education, it's really our mission."
6 News has posted the story on their website along with a video containing the full interview on its website at WOWT.com.