UNO, UNL Researchers Awarded Dept. of Defense Grant to Improve Bridge Safety
published: 2021/10/27
contact: Sam Peshek, Brandon Bartling - University Communications
email: unonews@unomaha.edu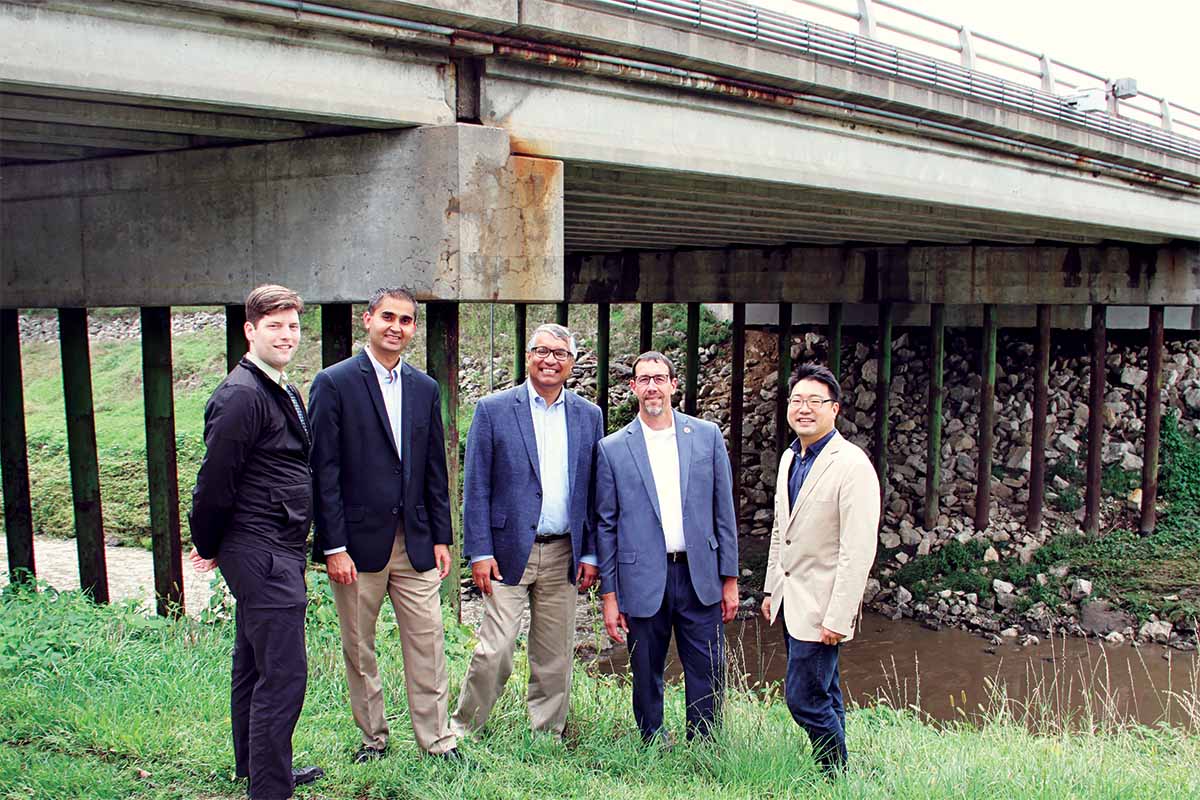 Researchers on this project from both UNO and UNL pose for a photo in front of one of the bridges in the study. Pictured are (from left) Brian Ricks, Ph.D., Robin Gandhi, Ph.D., Deepak Khazanchi, Ph.D., Daniel Linzell, Ph.D., and Chungwook Sim, Ph.D.
University of Nebraska at Omaha (UNO) and the University of Nebraska-Lincoln (UNL) researchers have been awarded $5 million by the Department of Defense Army Corps of Engineers (USACE) to conduct research that will extend the lifespan of bridges through new monitoring technology.
There is an increasing national interest in using electronic information systems that can provide data on a bridge's structural performance between regular in-person inspections. New systems would allow officials to more closely monitor the health and safety of its bridges at a time when a recent analysis of U.S. Department of Transportation data shows more than one-third of U.S. bridges are in disrepair. While these systems would provide some efficiencies – like early detection of potential safety hazards – they could be vulnerable to cyber security threats.
U.S. Senator Deb Fischer was instrumental in advancing the project. Senator Fischer is the ranking member of the Senate Commerce Surface Transportation Subcommittee and a high-ranking member of the Senate Armed Services Committee.
"New monitoring technology has the potential to increase the safety of our nation's bridges and make infrastructure repairs less costly. I was proud to secure a $5 million investment in this project at UNO as part of the FY 21 defense appropriations bill. Through this important research, Nebraska will lead the way in the development of these sensors to help address transportation challenges in the future," Senator Fischer said.
UNO College of Information Science and Technology Professor and Director of the School of Interdisciplinary Informatics Robin Gandhi, Ph.D., and UNL College of Engineering Professor and Associate Dean for Graduate and International Programs Daniel Linzell, Ph.D., will conduct the research project, titled "Multilevel Analytics and Data Sharing for Operations Planning (MADS-OPP)," that will demonstrate how to identify and reduce risks and the cost benefit of integrating technology on aging rural bridges.
UNO Chancellor Joanne Li, Ph.D., underscored the value the project adds to the state.
"This research encapsulates so well what we strive to do as an institution: pursue research with solid partnerships that delivers tangible results for Nebraskans," Chancellor Li said. "I extend my thanks to Sen. Fischer for her support of this project, and Dr. Gandhi for having the foresight and the knowledge to address this important challenge."
Monitoring Health and Safety of Bridges
Using rural Nebraska bridges as full-scale "testbeds," Gandhi, Linzell and other UNO and UNL researchers, in collaboration with the Kinnami Software Corporation, will conduct research and development relating to data collection at the edge using internet of things including sensors, UAVs and more; secure data processing and management from the edge to the cloud; visualizations and analytics of data using machine learning; socio-technical impacts (e.g., fairness of data, algorithms, and analysis), and decision support systems.
The project will allow for predictions of remaining bridge life and guidance for maintenance using secure communications and protected data systems. Their work will also provide mission critical data that can be utilized by the Department of Defense as well as public and private stakeholders to better prioritize their budgets, protect bridges, and, most importantly, ensure the safety of citizens who travel on them.
"With the ability to electronically monitor the structural safety and stability of our infrastructure comes the responsibility to protect it from cyber security risks," Gandhi said. "This research aims to add to a growing body of knowledge in both of these areas."
Linzell added that while bridges in the U.S. have admirably served the traveling public for decades, they are at a point where advanced age, increased demand, extreme weather, and finite resources necessitate modifications to how their health is assessed and how bridge systems are managed.
"Leveraging advances in engineering, technology and data science to intelligently and quantitatively inform stakeholders about potential problems will improve bridge assessment and management practices," Linzell said. "Our team's findings will augment current processes and allow for optimal allocation of labor and financial resources while, most importantly, maintaining safety. New technologies will be robust enough to support management of other large, infrastructure systems and could provide unique economic development opportunities in Nebraska."
Impactful Research Through Collaboration
The UNO Office of Research and Creative Activity spearheaded the effort to secure funding for the research. Associate Vice Chancellor for Research and Creative Activity Ken Bayles, Ph.D., said the funding speaks to the impact and quality of UNO's past research.
"Our ability to secure funding for this project illustrates the positive impact Dr. Gandhi's research has for the United States," Bayles said. "It is also a testament to the quality of research that takes place on our campus and our willingness to collaborate across institutions."
"This project would not have happened without the vision and support of several individuals and organizations," Gandhi said. "In 2015, deans of the College of Information Science and Technology at UNO and the College of Engineering at UNL identified infrastructure safety as a priority area for both colleges. Since then, I have had the honor of working with a fantastic group of people including Dan and other team members."
Gandhi said those individuals include Drs. Deepak Khazanchi (UNO), Brian Ricks (UNO), and Chungwook Sim (UNL), who have been instrumental to the success of the project with their collective expertise in the socio-technical impact of continuous infrastructure monitoring, machine learning, visualization and simulation, and infrastructure health monitoring with next-generation sensing for advancing the conversation regarding a data-driven platform for understanding infrastructure health and maintenance needs.
Gandhi credited a large network of people and institutions who contributed to making this research effort possible, which includes Kinnami Software Corporation, who will be developing their resilient data platform, AmiShare, to protect and manage the sensitive data related to this project.
"We're excited to be part of this important research and development work that Dr. Gandhi is leading," said Sujeesh Krishnan, CEO of Kinnami Software. "Kinnami's resilient data platform, AmiShare, provides the high level of protection and security that US critical infrastructure requires. We are pleased to be able to broaden AmiShare's footprint in national security interests in this collaboration with UNO and UNL. This work is complementary to our other efforts inside the DoD to deliver secure and resilient, real-time data for situational awareness, mission support and sustainment. Transitioning this data and analysis to transportation departments as well as other state and local agencies will transform their ability to monitor and maintain these assets into the future."
This is not the first time Linzell and Gandhi have paired on a research effort. The duo was part of a team that received a $1 million National Science Foundation (NSF) grant to establish a Big Data Spoke headquartered at UNO focused on producing a smart big data pipeline for rural bridge health management. The project is entitled Smart Big Data Pipeline for Aging Rural Bridge Transportation Infrastructure (SMARTI).
Funding for the project was included in the FY2021 Senate Defense Appropriations Bill that was approved in December 2020.
This material is based upon work supported by the University of Nebraska at Omaha and its subcontractors under Contract No. W912HZ21C0060. Any opinions, findings and conclusions or recommendations expressed in this material are those of the author(s) and do not necessarily reflect the views of the University of Nebraska at Omaha and its subcontractors.
About Kinnami Software Corporation
Kinnami™ provides a resilient data fabric that simplifies data availability, protection, and security for the complex distributed networks that are essential for making the connected future possible and an autonomous future a reality. Kinnami's software enables a unified data environment for trust, transparency, and newfound collaboration from edge devices to the cloud. Customers achieve the irrefutable data integrity essential to distributed environments—including unsecured or free-standing networks and autonomous operations. Kinnami was founded in 2015 by a team of data management and security experts, and has offices in Boston, Washington, Austin, TX, and London.
About the University of Nebraska at Omaha
Located in one of America's best cities to live, work and learn, the University of Nebraska at Omaha (UNO) is Nebraska's premier metropolitan university. With more than 15,000 students enrolled in 200-plus programs of study, UNO is recognized nationally for its online education, graduate education, military friendliness and community engagement efforts. Founded in 1908, UNO has served learners of all backgrounds for more than 100 years and is dedicated to another century of excellence both in the classroom and in the community.
Follow UNO on Facebook, Twitter, Instagram, TikTok, LinkedIn, and YouTube.