UNO Students Travel to 939 Cities in Iowa
published: 2021/07/30
contact: Tavion Davis - University Communications
email: unonews@unomaha.edu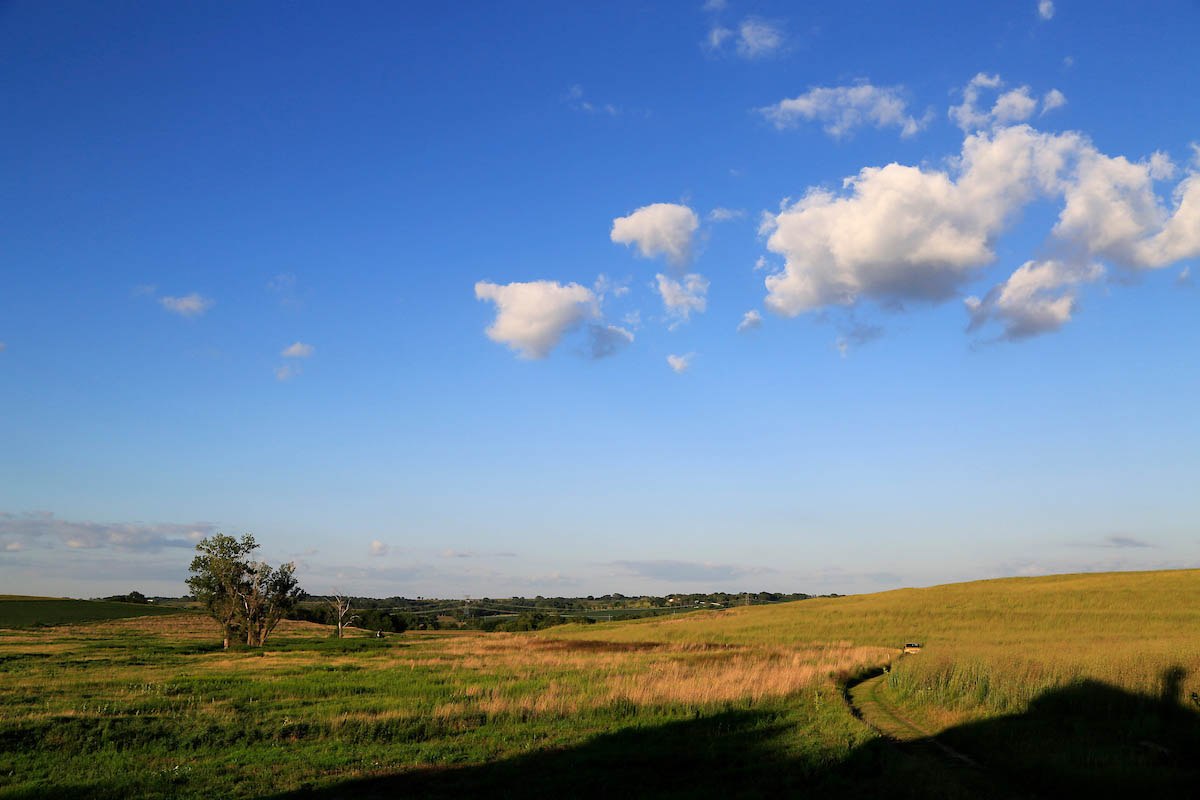 These two UNO student explorers likely saw quite a few scenes like this one at UNO's Glacier Creek Preserve as they traveled to all towns in Nebraska and Iowa.
Two UNO students made travel plans to see all of what Nebraska has to offer in 2020. A year later, they're doing the same in Iowa.
Seth Varner and Austin Schneider, two soon-to-be juniors at UNO, have been traveling across Iowa this summer to visit each of the state's 939 incorporated towns. Their journeys have been covered by media outlets locally, regionally, and nationally – including by outlets like Yahoo News.
Last year, Varner and Schneider traveled to Nebraska's 531 towns when the pandemic derailed their normal summer plans. In the process, they documented their travels online, garnering thousands of followers on their social media platform Visit939Iowa.
Varner said that the idea was born out of the idea that the states have so much to offer."We just want to prove, like, no matter where you go, no matter what small town you are from, there's never a reason to be bored because there's so many things to do in these small towns and big cities. There's infinite possibilities," Varner told KMTV earlier this year.
When Varner and Schneider first began their journey throughout Iowa on April 2 they noticed an immediate difference from their trip across Nebraska. Iowa's hilly landscape, and the significant increase in towns, immediately caught their interest.
The Des Moines Register published an article on Varner and Schneider's plan to visit Iowa's 939 cities by the end of this summer. The article also mentioned they were funded via GoFundMe, a donation website, and Iowa Love, a clothing and goods brand that donates half their profits to Iowans in need.
Visit939Iowa
's latest Facebook update says that Maharishi Vedic City, IA, is the last city Varner and Schneider visited. Maharishi Vedic City is the 639
th
city they've visited; with only a few weeks of summer left they're racing the clock to visit the remaining 300 cities.
About the University of Nebraska at Omaha
Located in one of America's best cities to live, work and learn, the University of Nebraska at Omaha (UNO) is Nebraska's premier metropolitan university. With more than 15,000 students enrolled in 200-plus programs of study, UNO is recognized nationally for its online education, graduate education, military friendliness and community engagement efforts. Founded in 1908, UNO has served learners of all backgrounds for more than 100 years and is dedicated to another century of excellence both in the classroom and in the community.
Follow UNO on Facebook, Twitter, Instagram, TikTok, LinkedIn, and YouTube.