UNO OLLAS Study First to Examine Human Trafficking for Foreign-Born Latin Americans in Nebraska
published: 2021/06/03
contact: Brandon Bartling - University Communications
email: unonews@unomaha.edu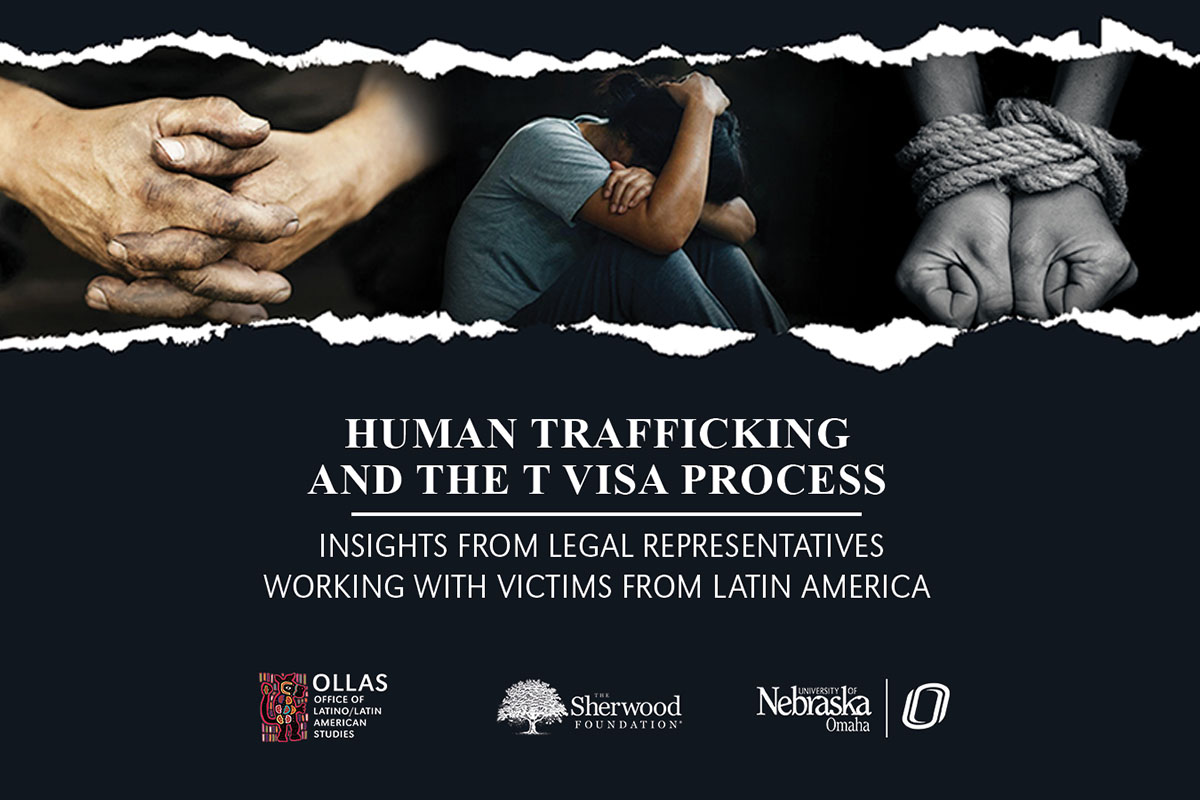 UNO researchers are releasing the findings of a new study on labor and sex trafficking among Nebraska's foreign-born Latin American population.
Interviews with legal representatives who have first-hand experience working with human trafficking victims locally informed the research. The report sheds light on how individuals can be lured into a trafficking situation, explores the challenges of filing for a T (or nonimmigrant) visa, examines the role of service providers in addressing clients' needs, and review potential barriers to trafficking cases.
The researchers heard stories of individuals being hired to work in dangerous working conditions, working longer hours than described with little pay, being purchased for labor by restaurants and told to work off their debt, sexually abused and prostituted, and forced to provide child care at no pay – all under the guise of helping them provide for their families and avoid the threat of deportation.
One such story mentioned that a man was told that he had been sold to a restaurant for $500 and had to stay there to pay off his debt. "[The victim] stayed at the owner's house. They [the victim] weren't allowed to leave. They were just driven to the restaurant and driven home…there was about 15 or 16 of them [working] rotating shifts at this restaurant. He [victim] said that they were told they couldn't leave or that the owners would call immigration."
"Through these interviews with legal representatives we are able to hear the voices of those who have suffered," Cristián Doña-Reveco, Ph.D., Director of OLLAS at UNO said. "On a topic where good quantitative data is limited, these rich narratives allow us to understand the effects that policies or lack of policies have at the individual level."
The report concludes with several policy recommendations that may help guide future anti-trafficking initiatives among agencies, legal representatives, and law enforcement. These recommendations include measures and training to facilitate the identification of trafficking victims, lower barriers to T visas employment during the T visa application process, and connect victims to the appropriate resources for recovery.
This is the first such study to be conducted in Nebraska. The study was prepared by faculty from UNO's Department of Sociology and Anthropology, the School of Criminology and Criminal Justice, and Office of Latino/Latin American Studies (OLLAS) with financial support from the Sherwood Foundation.
The full report can be viewed at unomaha.edu/college-of-arts-and-sciences/ollas/human-trafficking-report-2021.php A Spanish translation of the report is forthcoming.
About the University of Nebraska at Omaha
Located in one of America's best cities to live, work and learn, the University of Nebraska at Omaha (UNO) is Nebraska's premier metropolitan university. With more than 15,000 students enrolled in 200-plus programs of study, UNO is recognized nationally for its online education, graduate education, military friendliness and community engagement efforts. Founded in 1908, UNO has served learners of all backgrounds for more than 100 years and is dedicated to another century of excellence both in the classroom and in the community.
Follow UNO on Facebook, Twitter, Instagram, TikTok, LinkedIn, and YouTube.