High Altitude Balloons Return to Near-Space from UNO
published: 2021/06/03
contact: Brandon Bartling - University Communications
email: unonews@unomaha.edu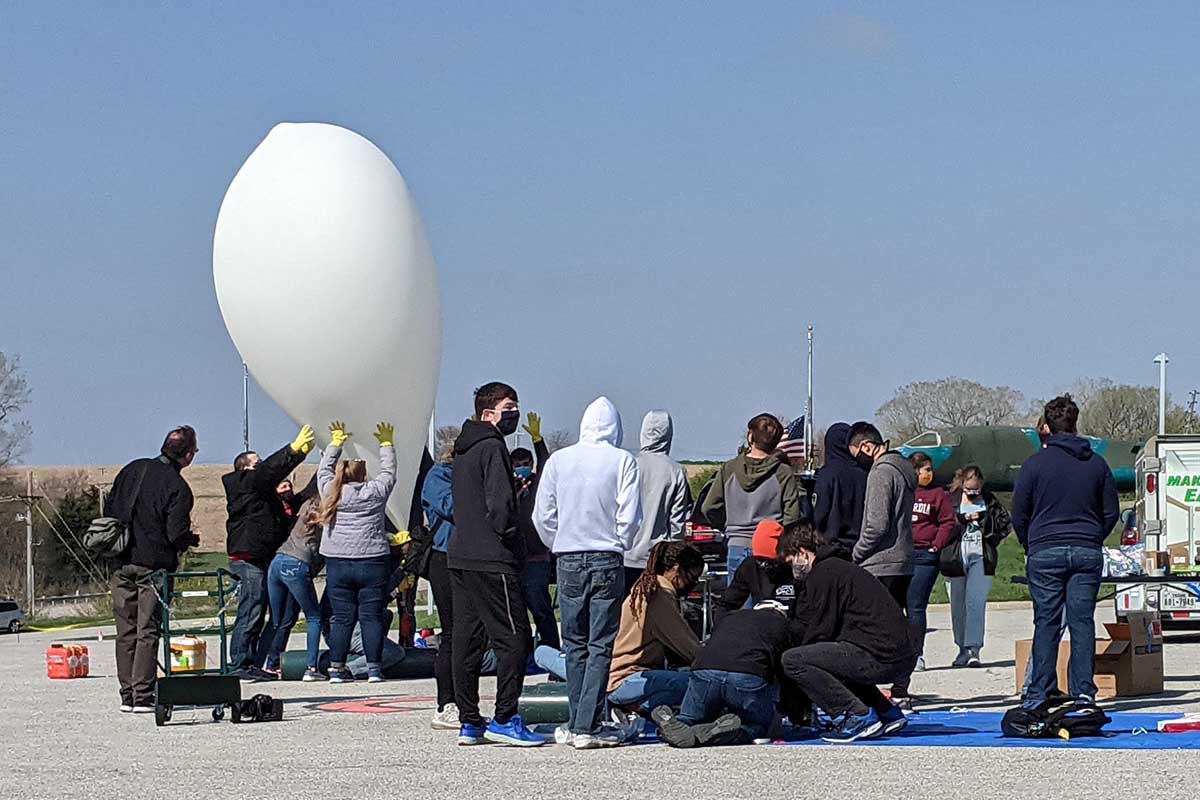 Students steady a high altitude balloon against harsh winds as it inflates at a special launch from the Strategic Air and Space Museum near Ashland, NE on April 24, 2021. Photo courtesy: Karl Vogel, UNL Engineering.
Students from the University of Nebraska at Omaha have once again sent experiments to near-space through two high-altitude balloon launches – this time in support of a unique opportunity to launch a small satellite into orbit.
UNO's TED/STEM 8860 Invention & Innovation in Engineering Education class joined with the University of Nebraska-Lincoln's (UNL) Nebraska Big Red Satellite team and the UNL Aerospace eXperimental Payload (AXP) team to launch high-altitude balloons in the final weeks of the Spring 2021 semester.
The launches were conducted as a precursor to the NASA CubeSat Launch Initiative which will launch and place a small student-created satellite into earth's orbit — a first for the state of Nebraska. The Big Red Satellite team is comprised of UNL undergraduate engineering students who also mentor Nebraska middle and high school students in near-space STEM experiments.
Ensuring successful launches now and in the future meant drawing on the experience and expertise of Derrick Nero, Ed.D., assistant professor of teacher education at UNO. Nero supported AXP and the Big Red Satellite Team through technical and logistical advisement including staging and balloon fill procedures, design considerations, and meeting FAA requirements for unmanned free balloons.
Design considerations were a particular challenge as breezy weather made launches difficult. The teams prepared for a dual balloon launch from the Strategic Air and Space Museum near Ashland, Nebraska on April 24, 2021. Congressman Don Bacon was on hand to deliver remarks, congratulate them on their selection for the NASA CubeSat program, and wish all teams the best of luck.
Mother Nature did her best to keep the balloons on the ground. The UNO team successfully launched one balloon complete with test payloads to track the balloon's position and record data. However, the wind proved to be too much for the second balloon. The teams were forced to give the second balloon another try on a later date when weather conditions were more ideal.
While a minor setback, Nero believes that these less-than-optimal weather conditions provided students with an extra chance to apply what they were learning. "Challenges such as less ideal weather conditions and payload or equipment issues provide great learning opportunities for students in preparation: Creating alternate plans, performing real-time troubleshooting and decision-making, and critically reviewing for procedures optimization," Nero said.
And troubleshoot they did. The second balloon was launched successfully from UNO's campus the following week despite another windy spring Nebraska day. Between the two launches, both balloons rose to the upper levels of the Earth's atmosphere or approximately 70,000 feet. Altogether, six payloads made the journey to near-space: Three of the payloads were projects of the Big Red Satellite team of middle- and high-school students while an additional three payloads were projects of the UNL Aerospace eXperimental Payloads (AXP) team.
The lessons learned in these launches will prove valuable as the Big Red Satellite Team gears up for a successful NASA CubeSat Launch in the years to come. The payloads enabled students to study various effects of radiation on food, solar cells, and testing hardware in preparation for the CubeSat project.
NASA's CubeSat Launch Initiative selects small satellite payloads built by universities, high schools, and non-profit organizations to fly on upcoming launches. Through innovative technology partnerships, NASA provides CubeSat developers a low-cost pathway to conduct scientific investigations and technology demonstrations in space, thus enabling students, teachers, and faculty to obtain hands-on flight hardware development experience.
"UNO is excited to assist the Big Red Satellite Team as they continue to design, test, and improve its platform, payloads, and practices to successfully deploy a nanosatellite in support of NASA's CubeSat Launch Initiative," Nero said.
About the University of Nebraska at Omaha
Located in one of America's best cities to live, work and learn, the University of Nebraska at Omaha (UNO) is Nebraska's premier metropolitan university. With more than 15,000 students enrolled in 200-plus programs of study, UNO is recognized nationally for its online education, graduate education, military friendliness and community engagement efforts. Founded in 1908, UNO has served learners of all backgrounds for more than 100 years and is dedicated to another century of excellence both in the classroom and in the community.
Follow UNO on Facebook, Twitter, Instagram, TikTok, LinkedIn, and YouTube.