Kemp Honored With 2021 NCHC Commissioner's Award
For his service to the Conference and NCAA men's hockey during a difficult 2020-21 season, Omaha senior associate athletic director Mike Kemp has been honored with the 2021 NCHC Commissioner's Award.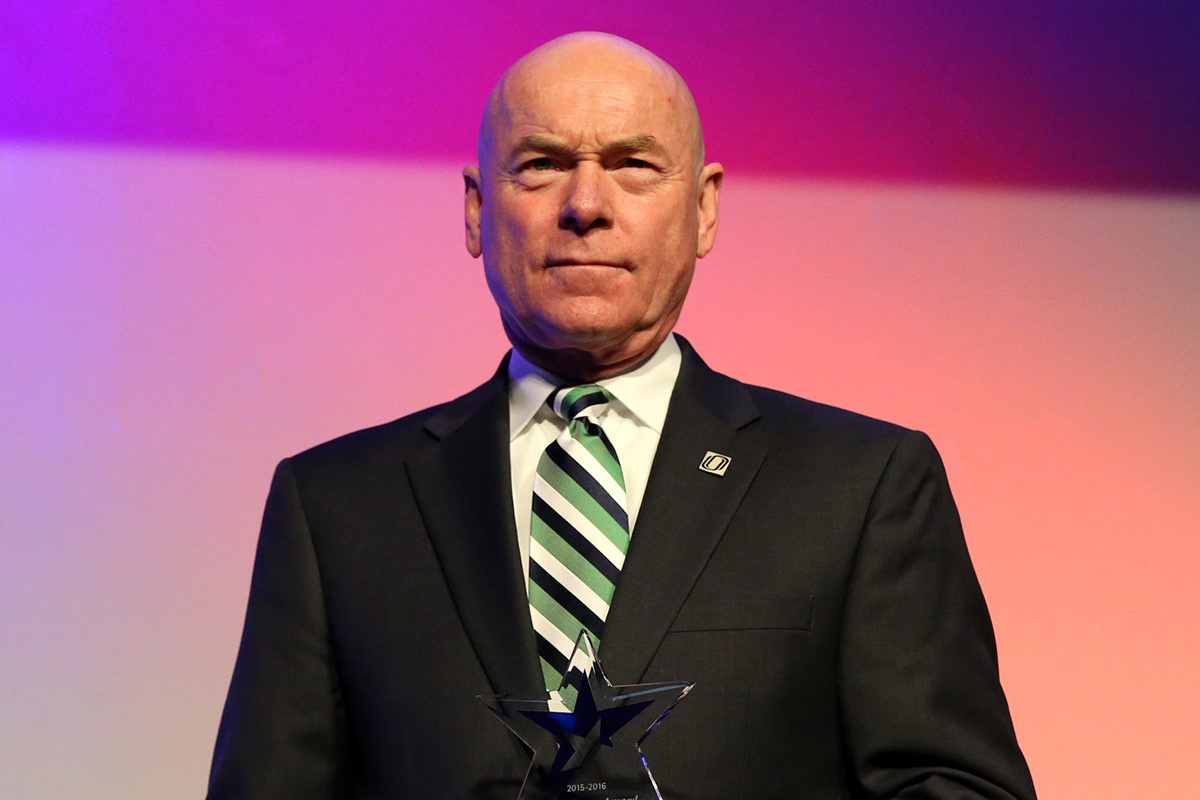 Mike Kemp
From OMavs.com - For his service to the Conference and NCAA men's hockey during a difficult 2020-21 season, Omaha senior associate athletic director Mike Kemp has been honored with the 2021 NCHC Commissioner's Award, the National Collegiate Hockey Conference announced Thursday.
Kemp is the first person to receive the NCHC Commissioner's Award, which is presented to an individual who, through dedicated effort and service, has achieved a singularly distinguished accomplishment that has significantly enhanced the NCHC or a member institution during the current academic year.
During a turbulent and trying 2020-21 season, Kemp spear-headed two of the most important events for the NCHC and NCAA this season in leading the organizing efforts for both the NCHC Pod and 2021 NCAA Men's Hockey Tournament.
"Simply put, without the service and dedication by Mike Kemp, the success of the 2020-21 NCHC season and NCAA men's ice hockey tournament does not happen," NCHC Commissioner Josh Fenton said. "Our conference is incredibly grateful for Mike's efforts to help the membership start the NCHC season successfully within the Pod. The overall men's college hockey community is also very thankful for his leadership in selecting the field in a very non-traditional manner and running a successful tournament."
Knowing the NCHC's eighth season would have to start during a pandemic, the Conference made the decision to host all teams in a 'Pod' at the University of Nebraska Omaha's Baxter Arena. Kemp oversaw the unprecedented task of playing 38 games in 21 days with eight teams in one venue – something never done in any college sport – while helping complete it safely and successfully. From team arrivals, to locker room set-up and rotation, to practice and morning skate schedules, to venue operations, Kemp had a hand in making sure the Pod was run smoothly while providing a safe environment for all.
Along with his duties at Omaha and Baxter Arena, Kemp completed his first year as Chair of the Division I Men's NCAA Ice Hockey Championship Committee in 2020-21. While in a 'normal' year, NCAA regional sites are pre-determined without issue and teams are selected based on the Pairwise Ratings, during this pandemic-filled year, one regional site had to be relocated for the 2021 NCAA Tournament, while safety measures had to be put in place at all four regional sites and the Frozen Four. In addition, Kemp and his Committee had to select the field of 16 for the NCAA Tournament without the Pairwise, a difficult task with minimal non-conference games played and something not done in many years. Ultimately, a 2021 NCAA champion was crowned in Pittsburgh with Kemp handing out the National Championship trophy to Massachusetts, while four NCHC teams played in the tournament with two making the Frozen Four.
"During a challenging year for all of us in collegiate athletics, I cannot think of anyone more deserving of the NCHC Commissioner's Award than Coach Kemp. The NCHC Pod to start the season and the NCAA Hockey Tournament were executed flawlessly and safely thanks to the dedicated focus and passion of Mike Kemp," said Omaha Vice Chancellor for Athletics Trev Alberts. "On behalf of the Omaha Maverick family, congratulations Mike, and well deserved."
Kemp has been a part of the Omaha Mavericks' family for nearly 25 years, serving in multiple roles. He has served in his current role as Omaha senior associate AD for events and facilities since being promoted in March of 2019. Prior to that, he was an associate athletic director at UNO for 12 years, moving into that role in 2009 after completing a 12-year run as the program's first head hockey coach. A member of the Omaha Hockey Hall of Fame and Omaha Sports Hall of Fame, Kemp helped start the Omaha hockey program in 1997, joining the staff in 1996, and now oversees UNO's hockey program and Baxter Arena in his current position.
"I am truly humbled and grateful to receive this award. To me, recognition by your peers is the ultimate acknowledgement of a person's achievements, so I am especially honored by this recognition of my work," Kemp said of his award. "I have been working full-time in college athletics for 45 years, and hockey has been my passion since I started coaching college club hockey at the age of 23, so to have this group express appreciation for my efforts on behalf of the game this past year is incredibly special."
The NCHC Commissioner's Award does not have to be presented annually. The recipient may be any person associated with the NCHC and may be a current or former athletics administrator, faculty athletics representative, coach, Conference office staff member or an individual not associated directly with any institution or the Conference office.
While the Conference has not presented the Commissioner's Award previously, it has bestowed the NCHC Distinguished Service Award in past years:
2016 – Bill Hybl, Chairman and CEO of El Pomar Foundation

2017 – Ron Grahame, former Athletics Director at University of Denver

2018 – Peg Bradley-Doppes, former University of Denver Vice Chancellor for Athletics

2018 – Brian Faison, former University of North Dakota Director of Athletics

2019 – Ken Ralph, former Colorado College Director of Athletics
About the University of Nebraska at Omaha
Located in one of America's best cities to live, work and learn, the University of Nebraska at Omaha (UNO) is Nebraska's premier metropolitan university. With more than 15,000 students enrolled in 200-plus programs of study, UNO is recognized nationally for its online education, graduate education, military friendliness and community engagement efforts. Founded in 1908, UNO has served learners of all backgrounds for more than 100 years and is dedicated to another century of excellence both in the classroom and in the community.
Follow UNO on Facebook, Twitter (X), Instagram, TikTok, LinkedIn, and YouTube.