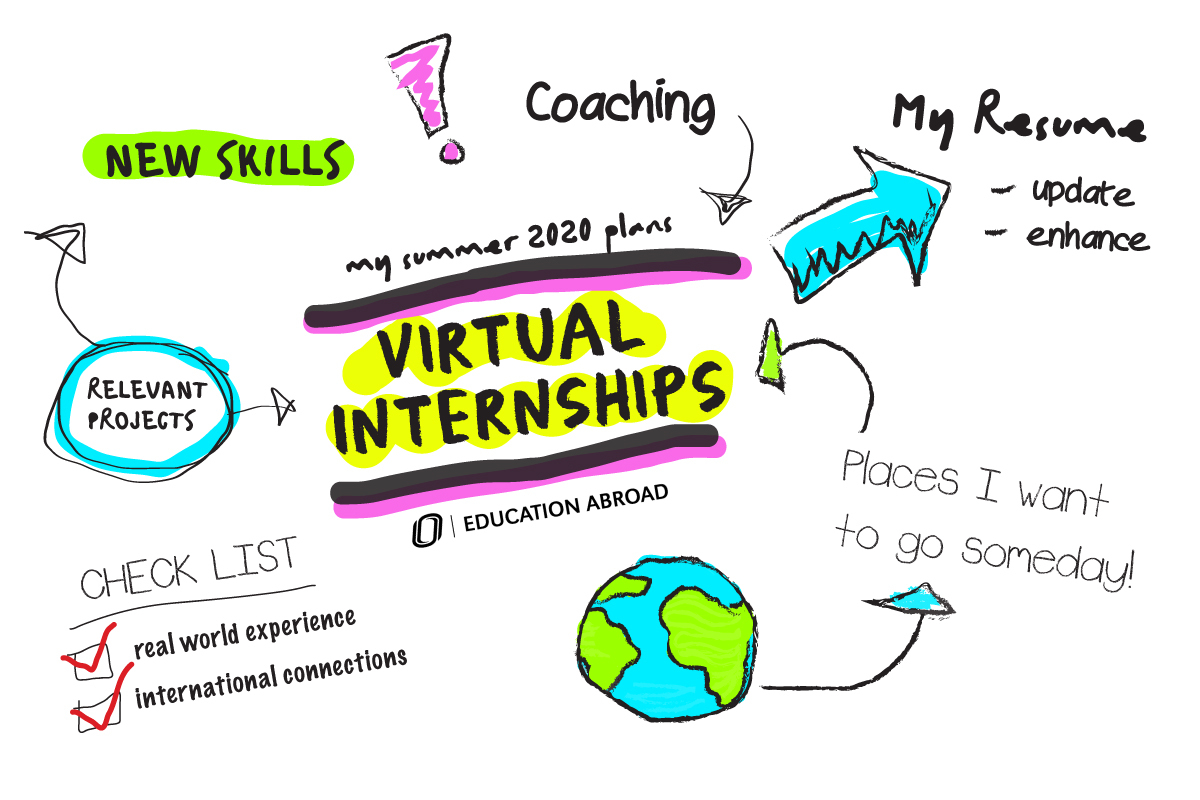 What is a virtual international internship?

Virtual international internships are an opportunity for students to learn practical career skills, make international connections, and gain real world experience in their field of study. With a virtual international internship, you can collaborate with companies and coworkers across cultures and time zones, and learn important workplace concepts like project management and communications through technology. You'll also have the opportunity to see your chosen profession from another country's perspective in a way that's only possible with this type of personal experience.


What country's organizations can I intern with?

Argentina, Australia, Canada, Chile, China, Costa Rica, Czechia, Ecuador, France, Germany, Hong Kong, India, Ireland, Italy, Jordan, Kenya, Netherlands, Serbia & Kosovo, Singapore, South Africa, Spain, and the United Kingdom 

How long are the internships?

Our global partners currently have 4-week, 5-week, 6-week, and 8-week options.The length of the internship varies by the partner organizing the internship. 

Can I earn credit for my participation?

Yes, you can. Some of our partners have built in academic credit for the internship program, and will provide a transcript to transfer the credit to UNO. Some have decided to offer the internship without academic credit, but it still may be possible to match the internship to a UNO course for enrollment/credit. Zero, 3, 5, and 6 credit internships are currently available.


What does it cost to arrange and participate in an international internship?

The cost to receive an internship placement ranges from $1000 - $2,450.

This range reflects many different factors such as length of the program, number of credit hours (tuition) included, additional benefits of the program, and covers the cost of the staff who arrange the internships and assure the quality of the placements throughout.

Students will also be charged a discounted $100 Education Abroad Admin cost instead of the usual $150 for summer programs, regardless of the amount of credit they choose to receive. This will cover assistance with the application, including course approval and financial support forms, advising appointments, and the processing of the transcript for transfer to UNO.
Can I use financial aid to help cover the cost?
Everyone's aid package is different, but the one thing that remains the same for all students is that you must be earning academic credit to be eligible for financial aid. If you already know what type of grants, scholarships, or loans you have access to in the summer, the Education Abroad Office can point you in the right direction for which virtual internship programs to pursue. 
How do I move forward if I think a virtual international internship is right for me?
 You should contact the UNO Education Abroad Office as soon as possible to get the ball rolling. Many of the summer internships have a deadline of May 1 for applications.You should also explore the links below, which will take you to the websites of UNO's international internship partners. You can find specific information on the countries, credit options, dates, professional fields, and costs available from each organization.
Are there any other opportunities for international experiences this summer?
Yes! You also have the option to take courses taught by international faculty and partners online this summer. To learn more about the courses being offered and from which countries, head to our International Online Courses page.
Despite the temporary travel restrictions around the world, we are here to support all UNO students looking to enhance their education with an international experience. If you'd like to intern abroad virtually this summer, take an internationally focused course online, or study abroad in a future term, please reach out:
Email: unostudyabroad@unomaha.edu