2022 Nebraska Ambassadors Forum: Latin America- The Neighbor we Ignore at our Peril
The annual Nebraska Ambassadors Forum and Student Discussion events return on Monday, October 24. The forum will focus on Latin America and feature U.S. Ambassadors that have served throughout the region.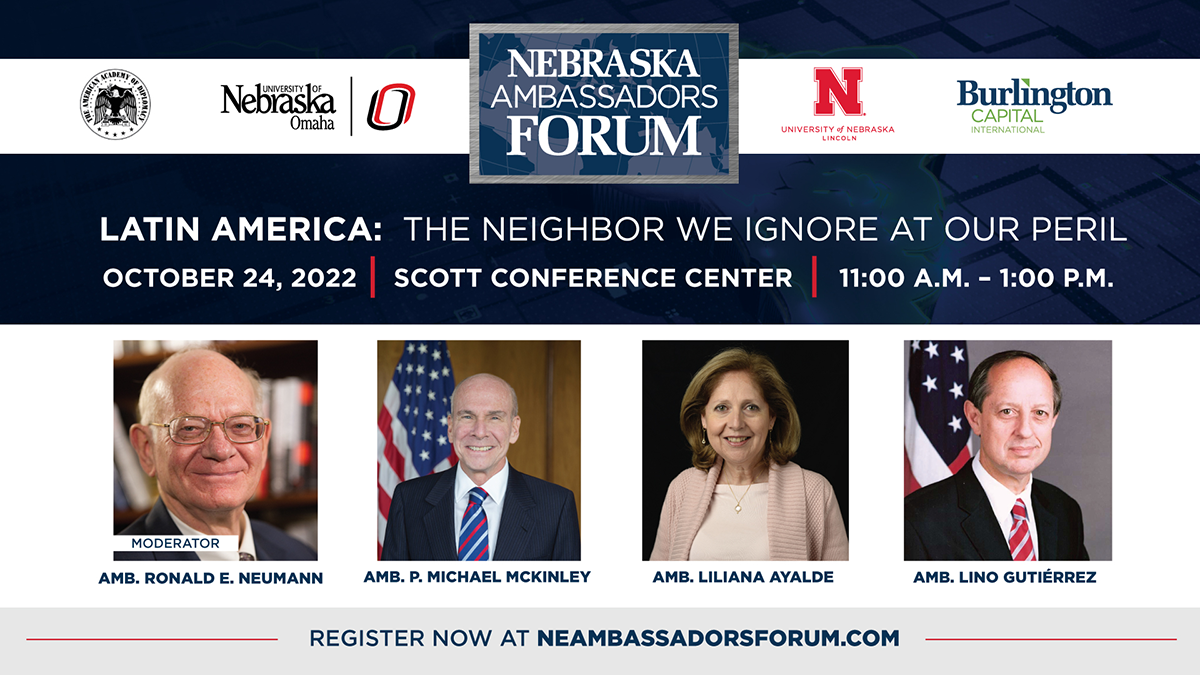 The United States has asserted primacy in Latin America yet frequently ignored this important region in our policy despite its importance to our trade and security. Regions can no longer be segregated in our old way. This was evident from Africa to the Middle East and Asia as the U.S. sought support for the conflict in Ukraine. The Ambassadors Forum for 2022 will bring together three former senior diplomats with deep experience in Latin America to explore overarching issues and respond to questions.
UNO is joining the University of Nebraska-Lincoln, the American Academy of Diplomacy, and Burlington Capital International to present the Fall 2022 Nebraska Ambassadors Forum, which will include two public events held on UNO's Scott and Dodge Campuses.
--------

Ambassador's Forum | 11 A.M. to 1 P.M.

First, the campus community is invited to attend a public forum & luncheon held at the Scott Conference Center on UNO's Scott Campus from 11 A.M. to 1 P.M. RSVP is required.
The panel will include remarks from:
Ambassador P. Michael Mckinley, former U.S. Ambassador to Peru, Colombia, Afghanistan, & Brazil
Learn More about Ambassador Mckinley.

Ambassador Liliana Ayalde, former U.S. Ambassador to Brazil & Paraguay

Ambassador Lino Gutiérrez, Former U.S. Ambassador to Argentina & Nicaragua
--------
Student and Ambassador Discussion | 2 to 3:00 P.M.
Following the forum, UNO students are invited to a small group discussion with the ambassadors at Milo Bail Student Center (MBSC), Chancellors Room, 2nd Floor on UNO's Dodge Campus from 2 to 3:00 P.M. A separate RSVP is required.
This opportunity for discussion will allow for conversation, questions, and a chance to learn about international diplomacy directly from those whose careers have been defined by it. Faculty and staff may also register to participate, however, students will have first preference if space does not allow.

Those interested in the Nebraska Ambassadors Forum project can learn more at neambassadorsforum.com.