Plan your stay in Omaha if you have been admitted to the program. The city is renowned for:
Affordability: Omaha is the most affordable U.S. city and among the best for young professionals, according to Forbes magazine.


Economic Vitality: Omaha consistently maintains one of the lowest unemployment rates in the United States, and is home to five Fortune 500 companies, including Warren Buffett's Berkshire Hathaway.


Arts and Culture: Omaha hosts the College World Series of baseball, draws world-class musical performers, and boasts one of the country's best-rated zoos. As the hometown of Saddle Creek Records, Omaha has developed a legendary indie rock music scene.


Convenient Transportation: Drive, ride, bike, or walk – UNO students can easily enjoy tree-filled parks, trendy shopping, sports fields, and fine restaurants all within a few short kilometers of campus. With a wide variety of food, cultural events, and places of worship, the community offers something special for every international student.



Omaha's Eppley Airport

: Fly into a great little airport that is easy to navigate and catch a taxi to your next stop.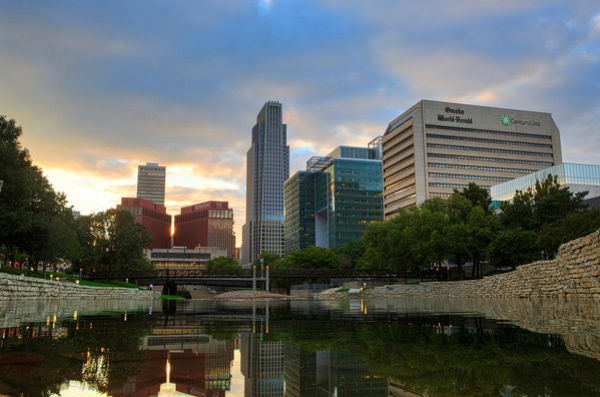 You can check out current events in Omaha at Visit Omaha.
For Music Lovers:
For Outdoor Enthusiasts:
For Food Connoisseurs:
For Sports Fans:
Baxter Arena

: UNO's brand new arena, home to UNO hockey, basketball, and more!

CenturyLink Center

: See the Olympic Swim Trials, basketball games, and many other events. World-famous music performances, too.

TD Ameritrade Park

: Home of the College World Series of baseball.
For Everyone:
UNO Campus Features
Enjoy the convenience of on-campus living or live in a nearby neighborhood. Study at the library, dine at the student center, and get a workout at the Wellness Center. Then walk to a movie or enjoy a night out on the town with friends. It's all within easy reach at UNO.
With an enrollment of more than 15,000 students from more than 100 countries, UNO's campus offers international students plenty of ways to study, have fun, and get involved:
Housing Options
UNO offers multiple housing options to our domestic and international students.


On-Campus Housing
Many international students choose to live on campus every year. The process for international students to apply for housing is no different than it is for stateside students.

International students at UNO may choose to live in on-campus, apartment-style housing – comfortable and convenient for both studying and discovering Omaha's attractions.

Learn more about on-campus housing


Off-Campus Housing
Prefer to live off-campus? Just choose one of several privately-owned apartments that are within walking distance to the campus, shopping, and restaurants. Homestays are also available.

For guidance on these living arrangements, check out International Student Advising.

Learn more about off-campus housing


Take a Virtual Tour
From Dodge campus to Scott Campus, we have a virtual tour for whichever facility you're interested in.

Tour the different facilities on UNO's campus virtually


Temporary Housing

UNO on-campus housing typically has a waitlist. Temporary Housing options are available while searching for an apartment.

A few hotels near UNO have special rates for UNO international students and scholars.

Learn more about temporary housing