International Student Housing Options
International students may choose among several on-campus housing options or live in nearby privately owned apartment complexes.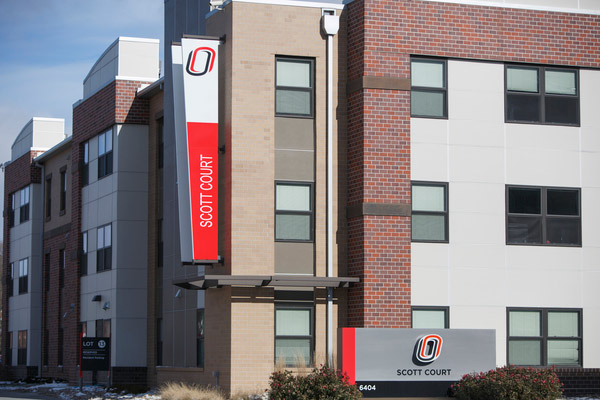 ---
Off-Campus Housing
International students may choose to live on-campus in a variety of nearby apartment complexes. You can search for apartments by size, price, and proximity to campus through an off-campus listing service tailored to UNO students.

The following apartment complexes have been used by international students in the past. They are not affiliated with UNO; as such, UNO does not inspect or offer any guarantee for the condition or quality of the rental units listed and does not endorse any of the listed properties. Be aware that shorter leases are oftentimes more expensive and that many apartments require refundable deposits or non-refundable application fees prior to moving in. In addition, most apartments require Social Security numbers to verify your credit in the U.S.
Annex Apartments
Affordably priced one-bedroom or one-room studio apartments with full kitchens. They are unfurnished, so residents need to acquire furniture and other household items. Short-term leases are available. They are located about 1.3 km from campus.

7116 Jones Circle
Omaha, NE 68106
1.402.391.7859
Annex Apartments
Crosswinds Apartments
One-bedroom and two-bedroom unfurnished units that are located close to the Peter Kiewit Institute and the College of Business Administration's Mammel Hall. The complex has a pool and is located about 1.75 km from UNO's main campus.

949 S. 70th Street #1
Omaha, NE 68106
1.402.558.2570
Crosswinds Apartments
Pacific Gardens Apartments
Offer a more spacious option with one, two, or three bedrooms per unit. It is located about 2.5 km from UNO's main campus.

7616 Pierce Street
Omaha, NE 68124
1.402.391.7217
Pacific Gardens
Embassy Park
Another spacious option that may be suitable for students or scholars with family members. The quiet complex has a pool and exercise facility. It is about 3.7 km from campus.

9045 Burt Street
Omaha, NE 68114
1.402.397.7788
Embassy Park
---
Temporary Housing
UNO on-campus housing may have a waitlist. Temporary housing options are available while searching for an apartment in hotels on or near the campus. Please contact your advisor for more information.
Residence Inn Aksarben Village