Students across 3 faculty members' courses participated to help the local organization, TAGG, increase philanthropy in the Omaha community
UNO CBA students collaborate with local businesses and inspire them to partner with TAGG's platform, empowering the Omaha community to give back. More projects like these can be found in the Community Engagement Partnership Initiative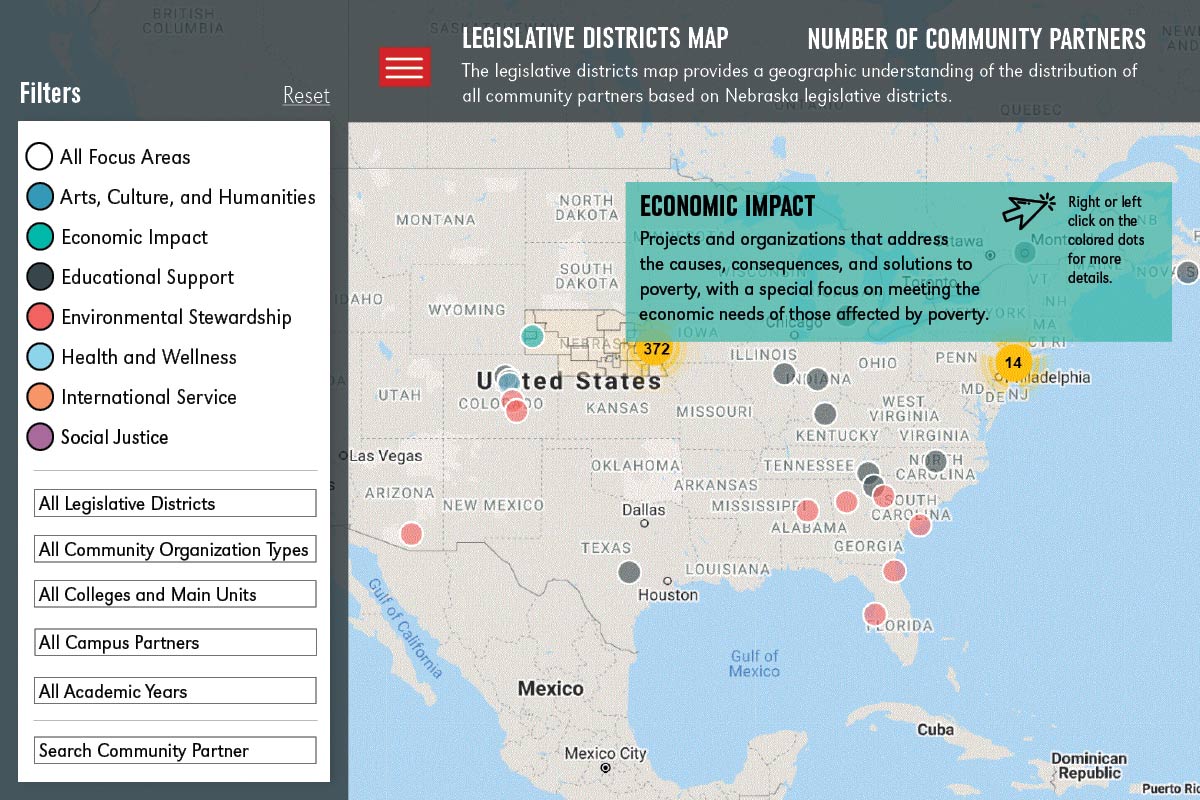 The College of Business Administration (CBA) Professional Selling Students at the University of Nebraska Omaha (UNO), under the guidance of Dr. Shannon Cummins, Dr. Anne Herman, and Mr. Gary Domet, team up to make a difference at home. During the spring 2021 semester, the course partnered with Together A Greater Good (TAGG) to raise $700 for the Maverick Food Pantry, which supports the dietary and personal hygiene needs of students, faculty, and staff at UNO and the University of Nebraska Medical Center (UNMC). The CBA students worked in teams to contact local businesses, connect the business with TAGG's platform, and empower the Omaha community to give back right at home. This project occurred during the COVID-19 pandemic with major business restrictions and limited operating capacity, which presented real-life challenges and experiences to the students.
TAGG encourages businesses to give back by donating a portion of their profits per purchase when users of the TAGG app shop at a participating business. Users can customize which organizations receive the donation, allowing for a more meaningful purchase. CBA students understood the importance of this and helped migrate six businesses to the platform - Angus Burgers & Shakes, 3rd Base Bar & Grill, The Banh Mi Shop, Arby's Elkhorn, Eat Fit Go, and IQ Car Wash. Relationship building was an important skill set utilized by the students and they wanted to make a real difference in Omaha. Holly Baker, co-founder of TAGG noticed this in the students and stated "We even hired the top-performing student for a summer internship to continue with the momentum created by this project. We are so thankful for the opportunity to work with UNO and also to make an impactful donation to the food bank." This project is continuing this semester (Fall 2021) in a different sales course. The Center for Professional Sales is excited to build on this strong start and grow donations within the community. This project highlights how impactful community partnership is.
Visit the UNO CBA Professional Selling program website to learn more about how CBA students are community change-makers.
Dr. Cummins is also one of seven total faculty members nominated and selected as a UNO Service Learning Academy Faculty Fellow. Faculty Fellows identify college-specific goals to increase service learning and community engagement teaching and research efforts within their respective colleges. Learn more about these Faculty Fellows.
About CEPI
As a premier metropolitan institution, UNO faculty, staff, and students collaborate with community partners regularly through mutually-beneficial and reciprocal projects. Examples include engaged research, community-based learning (internships, practicums, etc.), knowledge/resource sharing, service learning, board memberships, and volunteerism.
The Community Engagement Partnership Initiative (CEPI) allows campus units to showcase their community engagement efforts and partnership impacts by legislative districts through a series of maps and analytics.
For more information about CEPI please contact Keristiena Dodge at kshenouda@unomaha.edu or download the CEPI Handout.
CEPI Stories:
Contact Us
If you are sponsoring a special or public event happening in the CEC or would like to share a news tip or story please contact Robyn Loos via email rloos@unomaha.edu or by phone at 402.554.2173.