New UNO Tool Visualizes Partnerships
The Community Engagement Partnership Initiative (CEPI) is a holistic online platform that streamlines how UNO collects and understands the impact of community and university partnerships – allowing units to share their impact with their communities and stakeholders.
published: 2021/02/17
contact: Robyn Loos - Barbara Weitz Community Engagement Center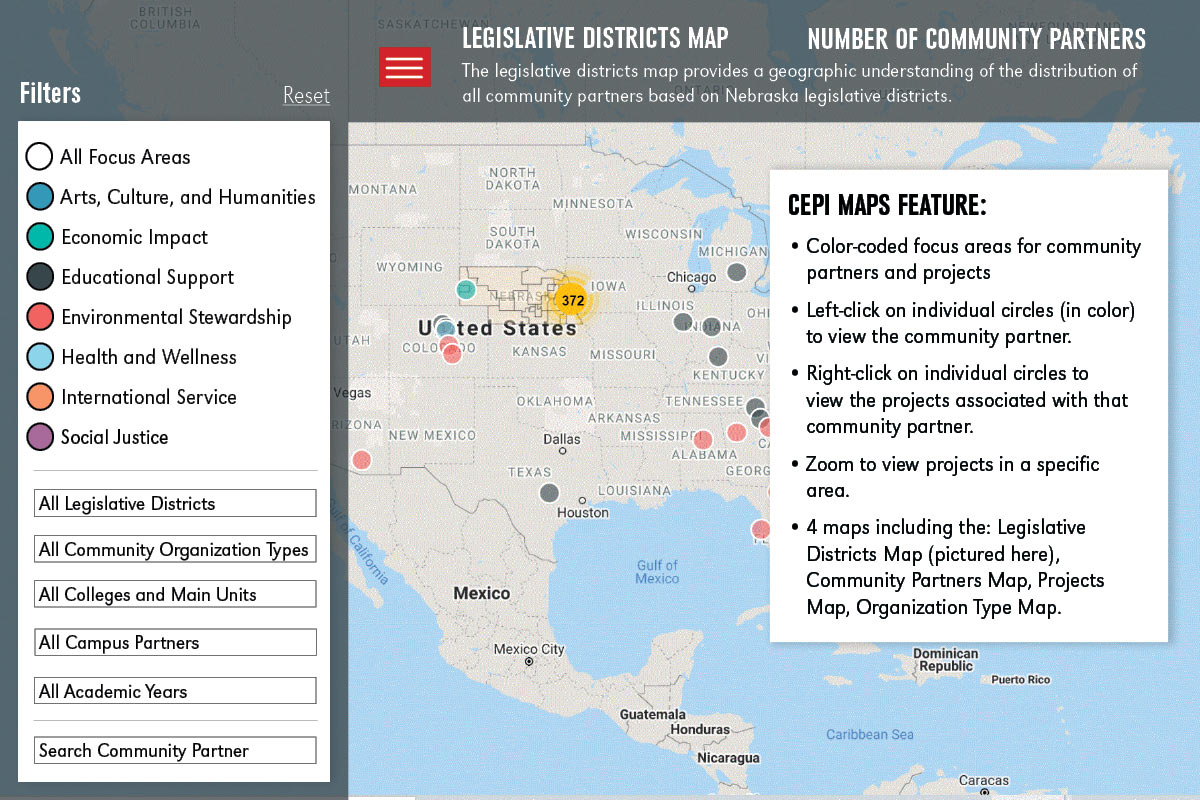 A look inside the new tool.
Every semester, UNO faculty, staff, and students partner with a broad range of nonprofit, education, government, and business organizations in dynamic ways to solve complex problems and improve the wellbeing of the many communities we serve.
The collaborations exemplify UNO's metropolitan mission and the way UNO defines community engagement as "the collaboration between the University and its local, regional, national and global communities for the exchange of knowledge and resources."
This online platform is holistic because it allows faculty and staff to enter data to demonstrate impact through a live database using a series of maps and reports. The tool not only gives you the option to see your partnerships in one place, but you can see what others on campus are doing – moving the campus one step closer to strategic community engagement initiatives.
Here are a few ways to use the Community Engagement Partnership Initiative (CEPI):
The project began as an initiative of the UNO Community Engagement Measurement and Assessment Committee, which was tasked in 2017 to plan and design a new approach for systematic and strategic community engagement data gathering, analysis, and reporting. The web-based tool was developed by graduate students in three MIS service learning capstone in the College of Information Science and Technology, taught by Sachin Pawaskar, Ph.D.
After a soft launch in Fall 2020 involving the College of Public Affairs and Community Services, Athletics, and International Programs, CEPI is now ready for wider campus use. Support is available to facilitate unit onboarding, including through Digital Measures data mining, MavGrants data review, and to support data entry.
All reports and data entered are attributed to the campus partners, colleges, and main units involved in the collaboration. In addition, all maps and reports allow users to slice the data and drill-down using a series of filters.
Contact and Onboarding:
To learn more about CEPI in general, please visit UNO's Academic Community Engagement website. For additional questions about participation, please contact Keristiena Dodge at kshenouda@unomaha.edu.
Anyone can view the online tool at cepi.umomaha.edu.
About CEPI
As a premier metropolitan institution, UNO faculty, staff, and students collaborate with community partners regularly through mutually-beneficial and reciprocal projects. Examples include engaged research, community-based learning (internships, practicums, etc.), knowledge/resource sharing, service learning, board memberships, and volunteerism.
The Community Engagement Partnership Initiative (CEPI) allows campus units to showcase their community engagement efforts and partnership impacts by legislative districts through a series of maps and analytics.
For more information about CEPI please contact Keristiena Dodge at kshenouda@unomaha.edu or download the CEPI Handout.
CEPI Stories: