Curious People
Are you an inquisitive person? What makes you curious? The Barbara Weitz Community Engagement Center invites you to a free series that highlights an array of curious thinkers from UNO --- both emerging and established faculty scholars --- as they connect with curious minds in the community.
published: 2018/09/14
contact: Sara Woods - Barbara Weitz Community Engagement Center
email: swoods@unomaha.edu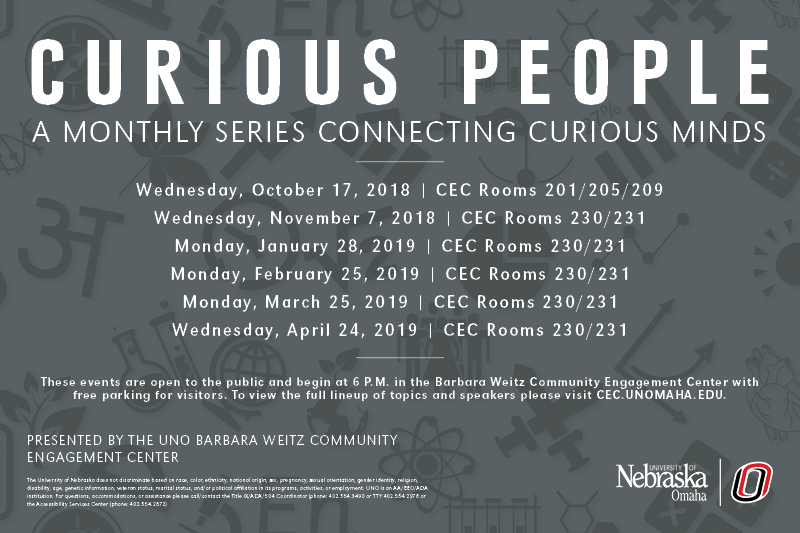 A Monthly Series Connecting Curious Minds
For the first 45 minutes, faculty share their chosen topic, often an area of personal fascination outside their academic research field. The remaining time will be spent taking questions from the audience.
UNO Faculty will speak about topics they have spent much time studying and pondering in their personal and academic lives. These events are free and open to the Omaha community to explore and learn about a number of topics, ranging from homegrown terrorists to parasitic brain drain. 
The goal of this series is to stimulate curiosity among attendees. Curiosity has many benefits to those who ask questions, including an increase in the ability to learn and retain information, personal growth, openness to new opportunities, and overcoming stereotypes. It also increases problem-solving skills, maintains a sense of wonder that helps with innovation, and creates positive interpersonal interactions.
Curiosity stimulates productive conversations by seeking to understand another's beliefs and allowing participants to authentically examine their own assumptions and opinions. In order to genuinely explore new ideas, one must be actively listening and open to exchanging knowledge. This free series is intended to foster a community of like-minded searchers, interested in learning more about the hidden areas of expertise at UNO.
---
All events begin at 6 P.M. in the Barbara Weitz Community Engagement Center with free parking for visitors. Please see the individual speaker and location for each event below.
| Date | Speaker and Topic | Link to Event |
| --- | --- | --- |
| October 17, 2018 | Gina Ligon, Ph.D. --- "How Do People Become Homegrown Terrorists?" | Learn More |
| November 7, 2018 | Jonathan Benjamin Alvarado, Ph.D. --- "My Life with the Castros: One Scholar's Unlikely Journey." | Learn More |
| January 28, 2019 | Julie Masters, Ph.D. --- "Aging with Intention." | Learn More |
| February 25, 2019 | Paul Davis, Ph.D. --- "Parasitic Brain Drain: A Look at Toxoplasma, the Most Common Brain Infection in the World." | Learn More |
| March 25, 2019 | Sofia Jawed-Wessel, Ph.D., MPH --- "Sex: What are we so ashamed of?" | Learn More |
| April 24, 2019 | B.J. Reed, Ph.D. --- "Scotch Whisky: It is a lot more complicated than you think!" | Learn More |
---
Our Campus. Otherwise Known as Omaha.
The University of Nebraska does not discriminate based on race, color, ethnicity, national origin, sex, pregnancy, sexual orientation, gender identity, religion, disability, age, genetic information, veteran status, marital status, and/or political affiliation in its programs, activities, or employment. Learn more about Equity, Access and Diversity.
scroll to top of page