Curious People Series, Information and Speakers
General information about the Curious People Series events, including an online request form for UNO faculty interested in speaking at future series events.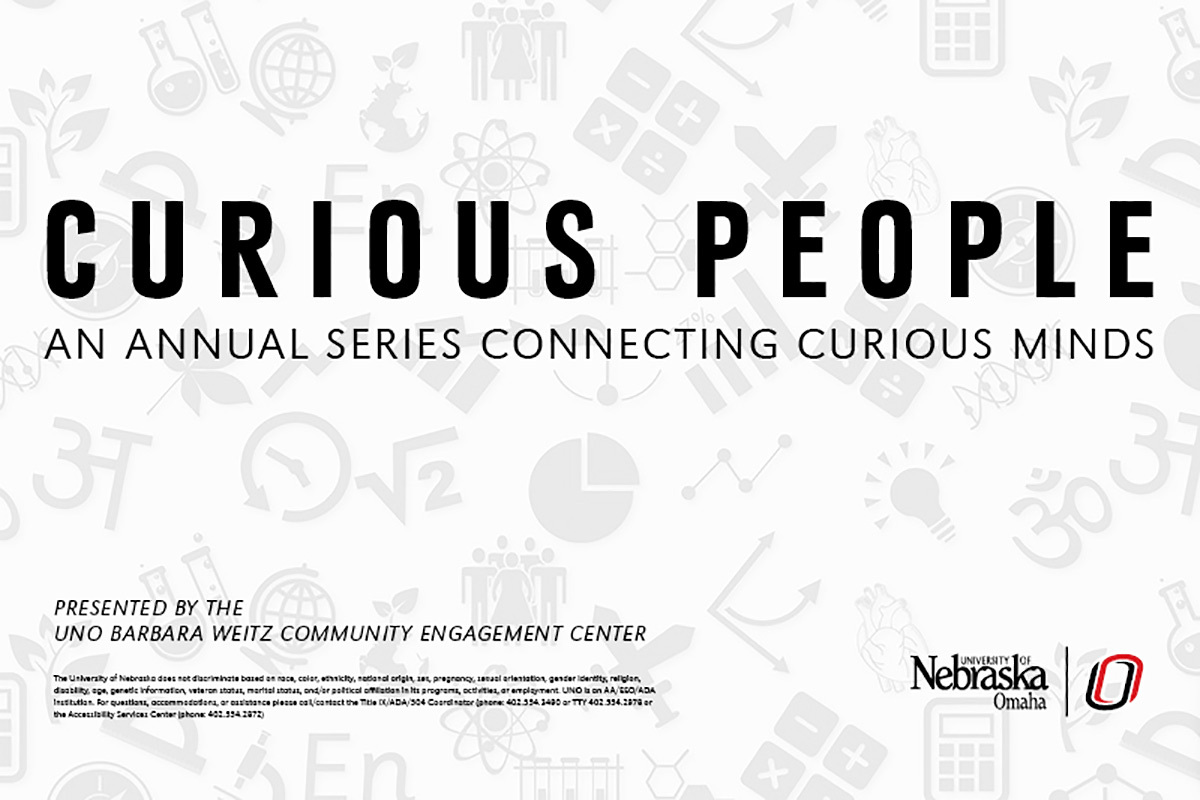 ---
Connecting Curious Minds
Curious People events feature a UNO Faculty who speaks about a topic they are an expert in or have studied in their personal and academic lives.
These events are free and open to the Omaha community to explore and learn about a number of topics, ranging from parasitic brain drain to technology developed to bring missing service members home.
The goal of this series is to stimulate curiosity among attendees. Curiosity has many benefits to those who ask questions, including an increase in the ability to learn and retain information, personal growth, openness to new opportunities, and overcoming stereotypes. It also increases problem-solving skills, maintains a sense of wonder that helps with innovation, and creates positive interpersonal interactions.
Curiosity stimulates productive conversations by seeking to understand another's beliefs and allowing participants to authentically examine their own assumptions and opinions. In order to genuinely explore new ideas, one must be actively listening and open to exchanging knowledge. This free series is intended to foster a community of like-minded searchers, interested in learning more about the hidden areas of expertise at UNO.
To learn about future Curious People Series events and other public events in the CEC, please sign-up to receive our monthly email, For Community Consideration (FCC).
2019-20 Series
| Date | Speaker and Topic | Link to Event |
| --- | --- | --- |
| October 29, 2019 | Sachin Pawaskar, Ph.D., MBA, MS --- CoRA: Honoring the Fallen, bringing our missing service members home | Learn More |
| January 27, 2020 | LaTrina Hall, Ph.D. --- Using the Theory of Synectics to Make Meaningful Connections | Learn More |
| February 20, 2020 | Debora Wisneski, Ph.D. --- The Value of Play Across the Lifespan | Learn More |
| March 18, 2020 | Elizabeth Chalecki, Ph.D. --- Can We Solve Climate Change With Technology? | Learn More |
| April 27, 2020 | Chancellor Jeffrey Gold, MD --- The Future of Health Care | Coming Soon |
2018-19 Series
| Date | Speaker and Topic | Link to Event |
| --- | --- | --- |
| October 17, 2018 | Gina Ligon, Ph.D. --- How Do People Become Homegrown Terrorists? | Learn More |
| November 7, 2018 | Jonathan Benjamin Alvarado, Ph.D. --- My Life with the Castros: One Scholar's Unlikely Journey. | Learn More |
| January 28, 2019 | Julie Masters, Ph.D. --- Aging with Intention. | Learn More |
| February 25, 2019 | Paul Davis, Ph.D. --- Parasitic Brain Drain: A Look at Toxoplasma, the Most Common Brain Infection in the World. | Learn More |
| March 25, 2019 | Sofia Jawed-Wessel, Ph.D., MPH --- Sex: What are we so ashamed of? | Learn More |
| April 24, 2019 | B.J. Reed, Ph.D. --- Scotch Whisky: It is a lot more complicated than you think! | Learn More |