Ensemble Requirements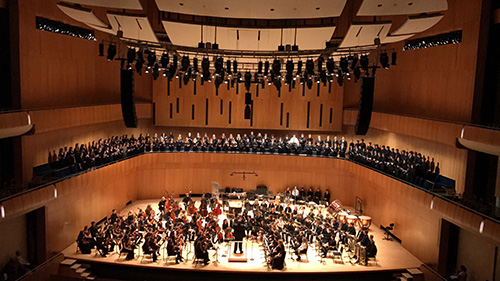 All music majors in the Bachelor of Music program must participate in an approved ensemble for a minimum of eight semesters. Music Education majors are exempt from this requirement during the student teaching semester. Students in the Bachelor of Arts program must also participate in a major ensemble. Please refer to the Degree Requirements page for more information.
* Music Technology students do not need to perform in an ensemble but they can earn their participation by serving as technology assistants for individual ensembles. For more information contact the Music Technology coordinator.
The School of Music offers a number of ensembles to fulfill the ensemble requirement. Those marked with an asterisk (*) require an audition for membership:
Music 2700 University Chorus
Music 2730 Chamber Orchestra*
Music 2740 Percussion Ensemble*
Music 2750 Marching Band
Music 2760 University Band
Music 2770 Jazz Ensemble I and II*
Music 4100 Concert Choir*
Music 4120 Chamber Choir*
Music 4130 University Orchestra* (known as Heartland Philharmonic Orchestra)
Music 4160 Symphonic Wind Ensemble*
Students holding scholarships are required to enroll in lessons (either one or two credits depending on the degree plan) and may have further ensemble requirements. Please meet with the Academic Advisor to verify the specific ensemble requirements needed for graduation.
All students taking applied lessons must also be enrolled in an ensemble performing in their major area. i.e. string players need to be in an orchestra, voice majors need to be in a vocal ensemble, etc.
All students enrolled in lessons will audition for ensembles during ensemble auditions. Ensemble auditions will be by area (voice, strings, brass, woodwinds, percussion, jazz) and students will be placed in an ensemble(s) by their audition committee.