Entrance Policies
The climbing wall is free to all UNO students and campus rec members.
Non-members must register as a guest at the H&K reception desk, pay guest fees, and bring the receipt to the climbing wall supervisor. 
Climbers 18 and younger are only allowed to climb Friday-Sunday during normal business hours. All climbers must be at least five (5) years of age.
Every participant at the climbing wall must sign our facility waiver and be led through a bouldering orientation before climbing.
Climbers under the age of 19 (18 for UNO student) must have the facility waiver signed by their legal guardian.
Climbers under the age of 16 must be supervised by an adult while at the climbing wall.
Entrance Prices
UNO Student or Campus Rec Member: Free
Non-Member: $7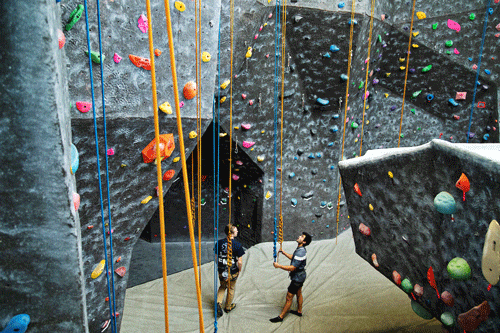 Rental Items
| Rentals | UNO Student or Campus Rec Member | Non-Member |
| --- | --- | --- |
| Shoes | $1                                | $3 |
| 10 Shoe Pass | $5 | $7 |
| 25 Shoe Pass | $10 | $15 |
| Harness | FREE | $2 |
| Belay Device | FREE | $2 |
| Helmet | FREE | $2 |
| Lead Ropes/Quickdraws | FREE | $5 |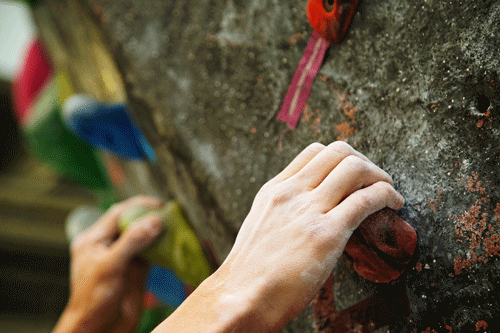 Bouldering
Bouldering is climbing without roped protection at a lower height. It is a great introduction to climbing, requires little training and equipment, and is excellent for building strength and endurance.
A bouldering orientation is given to all new climbers in the facility to provide a walk through, answer questions, and mitigate the risk of injury.
Falls are protected with proper technique and the 14 inch pad covering the floor of the climbing wall.
Bouldering Prices
UNO Student or Campus Rec Member: Free
Non-Member: $7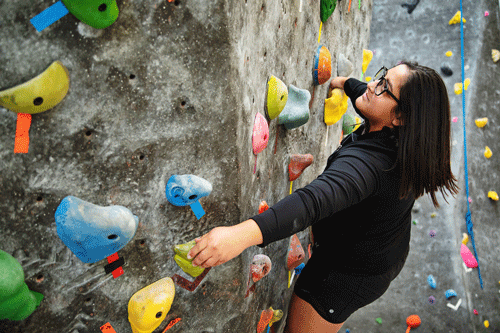 Top Rope Belay Classes and Challenges
Top roping is an exhilarating way to reach new heights and accomplish challenging goals using critical thinking and stamina. Top roping requires a partner, and both people must be authorized to top rope at the OVC climbing wall. A top rope authorization can be obtained through a belay class or belay challenge.
When a participant signs up for a belay class, they are taught the rope handling skills necessary to provide top rope protection for a climber at the OVC climbing wall.
A participant must be at least 14 years of age to belay at the OVC climbing wall. After completing the class, the participant must return for a challenge no earlier than 24 hours and no later than 30 days after the original belay class to prove they have retained this important information.
---
Belay classes are offered by appointment. To register for a belay class, please call the climbing wall at 402.554.3342 or sign up online.
---
Belay challenges are a quick way for staff to assess whether or not someone is a proficient belayer using specific criteria. Challenges apply to someone who needs to verify they have retained the information learned in a recent belay class, or to someone who is already proficient in belaying and does not need a full belay class. Challenges can be done by most staff members, after 5:00 PM. Call the climbing wall ahead of time to ensure someone is present to deliver your challenge.
Belay Class and Challenge Prices
| UNO Student or Campus Rec Member              | Non-Member |
| --- | --- |
| $8 (belay class) | $10 (belay class) |
| $4 (challenge price)        | $8 (challenge price) |