'Twas The Night Before Closedown...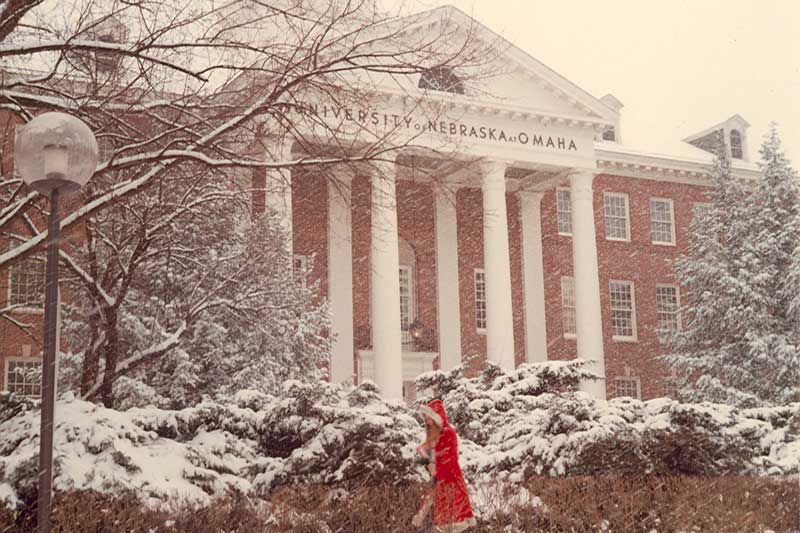 'Twas the night before closedown, during holiday break,
Not a Maverick was stirring, no more finals to take.
All across campus, stockings were hung with care,
In hopes that Durango soon would be there.
The Mavericks were nestled all snug in their beds,
While visions of March Madness danced in their heads.
Then down in Aksarben Village, there arose such a clatter,
Some sprang from their rooms to see what was the matter.
They raced down to Baxter Arena, even checked the Holland Ice,
It was only Durango, buying season tickets at a promotional price.
He scouted the Bookstore's Locker Room, new hoodie in hoof,
For the Maverick Maniacs told him new apparel raises the roof.
And as the spring semester draws near,
What opportunities in the six colleges will appear?
Now CFAM, now CPACS, and IS&T,
On Business, Education, Arts & Sciences, yippee!
To the top of the campanile! To the top of Scott Hall!
Now dash away! Dash away! Dash away all!
So back to their homes, the Mavericks rushed hard,
Some even took the Metro, free with their MavCARD.
And then, in a twinkling, I heard on the roof,
The prancing and pawing of Durango's large hoof.
As I moved from the window, and was turning about
Down the chimney came Durango, sharing news regarding Strauss.
A wink of his eye and a twist of his head,
Soon let me know I had nothing to dread.
All are welcome, that much is clear,
For those at UNO will prosper in the new year.
Enjoy your time off, rest up during this break,
For research, creative activity and more memories you will make.
Closedown is upon us, but still wear your black,
And rest up ye Mavericks, for soon you'll be back.
Be safe, be kind, and take lots of pics,
Happy Holidays to all, and go Mavericks!
---
Written in 2016 by UNO staff member Richard Larson, and revised in 2018. 
Contact Us
If you have a story idea, news tip, or other question, please email the UNO News team at unonews@unomaha.edu.
Our Campus. Otherwise Known as Omaha.
The University of Nebraska does not discriminate based on race, color, ethnicity, national origin, sex, pregnancy, sexual orientation, gender identity, religion, disability, age, genetic information, veteran status, marital status, and/or political affiliation in its programs, activities, or employment. Learn more about Equity, Access and Diversity.
scroll to top of page