'Twas The Night Before Closedown...
A classic tale, retold with #MavSpirit.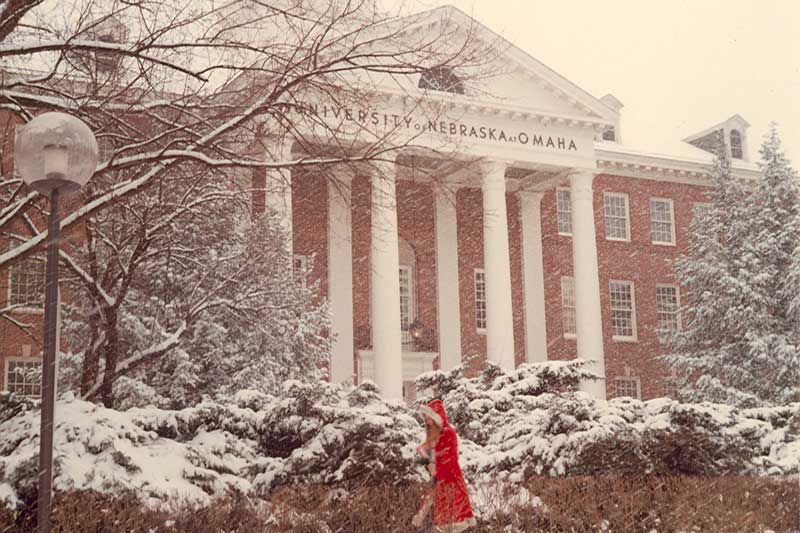 'Twas the night before closedown, during holiday break,
Not a Maverick was stirring, no more finals to take.
Stockings and masks were hung across campus in pairs,
In hopes that all Mavericks would be safe and take care.
Student athletes were nestled, all snug in their beds,
While visions of a new baseball and softball field danced in their heads.
Then down on Scott Campus, there arose such a clatter,
Some sprang from their rooms to see what was the matter.
They raced, physically distanced, down to Pine Street,
For a chance to see the new Mammel Hall addition - nearly complete! 
They were soon joined by other Mavericks of all kinds,
Excited for the new year, and to leave 2020 behind.
With so many Mavericks together, it didn't take long,
For the crowd to break out in the UNO fight song.
'Fight, fight, for our Mavericks' arose from the crowd,
Chancellor Gold and Durango, were there too, beaming so proud.
They weren't just cheering for a return - to the ice, court, or field
They were celebrating the start of a new year, and what it could yield.
On CFAM, now CPACS, and CEHHS,
On Business, IS&T, Arts & Sciences, yes!
To the top of the campanile! To the top of Scott Hall!
Now dream away! Dream away! Dream away all!
Back to their homes, these Mavericks rushed hard,
Some even took the Metro, free with their MavCARD.
And then, there was a voice off in the distance, 
It was Chancellor Gold, reminding of tips for COVID resistance.
As I moved from the window, and opened my computer to ZOOM,
And there I saw Durango's - ready to be let in from the Waiting Room.


He virtually appeared with a wink of his eye and a twist of his head,
Letting me know I had nothing to dread.
All are welcome, that much is clear,
For those at UNO will prosper in the new year.
Enjoy your time off, rest up during this break,
For research, creative activity and more memories you will make.
Closedown is upon us, but still wear your black,
And rest up ye Mavericks, for soon you'll be back.
Be safe, be kind, and take lots of pics,
Happy Holidays to all, and go Mavericks!
---
Written in 2016 by UNO staff member Richard Larson, and revised in 2020. 
Contact Us
If you have a story idea, news tip, or other question, please email the UNO News team at unonews@unomaha.edu.