STI Testing Available On Campus
It turns out one in two people will have an STI by age 25. Know where you can get tested.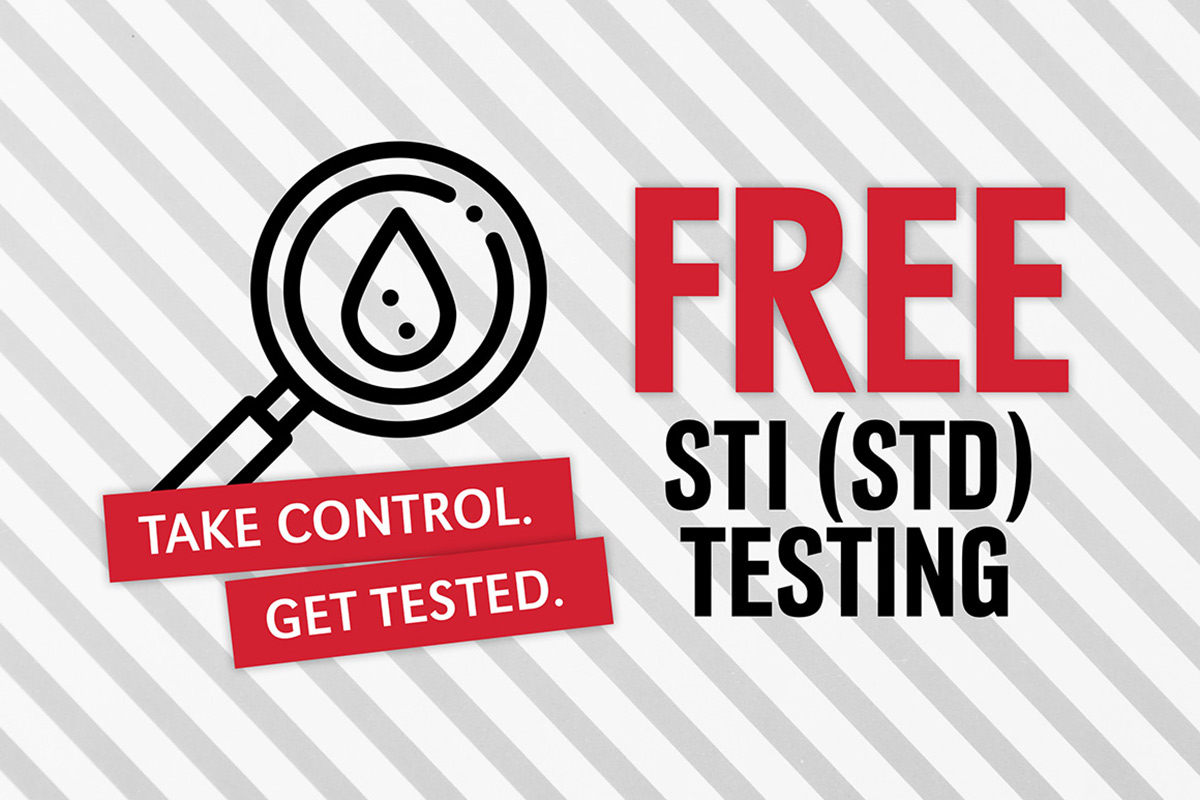 If you're like most students, you probably only see a health care provider when you're sick. This means you're not getting tested routinely for sexually transmitted infections (STI).
It turns out one in two people will have an STI by age 25. So if you engage in any form of sexual contact, it's time to get tested!
Top reasons to get tested:
It's the only way to know for certain that you have an STI. Most people with STIs have no signs or symptoms. As a result, many of these infections are overlooked and can be passed to others.

Treatment is available. Most STIs can be treated or cured with prescribed medications. If an STI is left untreated, it can cause infertility in both women and men, increases risk of HIV, and could cause you to infect your partner(s).

It's easy. No really! All you have to do is tell your health care provider you'd like to be tested for STIs. They'll ask you about your sexual history and order the tests they feel are right for you. The test itself only requires a quick blood, urine or secretion sample. Results are shared with you in a day or two. In some cases, follow up in person with a provider may be required.

Chlamydia, gonorrhea and HIV testing are free for students at the Nebraska Medicine UNO Health Center. Call 402.554.2374 to make your appointment today. (Depending on your symptoms or sexual activity, your provider may recommend you be tested for certain STIs that are not covered by student fees.)

Annual testing is recommended. However, earlier screening is recommended before and after contact with a new sexual partner or if a current partner has engaged in sexual contact with a new person.
If you're not ready to get tested today, that's OK. Just be sure to talk to your provider about it during your next physical or annual exam.
Resources for Testing
UNO Health Center
Learn more about the UNO Health Center.
Midlands Sexual Health Research Collaborative (Starting June 3)
The Midlands Sexual Health Research Collaborative (MSHRC) is offering free, drop-in STI (STD) testing every Thursday from 2-4 P.M. in the Mindfulness Room (104S) in the H&K Building.
The MSHRC is housed in the School of Health and Kinesiology (H&K) under UNO's College of Education, Health, and Human Sciences. Through strong collaborations and partnerships, the MSHRC conducts innovative research, provides evidence-based education, mentors students and sexual health professionals, and engages the community in initiatives to support sexual health and wellbeing.
Questions? Contact the MSHRC at 402.554.2670.
About the University of Nebraska at Omaha
Located in one of America's best cities to live, work and learn, the University of Nebraska at Omaha (UNO) is Nebraska's premier metropolitan university. With more than 15,000 students enrolled in 200-plus programs of study, UNO is recognized nationally for its online education, graduate education, military friendliness and community engagement efforts. Founded in 1908, UNO has served learners of all backgrounds for more than 100 years and is dedicated to another century of excellence both in the classroom and in the community.
Follow UNO on Facebook, Twitter, Instagram, LinkedIn, and YouTube. 
Contact Us
If you have a story idea, news tip, or other question, please email the UNO News team at unonews@unomaha.edu.