Stay Informed About Severe Weather
It's severe weather season. Make sure you are signed up for text alerts and where your shelter location is during a weather emergency.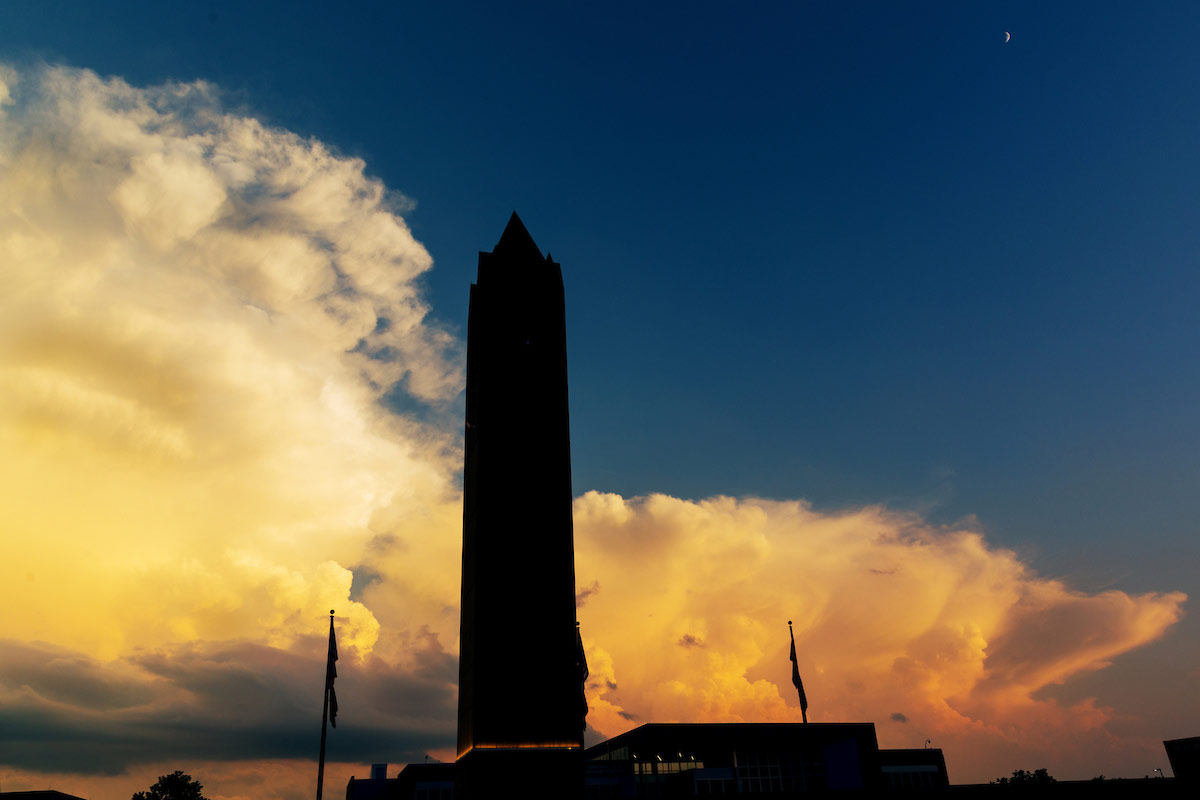 Getting ahead of severe weather, no matter the season, is important to staying informed and staying safe.
Emergency Notifications
In the event of a major emergency affecting the UNO campus, the administration may use one or more of the following means to communicate with the university community: posts on UNO's Facebook and Twitter accounts, an all-campus email, an emergency banner on the UNO homepage, or the UNO Alerts system.
Sign Up for UNO Alerts
UNO uses text message capabilities to reach a broader area than other methods permit. You can also elect to receive an email of the emergency message. This service is free to the UNO community.
Use your UNO NetID: Sign Up or Confirm Your Info: The UNO NetID is your username and password for online services that are specific to UNO, like your email. If you need assistance in this process, please email Sgt. Dave Points at dpoints@unomaha.edu.

Opt-In Via Text Message (NetID not required): Text unoalert to 79516 to opt-in. A NetID is not required for this process. Standard messaging and data rates apply.
Be Prepared
During severe weather season, stay tuned to local weather sources and take all necessary precautions to be prepared for severe weather and make sure you are signed up for UNO Alerts.
Monitor Local Weather
When there is a threat for severe weather, you can monitor local news channels or websites to stay informed about changing conditions.
Note: UNO is located in Douglas County.
What to Do In Case of a Tornado Watch or Warning
Tornado Watches and Warnings are issued by the National Weather Service when the probability exists that a significant threat could develop over a wide area. A TORNADO WATCH means that tornadoes are likely to develop. A TORNADO WARNING means that a tornado actually has been sighted somewhere in the general area, you need to take immediate shelter. Campus shelter locations are listed below.
If the warning sirens are sounded or a tornado is sighted:
Proceed immediately to the interior hallway on the lowest floor or basement, unless there are boilers or electrical switch-gear areas housed in the basement.

If time does not permit, get into the safest area of classroom, office, or residence (the inside wall away from the doors and windows).

Avoid windows, auditoriums, gymnasiums or other structures with free-span roofs and boiler or electrical switch-gear areas.

Take shelter underneath your desk or any heavy furniture available.

Assume a curled position protecting your head and eyes.

All persons should remain in the shelter areas until advised the warning has ended.

Shelter Locations
In the event of a tornado warning or severe high winds, the UNO campus will issue a campuswide notification so that students, faculty, and staff can quickly exit to the nearest shelter location.
Campus Tornado Shelter Areas
| Residence Hall | Shelter Area |
| --- | --- |
| Maverick Village | Maverick Village Clubhouse Basement |
| University Village | Weber Fine Arts lower level |
| Scott Court | First floor hallway |
| Scott Residence Hall | First floor north hallway |
| Scott Village | Basement of the Commons Building |
Building
Shelter Area
Alumni Center
Lowel level, rooms 030-032, Bootstrapper Hall (107)
Allwine Hall
First floor, west hallway between rooms 114-138
Annexes
Lower level, not in furnace/boiler room
Arts & Sciences Hall
First floor hallway, interior rooms on south side if unlocked
Biomechanics Research Bldg.
Lower level hallway between room 113-137
CPACS
Lower level northeast rooms 003, A, B, E, F, G, H. If lower level is secured, use the first floor north hallway between rooms 111-102, if open use rooms on south side of hallway
Center Building
Garage
Central Utilities
Under stairs lower level
Comm. Engagement Center
Garage
Durham Science Center
Use northeast and southeast stairwells to reach the lower level hallway
East Garage
North lower level (Lot T) stairwells
Eppley Administration Bldg.
Lower level hallways
H&K Bldg.
2nd lower level hallway between rooms 002-017
Kayser Hall
First floor except mechanical rooms; stairwell
Library
First floor area by the restrooms and elevator
Mammel Hall
Restrooms on all levels (reinforced concrete columns); first floor hallway between rooms 115 and 121
Maverick Landing/Scott Crossing
In Scott Crossing: First level, north side. Specially constructed hallway starting just past the administration area going all the way around ending short of the lounge area.
Milo Bail Student Center

Basement of the Bookstore

First floor hallways by restrooms in southwest corner

Hallways and rooms in northwest corner

Pacific Street Parking Garage
First floor, east wall on southern half of the garage
Parking Building
Primary Room 108, Secondary Room 109
PKCC
Lower level garage
Peter Kiewit Institute (PKI)
First floor hallway between rooms 116-146 and 172-193
Roskens Hall
Lower level auditorium, rooms 002-009
Sapp Fieldhouse
Men's and women's locker rooms
Sculpture/Ceramics Studio
CEC Garage, southwest entrance to CEC; H&K second lower level hallway
Strauss Performing Arts Center
First floor north hallway; Milo Bail has shelter areas via the northwest entrance to Milo Bail
Weber Fine Arts Bldg.
Lower level, long hallway on eastside of building
West Garage
Lower level stairwells