'I Am the ROI': Sue Violi
"I love that UNO is welcoming to any student at any time in their life, and I am grateful that UNO welcomed me and helped me reach my career goals."
published: 2022/10/03
contact: MarComm Editorial and Media Relations - Office of Strategic Marketing and Communications
email: unonews@unomaha.edu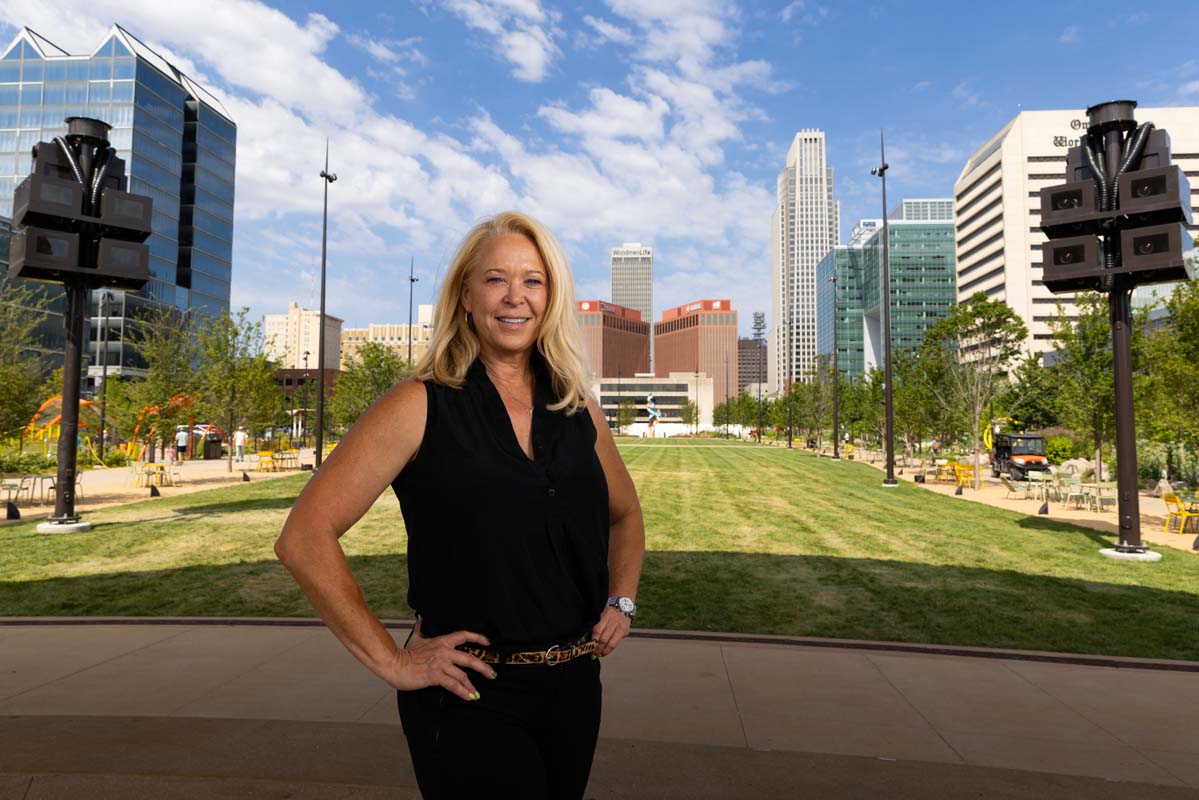 UNO alumna Sue Violi, executive assistant to the president & CEO at Baxter Auto Group
This profile is part of the "I Am the ROI" series featuring alumni whose return on investment from their UNO education goes far beyond career opportunities.
Sue Violi would be the first to tell you that she may not have been ready for life as a student the first time around, but the University of Nebraska at Omaha (UNO) was ready for her when the right time came.
"I graduated in 2013 with a degree in general studies, so that was my second visit to UNO," Violi said. "When I went to UNO right out of high school, I got involved with cheerleading and thought, at the time, that I wanted to be a teacher. I realized I was not meant to teach."
Violi left UNO and life happened, keeping her from coming back to finish her degree. She got married and started a family. She started her career, often working in organizations or roles focused on connections with the community. Her career has included experiences with the Greater Omaha Chamber, McCarthy Group, the Omaha World-Herald, and the Metropolitan Entertainment & Convention Authority (MECA).
Once her oldest daughter was ready to graduate from high school, she revisited the idea of graduating from college.
"I called an advisor—Katie Sup Rezac is the best one ever—and she really helped me figure out what I had done in my career and how that could help me get a degree," she said. "We went through my whole résumé and, based on our conversations and what I saw myself doing in the next five to 10 years, came up with [the general studies] program."
UNO and its College of Public Affairs and Community Service designed a plan of study for Violi that was built around her career experiences, her past college credits, and her future goals. Flexible course offerings helped her complete her degree while still working full-time and raising three children.
Best of all: She found the coursework engaging and even knew some of the faculty from her past work in the community.
"The professors were people that I had worked with in different roles. The classes were relevant to me and, I hate to say this now, but it was very easy to do. I was definitely more engaged than I was when I was 18," Violi said. "I love that UNO is welcoming to any student at any time in their life, and I am grateful that UNO welcomed me and helped me reach my career goals."
Since earning her degree, Violi has fully embraced the Maverick Spirit. "As a former cheerleader, to me, Maverick Spirit is the enthusiasm you can bring to your job, your role, your family, and your community," she said.
In her recent role with MECA, she used that enthusiasm for the community to promote The RiverFront, which is made up of the recently opened Gene Leahy Mall, as well as Lewis & Clark Landing and Heartland of America Park She worked to educate area businesses and community groups on The RiverFront, its progress, mission and goals.
With the first phase of The RiverFront now open to the public, Violi has since taken her Maverick Spirit to a new role with Baxter Auto. Wherever she goes, she knows that she remains connected to the Omaha community and, of course, the Maverick community.
"I would absolutely encourage others to go to UNO because it is accepting of all and provided me a valuable education. They accept you wherever you are at in life, and then you become a part of this community, a part of the Maverick team, and you are emboldened and inspired by the Maverick Spirit wherever you go."
About the University of Nebraska at Omaha
Located in one of America's best cities to live, work and learn, the University of Nebraska at Omaha (UNO) is Nebraska's premier metropolitan university. With more than 15,000 students enrolled in 200-plus programs of study, UNO is recognized nationally for its online education, graduate education, military friendliness and community engagement efforts. Founded in 1908, UNO has served learners of all backgrounds for more than 100 years and is dedicated to another century of excellence both in the classroom and in the community.
Follow UNO on Facebook, Twitter, Instagram, TikTok, LinkedIn, and YouTube.