'I Am the ROI': Miguel Estevez Jr.
Miguel Estevez Jr. owns and operates a private practice, Estevez Archie Therapy LLC, where he offers mental health services to clients in Nebraska and Colorado.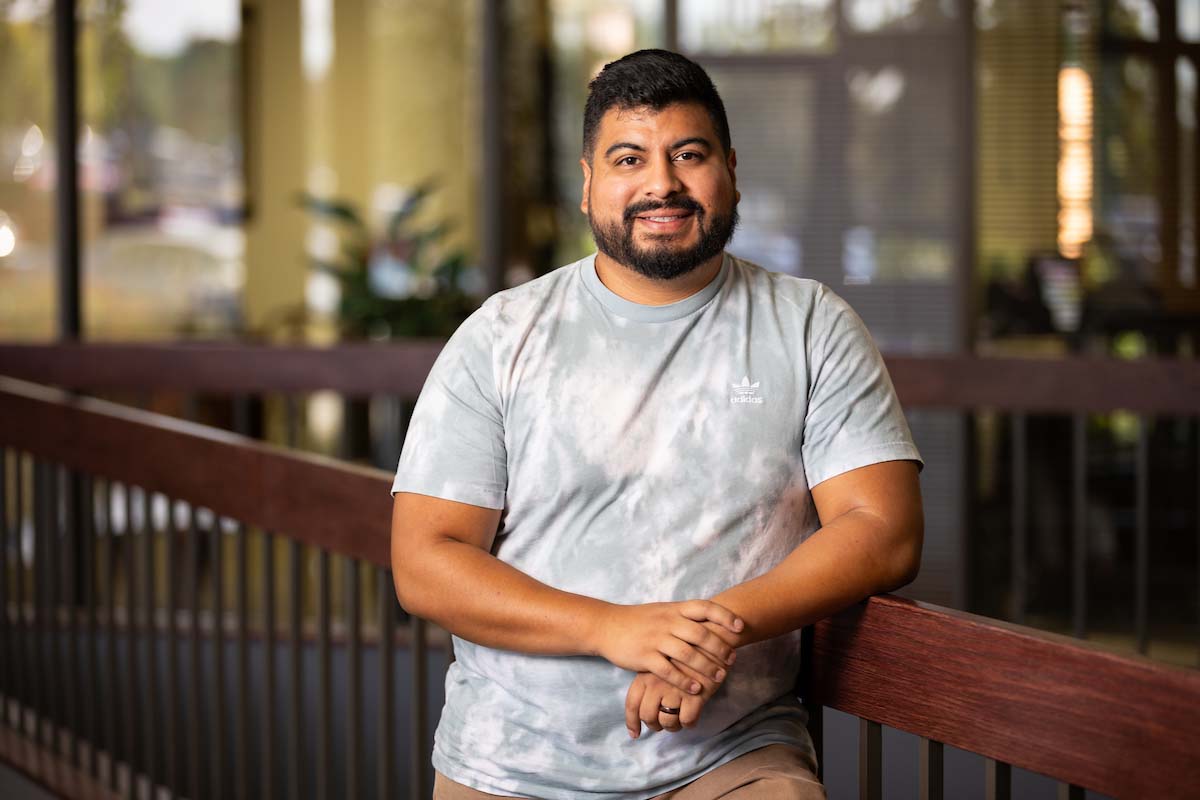 Two-time alumnus, Miguel Estevez Jr.
This profile is part of the "I Am the ROI" series featuring alumni whose return on investment from their UNO education goes far beyond career opportunities.
Two-time alumnus, Miguel Estevez Jr., is no stranger to the importance of community.
Now a Licensed Independent Mental Health Practitioner (LIMHP) with his own practice, Estevez originally graduated from the University of Nebraska at Omaha (UNO) with a Bachelor of Arts in Biology and a minor in Spanish in 2014. The university's close connection with the community is what originally drew Estevez to campus. He was one of just six who came to UNO from his high school in Grand Island, NE, and the only Latino of the group.
"I wanted a campus that was really integrated within the city, and I fell in love with it when I went to visit UNO," said Estevez. "I love the diversity within UNO, and that the campus was a part of the city."
During his undergraduate career, Estevez was a recipient of the Buffett scholarship, which provided him with the Thompson Learning Community (TLC), giving him access to additional resources such as mentoring and additional advising. He also said that he often utilized the Math and Science Learning Center, and even became good friends with many of the tutors due to the frequency of his visits.
As a student, he also found more opportunities than ever to become involved in his community. Every year he participated in UNO's Signature Service Days, where he would dedicate his time to volunteering in various activities.
Following his graduation, Estevez found himself struggling with his mental health. He silently battled depression as he grappled with the societal pressures of being a Latinx man, which had taught him that to show vulnerability was to show weakness. Feeling lost and seeking solace, Estevez made the decision to begin attending therapy.
"Mental health has a lot of stigmas around it in general, but especially in men as well. As men, we're told not to share our feelings or be vulnerable," said Estevez.
Throughout his mental health journey, Estevez connected with a therapist who was also a person of color. This not only gave him a new sense of understanding and belonging but inspired him to dream of ways he could help others. He realized that as he continued healing on his own mental health journey, he could use his experiences to make an impact on the community.
Estevez returned to UNO where he received his Master of Science in Clinical Mental Health Counseling degree in 2019. He decided to return to UNO because of the strong connections he had made on campus throughout his undergraduate degree. In addition, the flexibility of UNO's programs allowed Estevez to attend classes in the evenings while still working full-time.
After graduating with his master's, Estevez remained involved with his community through serving on the board of various nonprofits throughout Nebraska, as well as becoming an adjunct professor at UNO. It was his involvement in service work and mental health advocacy that brought him to the realization that there is a shortage of counselors and therapists in the state, particularly those that are bilingual and in rural areas.
To help a wider community, Estevez expanded his certifications beyond Nebraska. He became a Licensed Professional Counselor (LPC) in Colorado as well as a National Certified Counselor (NCC). In Spring 2023, he started his own practice, Estevez Archie Therapy LLC, where he provides telehealth services to patients In Nebraska and Colorado. His background as a first-generation U.S. born individual, growing up with parents from Guatemala and El Salvador, has provided him with a unique understanding of the Latinx and BIPOC community.
"I serve my community with the skills I learned at UNO." said Estevez.