'I Am the ROI': Lara Marsh
Theater arts opened the eyes of Lara Marsh to a career of creative expression while a student at UNO. It's a gift she's now sharing with audiences across the metropolitan area as a UNO alumna.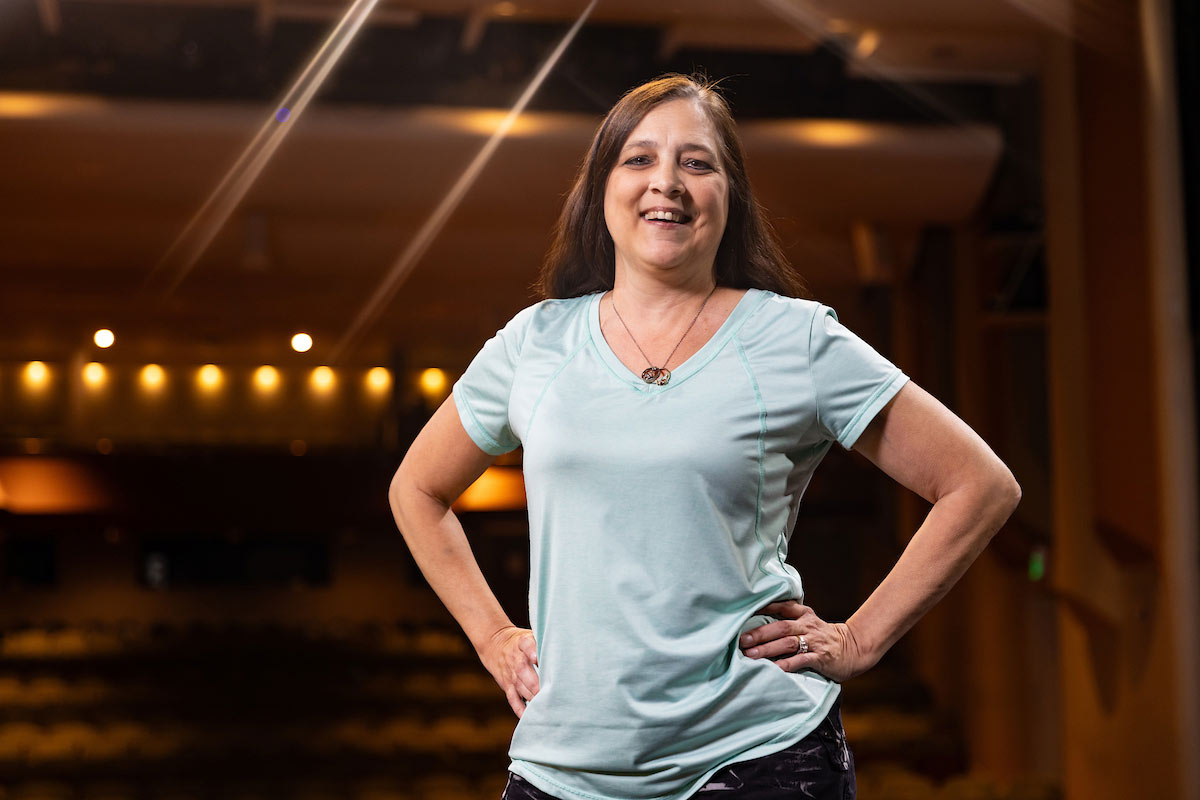 UNO alumna, Lara Marsh.
Theater arts opened the eyes of Lara Marsh to a career of creative expression while a student at the University of Nebraska at Omaha (UNO). It's a gift she's now sharing with audiences across the metropolitan area as a UNO alumna.
What began as a general education course in theater and exposure to Omaha's theatrical community became simple impactful moments that paved the way to future career opportunities. Marsh began her career as a stage manager and later became a freelance director for productions in Omaha. "I love telling stories that help us question humanity — the good, bad and ugly," she said. "It evokes that kind of conversation within our audience members, and that inspires them to either go see more storytelling or start telling stories themselves."
She's done just that. She prides herself on bringing together a broad audience to live stage performances with a mindset of using the arts to help communities thrive. Her work has reached stages ranging from larger venues and the cornerstones of Omaha's arts scene, like the Orpheum Theatre or the Holland Performing Arts Center, to smaller comedy clubs. Wherever the production, she knows that art will impact people.
Among her proudest achievements, she worked on a production at a penitentiary to provide the arts to prisoners.
That desire to find people where they are comes from Marsh's roots in a small town which proved valuable in helping her throughout her educational journey. She first attended UNO to gain a bachelor's degree and followed the path of her father, also a UNO alum. Taking advantage of a large city to discover new interests, she found volunteer work for a local theatrical production.
Changing her major, she later graduated in 2000 with a Bachelor of Arts in Dramatic Arts and began a career with the Nebraska Theatre Caravan, the touring arm of the Omaha Community Playhouse, as a road manager. Stationed behind the curtain, the role oversees the hustle of various teams putting on a production — ranging from rehearsals for actors to lighting and set construction.
Marsh credited the UNOTheatre faculty for helping her network and find opportunities. "It gave me the launching pad, which you would hope for out of a university, as it was what got me connected with theaters," she said.
For 17 years, she was firmly settled in her career in the arts community, working to bring productions around Omaha when she decided to return to UNO for another degree. This time, she was ready to direct. Her familiarity with UNO's faculty motivated her choice, including Cindy Melby Phaneuf, a professor of theatre and then president of the Shakespeare Theatre Association, who inspired her to pursue directing as an undergraduate student and find her voice to lead a production. Ultimately, the department's dedication finalized her decision to return to UNO, which included a dinner that laid out financial aid options to help her pay for the degree and career planning to move into directing. In 2018, she graduated with a Master of Arts in Dramatic Arts with an emphasis in directing.
Jumping between productions as a freelancer, she aims to advance the arts — including among demographics with less exposure. In the summer of 2023, she worked with the UNOTheatre Summer Musical Theatre Academy, a special program of workshops and masterclasses from UNO for dozens of area high school students. With the opportunity to earn college credit, students studying to be performers or technicians worked in a production at the UNO Black Box Theatre before a final performance in front of a crowd of 3,000 at the Gene Leahy Mall in downtown Omaha.
"You can't help but be engaged with the community of Omaha in anything that you do," she said.