'I Am the ROI': Kiley Armitage
published: 2022/10/03
contact: MarComm Editorial and Media Relations - Office of Strategic Marketing and Communications
email: unonews@unomaha.edu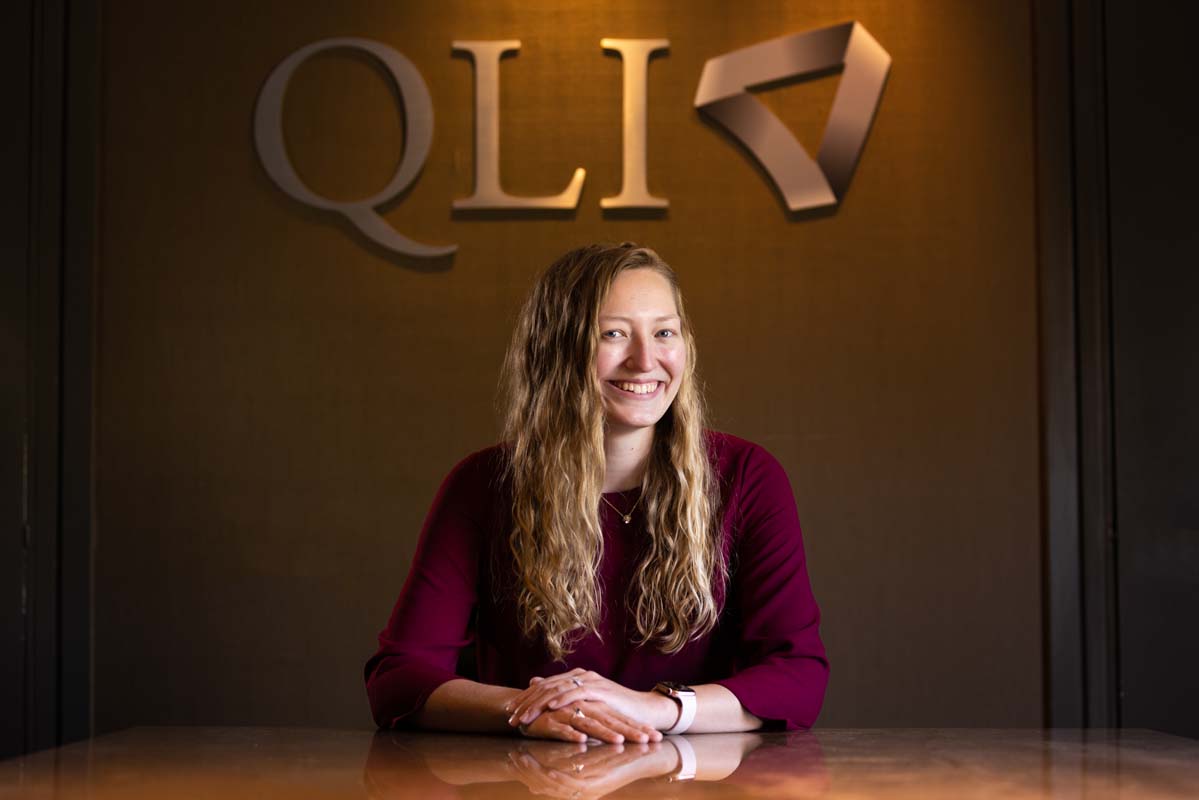 UNO alumna Kiley Armitage, director of operations for QLI
This profile is part of the "I Am the ROI" series featuring alumni whose return on investment from their UNO education goes far beyond career opportunities.
When two-time alumna Kiley Armitage thinks about the University of Nebraska at Omaha (UNO), she thinks about connections.
Connections with faculty and advisers in the College of Business Administration (CBA). Connections with area businesses and organizations. Connections with her fellow classmates.
And, importantly, connections with the Omaha community.
It was UNO's location within the Omaha community that led to her becoming a Maverick. When she was young, her father needed treatment at QLI, a local rehabilitation center and national center of excellence that specializes in diagnoses and treatment of individuals who have sustained a brain, spinal cord, or other neurological injuries.
The proximity to her father, who lives in Nebraska and was a resident at QLI when she was young, led her to take a closer look at UNO. "When looking at the different schools in Nebraska, I was just really drawn toward UNO and the idea that UNO pulls in so many community partners."
Armitage experienced firsthand the power of connections while at UNO. She became involved in student organizations such as Beta Alpha Psi where she learned about accounting roles within agencies and corporations in town. She also helped with the CBA Scholars Academy where she served as a resource for new and prospective students.
Building relationships through student organizations at UNO led her to explore internship and career opportunities. UNO's connections with Union Pacific provided an opportunity for her to interview for an internship at a career fair held on campus. With support from the CBA's Career Center in polishing her resume and preparing for interviews, she landed an internship with the Fortune 500 company.
"Being at Union Pacific helped me really build an interest in the technical side of things," Armitage said. "There are some really talented people in the accounting and finance team at Union Pacific that helped build my skill sets."
Armitage earned her undergraduate degree in business administration with a focus in accounting and finance. Before she completed her degree, she found herself launching her career with an organization near to her heart, and the same organization that helped her father regain functionality following a stroke: QLI.
Connections with professionals in community organizations, as well as with faculty and advisers within CBA, helped build her confidence and explore different areas of business for a future career path.
"Today, I'm director of operations [for QLI], and I work mostly in the HR department. I never thought I was going to do that," she said. "I started off as an accountant before I even graduated. They took a chance on me, and I got promoted pretty quickly to coordinator of financial operations, and now recently director of operations. I love having a company that believes in me and can see in myself what I have the potential to do."
Armitage mentioned being thankful to QLI for developing her in a way that is not only best for the company, but best for her personally. "Just like the QLI leaders believe in me, the UNO professors believed in me, maybe sooner than I would have in myself."
Over the years, Armitage has stayed connected to campus through the UNO Young Alumni Academy, a program sponsored by the UNO Alumni Association, and later returned to earn her master's in business administration from UNO. As a two-time alumna herself, she wants future Mavericks to explore the connections they may be able to build at UNO.
"I would definitely encourage other students to go to UNO because it's the type of campus where you feel valued as a student, and you know that you're going to be able to build connections to help you find a career that you really love."
About the University of Nebraska at Omaha
Located in one of America's best cities to live, work and learn, the University of Nebraska at Omaha (UNO) is Nebraska's premier metropolitan university. With more than 15,000 students enrolled in 200-plus programs of study, UNO is recognized nationally for its online education, graduate education, military friendliness and community engagement efforts. Founded in 1908, UNO has served learners of all backgrounds for more than 100 years and is dedicated to another century of excellence both in the classroom and in the community.
Follow UNO on Facebook, Twitter (X), Instagram, TikTok, LinkedIn, and YouTube.