'I Am the ROI': David Brisson
"My coach always told me you have to earn your opportunities. If you have that as a culture—hard work and giving back—you're setting yourself up for success."
published: 2022/10/03
contact: MarComm Editorial and Media Relations - Office of Strategic Marketing and Communications
email: unonews@unomaha.edu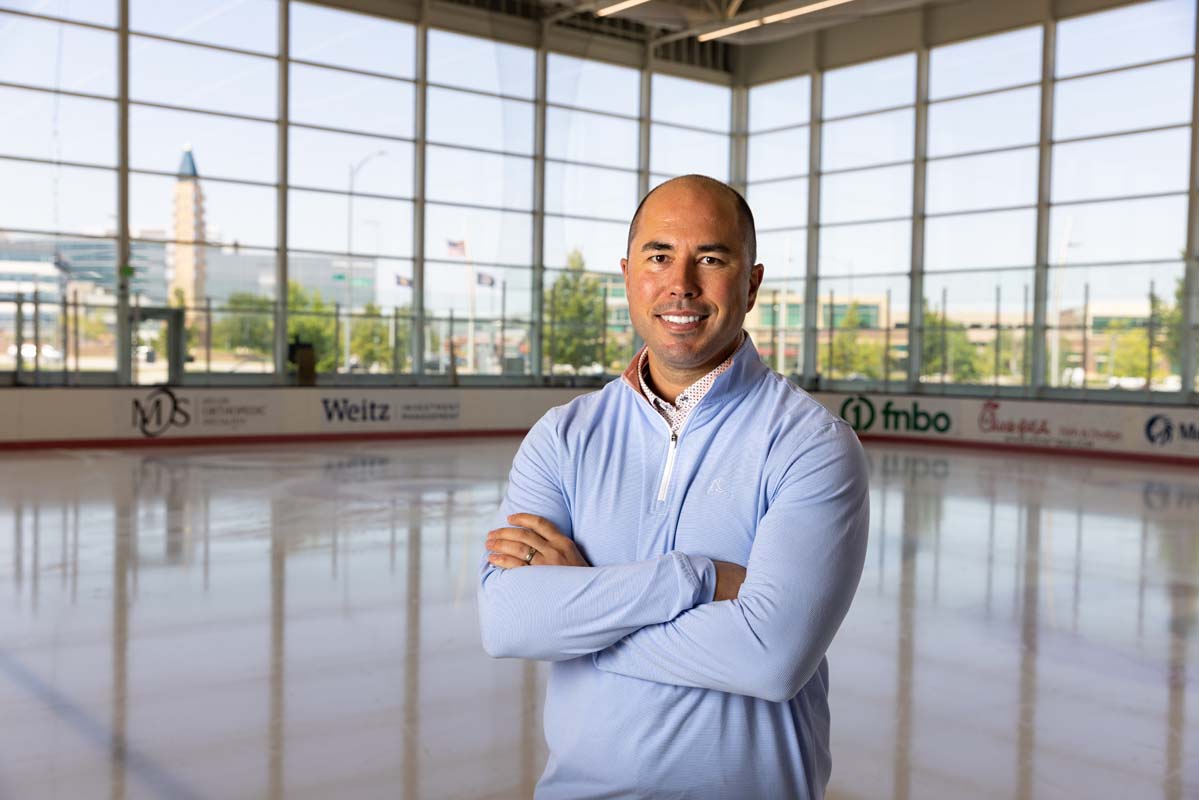 UNO alumnus and Omaha Athletics Hall of Fame Inductee David Brisson, director of fixed income sales for Wells Fargo Securities
This profile is part of the "I Am the ROI" series featuring alumni whose return on investment from their UNO education goes far beyond career opportunities.
It would be difficult to fault David Brisson had he chosen to stay closer to home in Quebec City. The capital of the Canadian province of Quebec is nestled on the Saint Lawrence River with the Laurentian Mountains visible to the north of the city.
He knew very little about the University of Nebraska at Omaha (UNO) but knowing a former teammate who had played for UNO and the idea of playing for a new hockey program competing at a high level was enough to lure him to Omaha.
"Being a student athlete at UNO, especially in the early days [of hockey] was remarkable. Hockey had such big support from the community," he said. "It was amazing to play in front of 8,300 people, so that experience made it very unique to be a student athlete."
Brisson became one of the hockey program's first stars, leading the team in scoring in three of his four years. He set program single-season and career records as a Maverick from 1999-2003 and was named to the First Team All-Central Collegiate Hockey Association in 2001. Brisson was inducted into the Omaha Athletics Hall of Fame in 2010, becoming the first hockey player to receive the recognition.
The resources and opportunities available to him as a student, and as a student athlete, brought him back to Omaha where he established roots after his professional hockey career. "What I really enjoyed about the culture at UNO was the fact that you will be rewarded for the work you put in," he said. "My coach always told me you have to earn your opportunities. If you have that as a culture—hard work and giving back—you're setting yourself up for success."
A speaking engagement at a luncheon drove that point home. Brisson challenged himself to arrive early and stay late to network with business leaders and stakeholders attending the luncheon. The extra effort paid off as he met his mentor, Greg Lavitt, who had ties to Canada and the former Omaha Knights hockey team. That introduction led to an internship with Wells Fargo, which eventually led to a full-time position. Building relationships opened the door to the opportunity and building relationships has helped him climb the ranks at Wells Fargo to his current role as Director of Fixed Income Sales.
Years removed from his own playing career at UNO, Brisson is also still building relationships with players on the ice. Brisson has served as a volunteer assistant coach for UNO hockey and as a mentor within the Wingman Program, a mentoring program led by former UNO hockey players. "Each former hockey player that still lives in town would partner up with two or three current players," Brisson said. "It's a great way to connect with the current players and a great way for us to stay involved."
Brisson believes the program helps hockey players who came to UNO from another country, like himself, to feel more at home. "During Thanksgiving or the holidays, some of these players have to stay in town. Some of them are foreign student athletes. They can't go back to their home country so sometimes they might be able to come over, share a meal and enjoy the holidays," Brisson said.
To Brisson, the Wingman Program serves as an extension of the welcoming atmosphere he experienced at UNO both as a student athlete and as an international student.
"My favorite part about UNO is it's accessible to a lot of people. You can come from a different part of the state, the country, a different country and then UNO will welcome you. That's what I like. And the people that work here—faculty, staff, coaches, volunteers—they all care. They want you to be successful."
About the University of Nebraska at Omaha
Located in one of America's best cities to live, work and learn, the University of Nebraska at Omaha (UNO) is Nebraska's premier metropolitan university. With more than 15,000 students enrolled in 200-plus programs of study, UNO is recognized nationally for its online education, graduate education, military friendliness and community engagement efforts. Founded in 1908, UNO has served learners of all backgrounds for more than 100 years and is dedicated to another century of excellence both in the classroom and in the community.
Follow UNO on Facebook, Twitter, Instagram, TikTok, LinkedIn, and YouTube.