'I Am the ROI': Dario Gudino-Garcia
"My time at UNO has been truly fantastic, and that's the reason why I keep going back. I keep getting more and more from the university and I'm truly grateful for everything I've gotten from them."
published: 2022/10/03
contact: MarComm Editorial and Media Relations - Office of Strategic Marketing and Communications
email: unonews@unomaha.edu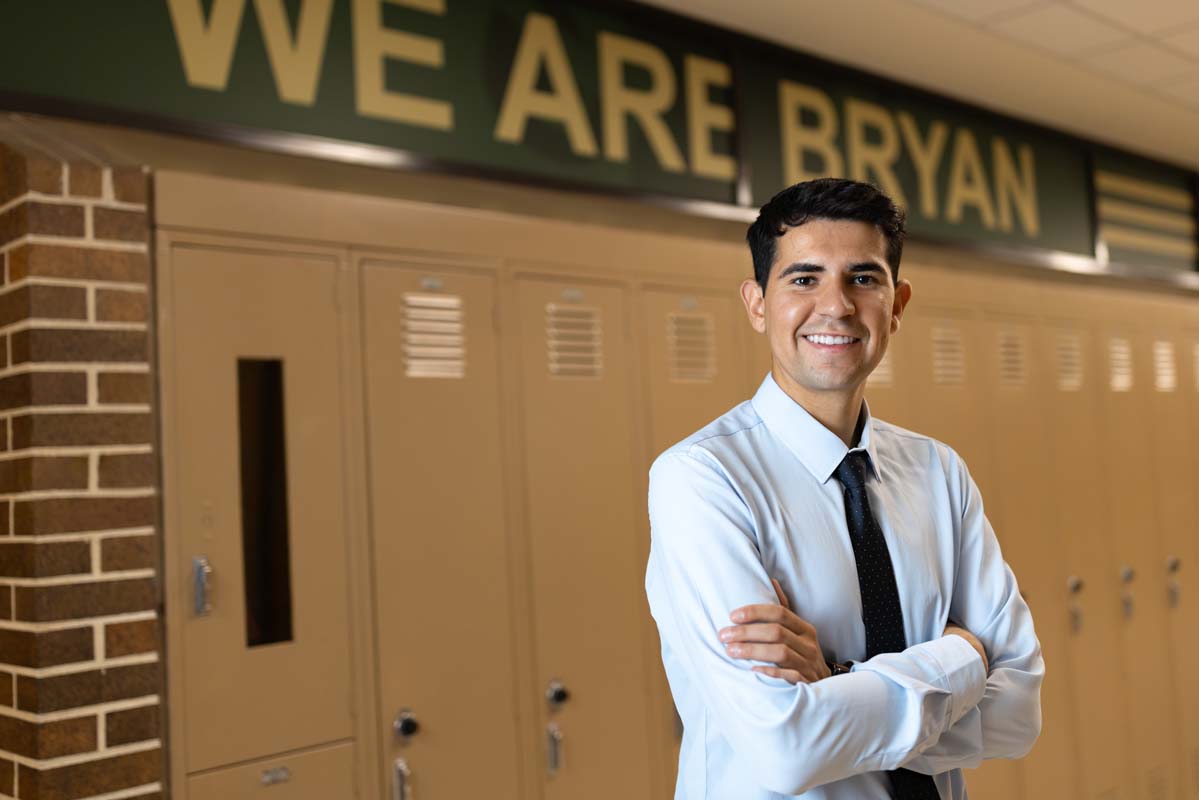 UNO alumnus Dario Gudino-Garcia, teacher at Omaha Bryan High School
This profile is part of the "I Am the ROI" series featuring alumni whose return on investment from their UNO education goes far beyond career opportunities.
Dario Gudino-Garcia can't get enough of the classroom.
Gudino-Garcia is not only a third-year teacher at Bryan High School in Omaha, but he also holds two undergraduate degrees and a master's degree from the University of Nebraska at Omaha (UNO). He earned his undergraduate degrees in secondary education and mathematics in 2019. His experiences at UNO fostered an interest in computer science, which led to him recently earning a master's degree from UNO in the field.
Now in his third year of teaching, he finds himself back in another classroom as a student seeking another master's degree from UNO; this time in mathematics. "When you have somewhere that you just feel like you belong, and somewhere that just keeps giving you opportunities and you meet so many great people, it's hard to want to leave," Gudino-Garcia said.
"My time at UNO has been truly fantastic, and that's the reason why I keep going back. I keep getting more and more from the university and I'm truly grateful for everything I've gotten from them."
This ongoing connection to the UNO campus started through his involvement in the Robert Noyce Teacher Scholarship program supported by the National Science Foundation. Noyce scholarships lower financial barriers for talented undergraduate students seeking a degree in a STEM field so that they may later become teachers in high-need areas.
Without this assistance, Gudino-Garcia may not have entered teaching. The program also provided opportunities for hands-on experience, community engagement and service projects. He said the experiential aspects of the program gave him the insight into the profession that he couldn't fully grasp from textbooks and the classroom alone. "It helped me really solidify my understanding of what teaching is, and it helped me realize that teaching is really what I wanted to do," he said. "You have the opportunity to work with a whole bunch of different students, go out to different schools, and make connections with faculty and other students that are kind of going through the same thing as you."
His connection with students from similar backgrounds motivates him as a teacher and mentor. Likewise, his continuing connection with UNO through the Noyce Scholars program positions him to encourage his high school students, particularly from underrepresented populations, to check out the program and see a potential future for themselves in Nebraska's teaching workforce.
"I'm an immigrant here, and a large portion of the students here at [Bryan] are too. I think sometimes, as immigrants, all you need to believe that you can be successful is to see somebody already doing it—somebody who looks like you," he said. "For me, that's probably the biggest motivation is to know that I can have an impact on some of these students."
About the University of Nebraska at Omaha
Located in one of America's best cities to live, work and learn, the University of Nebraska at Omaha (UNO) is Nebraska's premier metropolitan university. With more than 15,000 students enrolled in 200-plus programs of study, UNO is recognized nationally for its online education, graduate education, military friendliness and community engagement efforts. Founded in 1908, UNO has served learners of all backgrounds for more than 100 years and is dedicated to another century of excellence both in the classroom and in the community.
Follow UNO on Facebook, Twitter (X), Instagram, TikTok, LinkedIn, and YouTube.