'I Am the ROI': Alexis Bromley
UNO alumna Alexis Bromley, founder of Bromley & Co., is a strategic consultant who specializes in crisis management, community initiatives, and nonprofit services.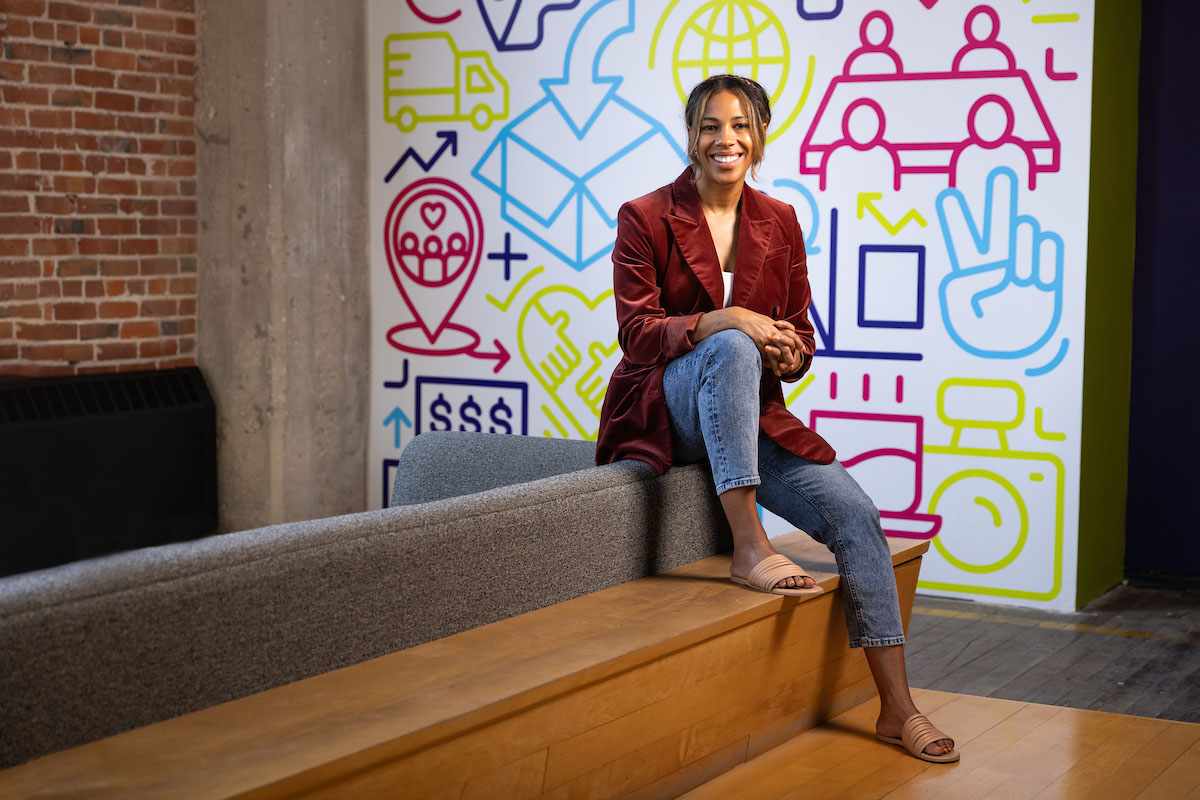 This profile is part of the "I Am the ROI" series featuring alumni whose return on investment from their UNO education goes far beyond career opportunities.
Alexis Bromley understands the importance of being able to find calm within the storm, and she aims to be that for her community.
Bromley, founder of Bromley & Co., is a strategic consultant who specializes in crisis management, community initiatives, and nonprofit services. Her mission is to provide local organizations with the guidance and support they need to navigate challenging situations, enhance their effectiveness, and create meaningful changes throughout Omaha.
"I like what I do because I can be that definitive decision maker for others. I like helping the company to get through the other side of a situation in a way that they didn't think about before," said Bromley. "I like creativity, I like problem solving, and I like to be on the end of solutions."
It was at the University of Nebraska at Omaha (UNO) where Bromley discovered her passion for serving the community. A master's student in the College of Public Affairs and Community Service (CPACS), she was drawn to UNO for the intimate size of the urban studies program and their emphasis on Omaha.
"Throughout the entire program, we were very community centric and community focused. The professors we had were community members who had real-life experience that they were teaching us with," said Bromley. "Most of the classes that I took had a community component, whether it was doing a project on a specific neighborhood or researching the community. I really liked how focused on Omaha it was."
UNO helped Bromley to build relationships within the community through collaboration and engagement, giving her the opportunity to expand her network. Her classes incorporated work with local nonprofits and neighborhoods, fostering ideas that would later shape her career. She also stayed involved through organizations on campus, including the Urban Studies Honor Society.
"I really like UNO because they're tethered to the community, and they're intentional about it," said Bromley.
In the fall of 2021, Bromley graduated from UNO with a Master of Science in Urban Studies. After graduation, she spent time working for nonprofits focusing on community development. She worked on neighborhood revitalization projects that targeted generational poverty through initiatives such as affordable housing and high-performing schools.
This spring, Bromley received an Alumni Award for Excellence in Public Service from UNO. It was then that she announced she would be launching her own business that would focus on consulting — what seemed like a notable pivot away from her previous field of study. While some were surprised by her switch, Bromley noted that it was her work at UNO and with nonprofits that gave her the perspective of how people are interacting with the community in a meaningful way, allowing her to offer unique insight to her company's clients.
"We are the people who have to take in every single viewpoint, all the different strategies and determine what is best for a company or a person to move forward so that the reputation is maintained and better on the other side of any incident that they're going," said Bromley.
Only two years after being formed, Bromley & Co. already serves several large, locally founded companies, including the Sherwood Foundation, and NOISE magazine, and Buildertrend. Bromley credits education at UNO for her ability to encompass all aspects of a situation and feel confident when advising her clients, whether that is in a critical situation, or an organization is simply seeking to expand their outreach.