UNO Names Marian McDonald Employee of the Month
McDonald was recognized by her colleagues and fellow staff members for being a supportive, welcoming, and integral member of the Department of Psychology to ensure faculty and student success.
published: 2022/10/27
contact: Kristina Hoffmann - Human Resources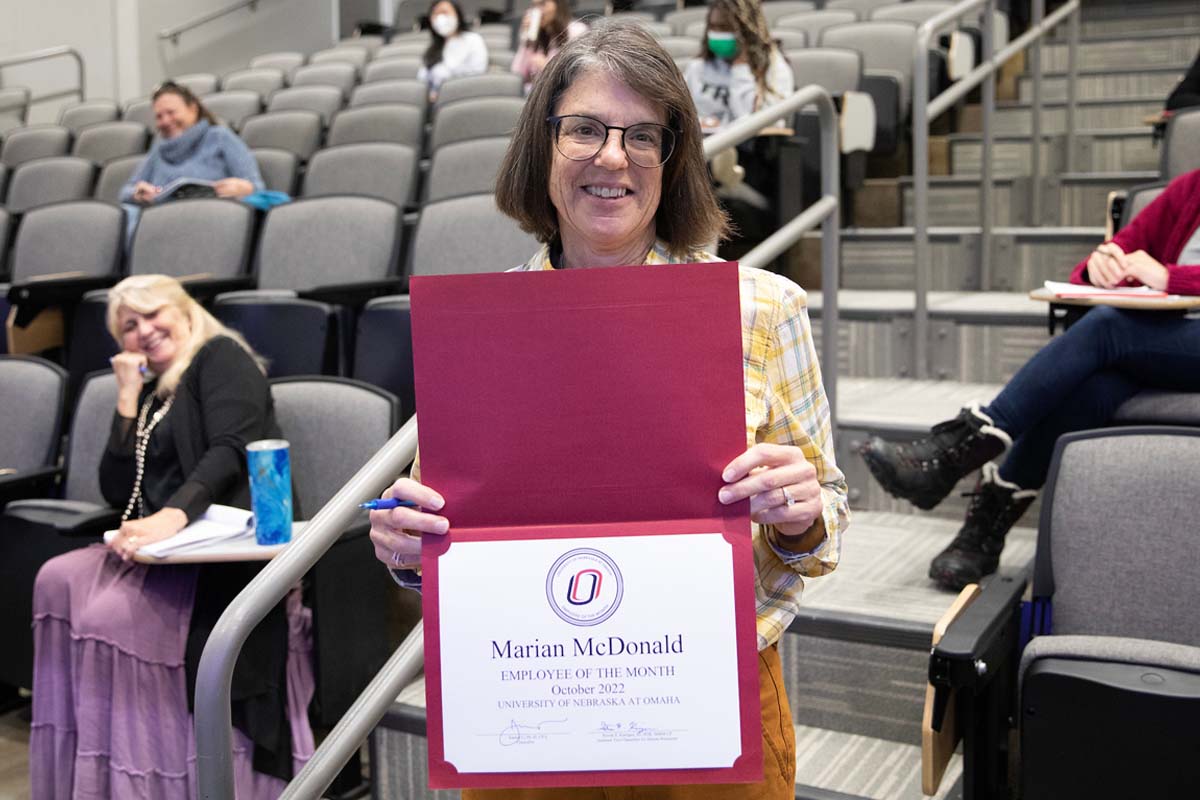 Marian McDonald, an office associate for the Department of Psychology, was recently recognized as UNO's October 2022 Employee of the Month by members of the UNO Celebration Committee.
Marian McDonald, an office associate for the Department of Psychology, has been named UNO's Employee of the Month for October 2022.
McDonald was nominated for her attention to detail on important departmental tasks, collaborative nature across other departments, and work supporting students. She was surprised by the UNO Celebration Committee on Wednesday, Oct. 26, to honor her recognition.
A number of colleagues provided nominations in support of McDonald, who was described as "Wonder Woman" for her ability to come to the rescue multiple times.
"She was truly a life-saver during the challenges of COVID, frequently being the only person in our office; operating the phones; responding to numerous emails from panicked students and faculty; and distributing mail in over 120 mailboxes for faculty, TA's, and graduate students," one nominator wrote.
McDonald is also noted as the first point of contact for anyone interfacing with the department, which requires working with multiple audiences.
"She does an amazing job filtering initial questions heself before moving on to chair, faculty, or advisors," a nominator stated. "She handles student issues with a calm and assuring demeanor."
As a colleague for other departments, McDonald has also stepped up to go above and beyond her role to provide support when needed.
"We lost a staff assistant in the past … and she was there to help with Concur and other faculty requests," a nominator said. "She provided trouble shooting help and also volunteers to serve on our search committee for a new staff member. We are so lucky that Marian is always willing to go above and beyond and that she does so for people outside her home department."
McDonald is also knowledgeable, being able to field multiple requests across software training, graphic design, web updates, and more.
"Marian is my "go-to" person for all sorts of questions. She either knows the answer, knows the process, or is willing to seek out information to help find a solution."
For all these reasons, McDonald's colleagues say they are at a loss for words to properly assess the value she brings to the Department of Psychology.
"I was concerned that my nomination would not do her justice. I can't say enough about Marian McDonald. I've only begun in this nomination to delineate her importance to everyone in our department."
For being awarded as Employee of the Month, McDonald will receive a certificate, a hot/cold tumbler provided by the UNO Bookstore, a monetary award, two tickets to a UNO sporting event, and use of a designated parking space.


---

Do you want to submit a nominee for Employee of the Month? Use our People Are Everything software to access the Employee of the Month nomination form.
Questions about Employee of the Month? Contact Kristina Hoffmann at kristinahoffmann@unomaha.edu.
About the University of Nebraska at Omaha
Located in one of America's best cities to live, work and learn, the University of Nebraska at Omaha (UNO) is Nebraska's premier metropolitan university. With more than 15,000 students enrolled in 200-plus programs of study, UNO is recognized nationally for its online education, graduate education, military friendliness and community engagement efforts. Founded in 1908, UNO has served learners of all backgrounds for more than 100 years and is dedicated to another century of excellence both in the classroom and in the community.
Follow UNO on Facebook, Twitter, Instagram, TikTok, LinkedIn, and YouTube.