Omaha Public Schools Partners with UNO on Teacher Development, Retention Projects
published: 2022/09/28
contact: Brandon Bartling - UNO Office of Strategic Marketing and Communications
email: unonews@unomaha.edu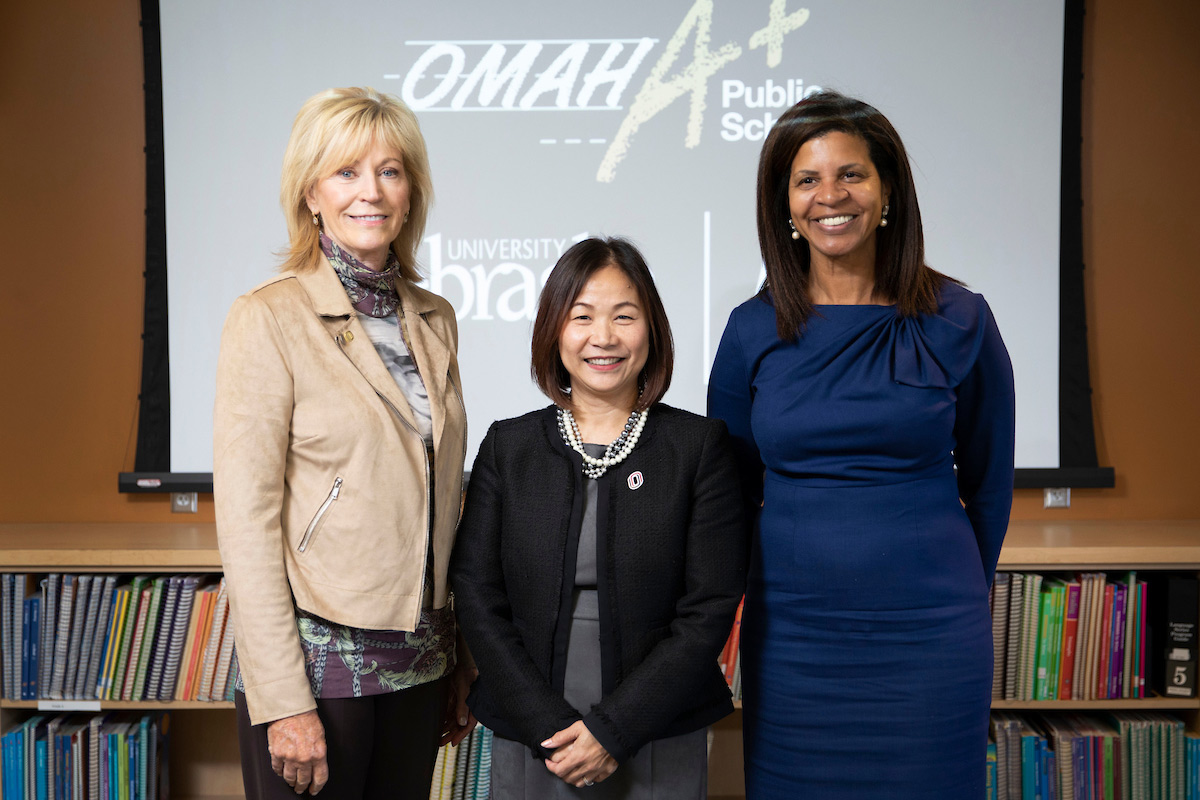 From left: UNO College of Education, Health, and Human Sciences Dean Nancy Edick, Ph.D; UNO Chancellor Joanne Li, Ph.D., CFA; and Omaha Public Schools Superintendent Cheryl Logan, Ed.D.
An innovative partnership between Omaha Public Schools (OPS) and the University of Nebraska at Omaha (UNO) will help attract and retain teachers.
Funding from Omaha Public Schools will support four initiatives at UNO that will create more pathways into the teaching profession and expand professional development for current teachers. "Our district has led the way in our efforts to build a pipeline of future educators," said Omaha Public Schools Superintendent Cheryl Logan, Ed.D. "This collaboration demonstrates our commitment to our young people by providing solutions to address the staffing challenges impacting school districts nationwide."
The $14.8 million grant supports teacher development in four areas:
Teacher Advanced Academics Graduate Program: Provides up to 18 hours of graduate college courses for qualifying high school teachers. Investment in this partnership will help build Omaha Public Schools capacity to teach dual enrollment courses, which can help students earn college credit before graduating from high school.

Accelerating Teacher Learning: Provides up to 1,000 teachers with up to nine graduate credit hours of instruction. Investment in this partnership will strengthen Omaha Public Schools efforts to address strategic district initiatives.

Teacher Scholar Academy Program: Provides funding to a group of high-achieving UNO students seeking to obtain teacher certification and promote teacher development in hard-to-fill areas within the Omaha Public Schools. Investment in this ongoing initiative will help recruit, retain, diversify, and maintain a high-quality roster of teachers.

Teacher Academy Project: Investment in this ongoing initiative will support secondary education certification for individuals that have earned a bachelor's degree and aspire to become a teacher, which will increase certifications in high-demand areas, including math, science and language.
Through these opportunities, UNO is focused on closing the workforce gap in education across the Omaha metro, ensuring that area elementary and secondary students have access to an exceptional education that prepares them for college and beyond.
"This grant and the projects it supports will have a direct, positive impact on Omaha Public Schools ability to help teachers in the classroom, where their work allows students to learn and grow," UNO Chancellor Joanne Li, Ph.D., CFA, said.
UNO College of Education, Health, and Human Sciences (CEHHS) Dean Dr. Nancy Edick said the creation of pathways to promote the teaching profession throughout the community and the state is a longstanding priority of the college and that the grant will broaden the college's impact.
"Developing the educators who will mold tomorrow's leaders is a great responsibility and one that we in the College of Education, Health, and Human Sciences take very seriously, especially when teacher retention is one of our nation's top challenges," Edick said. "This grant will put Omaha in a position to lead by example in each of these areas and give our Omaha teachers the skills, experience, and support they need to have long, fulfilling careers, all for the benefit of the children in our community."
About OPS
Omaha Public Schools is the largest school district in Nebraska and is governed by a nine member Board of Education. Our district employs approximately 7,000 full-time staff and has 86 schools and nine programs. We serve approximately 52,000 students in grades K-12, including special education and English language learners. Our mission at Omaha Public Schools is to prepare all students for success in college, career and life. We strive to fulfill this promise by embodying our five foundational shared values in our work - Equity, Results, Leadership, Accountability and Joy.
About the University of Nebraska at Omaha
Located in one of America's best cities to live, work and learn, the University of Nebraska at Omaha (UNO) is Nebraska's premier metropolitan university. With more than 15,000 students enrolled in 200-plus programs of study, UNO is recognized nationally for its online education, graduate education, military friendliness and community engagement efforts. Founded in 1908, UNO has served learners of all backgrounds for more than 100 years and is dedicated to another century of excellence both in the classroom and in the community.
Follow UNO on Facebook, Twitter (X), Instagram, TikTok, LinkedIn, and YouTube.